School of Inspired Leadership is one of a kind 'Business School' that provides holistic education to serve the purpose of building well being of one and all.
SOIL is co-created by a group of leading companies from across industry verticals that believe in SOIL and its value proposition. They partner with SOIL to design the curriculum, select and mentor students, as well as present live case studies finding career opportunities for students. L & T, TATA Steel, Kohler, HUL, Schneider Electric, SAP, SAS, BP, TVS, Max Life, ICICI etc. are few names in the list of 32 companies spread across industries that have come together to lay a strong foundation.

School of Inspired Leadership believes in creating the 'Leaders of Tomorrow' enriched with the top 5 pillars that SOIL stands for which are:
Mindfulness
Compassion
Sustainability
Ethics
Diversity
Our very own founder, Mr. Anil Sachdev conducts a series of Self-Leadership workshops that enrich us with the vision of being a Leader in the truest sense. It is a lifetime learning experience that inculcates leadership excellence within us. We stand out from the crowd by being not just a post graduate in management but a Leader with a vision and mission. This helps us to identify the true purpose of our doings and how can we leverage our strengths to succeed in the journey of our life.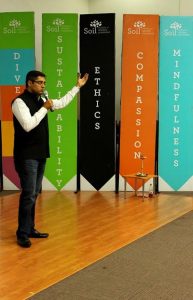 Social Innovation Program
"Compassion" one of the pillars of SOIL teaches us to step in another person's shoes and feel what they are going through. This is achieved through the 'Social Innovation Program' in which each student works with an NGO for a day each week and understand the needs and have a completely different experience altogether.
As it is rightly said, 'Giving is not just making a donation, it is about making a difference'; hence SOIL students make an effort to give back to the society and enrich themselves with an opportunity to serve.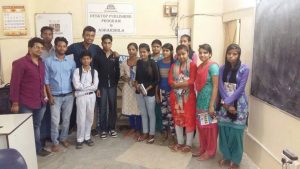 One of the unique features that SOIL offers is the 'Mentorship Program'. In this program, each student at SOIL is assigned two mentors - one internal mentor and one external who is an eminent Corporate Leader. The mentoring program provides us with an opportunity to understand and design our career path with the esteemed guidance of seasoned corporate leaders with the help of their experiences. This mentorship usually turns to lifelong associations for many of the SOIL students.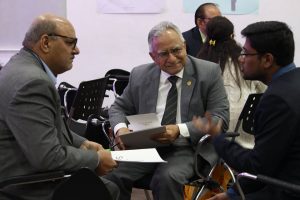 SOIL is a 12-month rigorous Post-Graduate Program with Business Leadership and Human Resource Leadership as the cohorts. Despite being a 12-month program it makes sure to provide its students' with varying experience and exposure to each and everything like a 2-year MBA Program, one such being '1-month' long 'Internships' which are an integral and graded course of the SOIL curriculum.
It begins after the completion of the first term and usually starts around late August and ends in late September. The internships give us an opportunity to apply the concepts of classroom teachings to the real world problems of the industries and help us align our thought process with the corporate world.
"Mindfulness" which is one of the core pillars of SOIL that helps us to be more aware of our own self and aligns us to be in the present moment is well experienced with an exposure to Yoga and Meditation that again is a part of our SOIL Curriculum. It is taught by our favourite 'Susie Mam'. The focus is laid on the practice and we are encouraged to assimilate the practice of yoga and meditation in our day to day life and hence lead a disciplined life.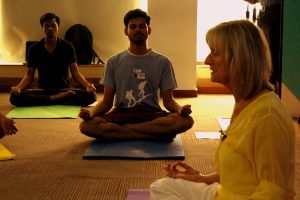 Time and again we the SOIL students have been lucky to get a chance to listen to the most eminent personalities of the Corporate World. These sessions are very valuable to gain perspectives on life, career paths and success from senior leaders as they share their life journey.
It is rightly said, 'One learns best through others' experience' and we the SOILites make the best use of the many opportunities provided to us by listening to these eminent industry leaders.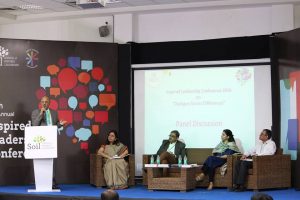 Ever heard the assemblies/prayers we did as school students in any B-School? No, right? But, we the SOILites do it. Yes, we DO.
Morning Circle is the unique aspect that forms the part of our unique learning process. We start each day by being grateful to the almighty, with a beautiful morning prayer followed by experience sharing, knowledge sharing by the students and faculty alike. We dedicate 15 minutes each day to this unique practice and acquaint ourselves with the happenings around one another.
Another, notable practice that we the SOILites follow is the extraordinary way of celebrating Birthdays of our fellow mates by appreciating the uniqueness they possess.
The curriculum is out-of-the-box and is designed by globally renowned academicians. There are separate academic centers for excellence in Marketing, Human resource, Data analytics and finance. SOIL is also a Harvard publishing partner and it uses the same case study approach along with a mix of pedagogy consisting of multiple intelligence.
At SOIL, we get a platform to Network with various Industry Leaders and the Faculties from all over the world. SOIL's annual Inspired Leadership Conference and events like Business Forums, give us direct opportunity to interact and learn from Leaders from all walks of life. At the same time, we get a chance to interact with our peers from B-Schools all over the world and discuss the learnings at the same time.
Get Scholarship up to 4 Lakhs! Click here to apply to SOIL
This is a Promoted Featured Story.