We have all been part of the ambit of the myriad products coming our way from Aditya Birla Group, be it the favorite shirt I wear for all of my interviews to the foil my mother uses to pack my food. It is unlikely to have not come across one.
Before getting into the big story, let me take you all through a small anecdote to probably give you a precedent of how things eventually ended.
"Ami ar khete parchina,kichuta cake niye jabo packet e?"(I am not being able to eat the entire cake, can I take back a little with me?), said the little girl, batting her perfect eye-lashes like the plastic Barbie toys we see these days, the ones with batteries.
So, it was my twenty-fifth birthday. After office, I went to City Center, Salt Lake. Every time I came here, there would be kids asking for alms. I had planned on treating them one day. However, that day I couldn't find any of them. Then I saw a little girl, wearing a shabby yellow frock, long enough to almost reach her toes. Probably someone way older to her had given that after she was done wearing it.
She was barely nine years old, with a charm and smile brighter than the stars of heaven. She came running to me and started nudging on my shirt and the other hand holding her frock.
I bent down and asked,"Cake khabe?"(Do you want to have cake?)
She shook her head top down in consent, still pulling my shirt. I held her hand and started walking towards the mall gates. But she stopped.
"Amar kojon bondhu ache.tumi oder keo niye cholo na" (I have a few friends, please take them along with us), said she.
So, the six of us, the little girl and four of her friends, headed towards Pizza Hut. I ordered pizza and cake for us. More than the food, the unprecedented attention made them feel special. We were enjoying our food when the little girl said how she wanted to take back some of the cake………….
"Dada,na go Pakhi ke bissash korona.O thik khete parbe.O kichuta cake oor bhai'r jonno niye jete chay tai khacche na" (Don't trust Pakhi, she isn't eating the entire cake because she wants to take back some for her brother),said a friend of the little girl.
So her name was Pakhi which means bird in Bengali.
I was at a loss of words. For a girl of her age, who herself barely had enough food, made sure her brother back home was part of even the little she had.
A nine-year-old girl had made me realize what even my graduation books failed to. No matter how little we have, there is always joy in sharing. After all 'khushiyaan baatne se hi badti hai'.
When all of us weren't coming in a frame, Pakhi, instinctively volunteered to click the picture for us. Isn't this what our mothers do? Happily work behind the scenes making sure we have our perfect moments.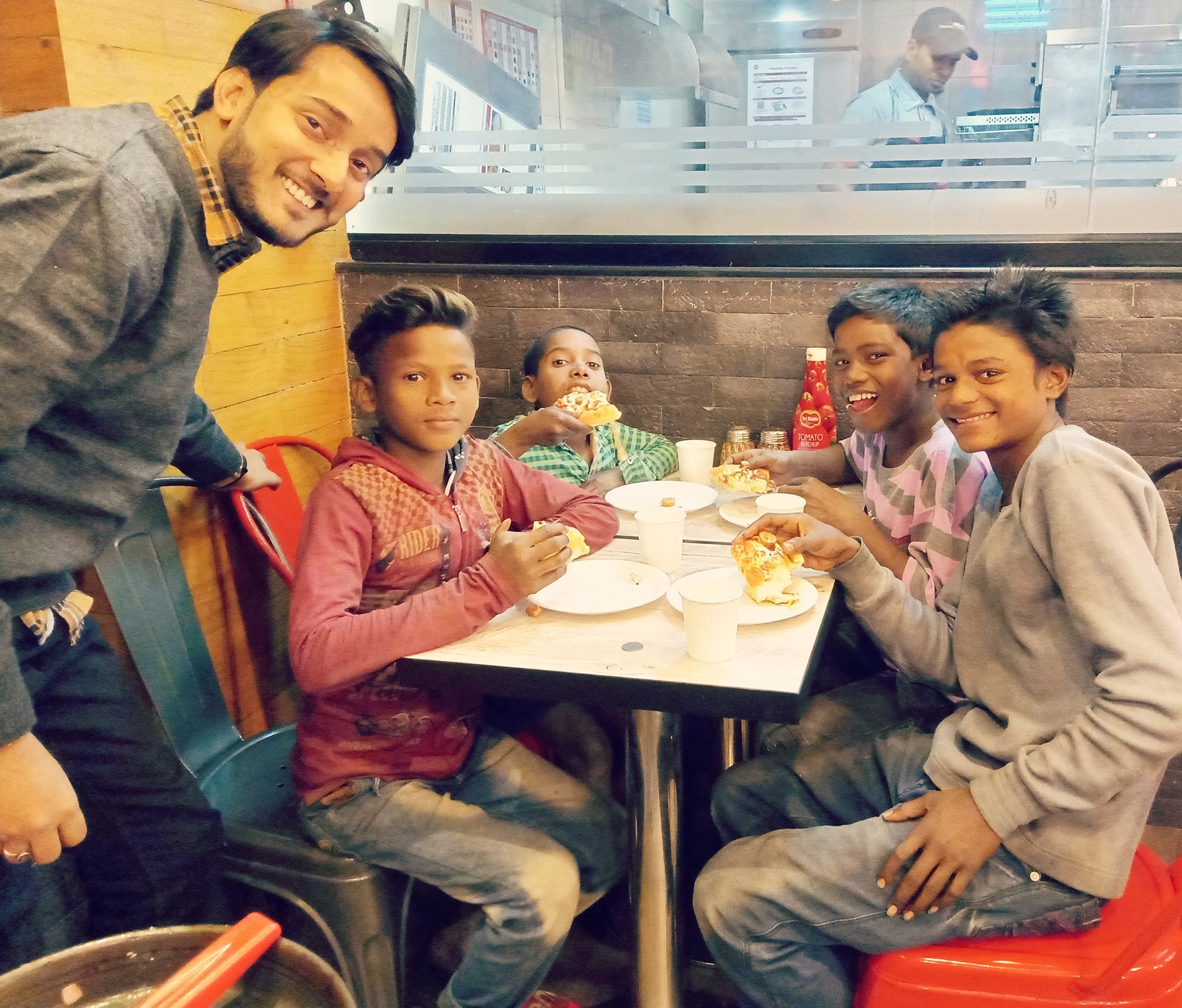 Now, You all must be wondering why this story all of sudden and how is even related to the subject in hand. Well, it is. It was not just my birthday that day.
Earlier that day, it was around eleven 'o clock by my watch. I was in office, scrolling through the news feed of my social media account. It was a little relaxed that day as far as work was concerned. We don't get such days every day and what better day to relax than on my birthday.
And yes, before joining IIM Ranchi for my MBA, I was working back then.
Scrolling through my news feed, I suddenly came across the post of an old friend of mine, Rohit. Somehow we had lost connect; we had gotten busy with our lives. However, my face lit up. Through his post, I came to know that he had bagged a job. He was the last from our entire batch to have finally got one that too while all of us had already started working.
For the last couple of months, I had tried connecting with him a couple of times but couldn't.
"He isn't keeping well and wasn't talking to anybody", is all I got to know from our mutual friends.
I decided to make one last attempt. I picked up my phone and dialed his number. To my surprise, he received the call in the first attempt. I congratulated him for his new found job offer. However, from the tone of his voice, I could very well sense something was amiss.
He wouldn't open up this soon I knew. After repeated pestering from my side and much reluctance from his, he finally let it go. We had a long conversation.
"Don't worry. I will do something about it", I said and disconnected.
It was my birthday; I was not expecting this, to say the least.
Rohit was the man of his house and came from a family of limited means. He studied with us in college with a scholarship he had received from The Government of West Bengal. Given his hard work and zeal towards academics, we were sure he would secure a job soon enough and his life would be all good, to say the least. But then life isn't always fair.
Having finally caught up with him, I found out that he had joined a small company for a meager salary meanwhile, given that he had not got a job from college. But the very last week he had finally got his break and got a job one can only dream for. However, he had a bond with the company he worked for and it required him to pay a sum of money he could not afford. He tried arranging for the money the entire week but in vain. He could arrange only a part of it. I did not know what to do. It had not even been a year I had started working and hadn't saved enough to help my friend. I felt helpless. I did not know what to do. Just then something struck me and I knew exactly what I had to do.
I had been a stock market enthusiast from a very young age. I was into trading on a pretty frequent basis back then. Why not now? That's a different story for some other time.
I opened my trading application and I still don't know why I decided on trading. I made an intraday transaction, in fact utilizing my entire intraday limit on Aditya Birla Fashion & Retail Ltd.
I don't know if it was my birthday luck that day or something else that within an hour I made all the money I needed to help my friend. It was probably the love of all the people using Aditya Birla Group products all their lives which make it such a reliable stock option.
I know, it is not a story of any regular Aditya Birla Group product that changed my life one fine day.
But then, a successful conglomerate doesn't change your life or bring an impact all of a sudden, one fine day. A conglomerate is successful if is a part of your everyday life. Aditya Birla Group is. Starting from the telecom connection I use to the apparels I wear, to being my financial aid when my father was in the hospital, it has been an indispensable part of my life. You know, how difficult it is to pick one beautiful rose from a garden full of roses. Similarly selecting only one ABG product that changed my life is equally difficult. All of them did.
Last week my friend, Rohit called me to congratulate me for my admission to the Indian Institute of Management, Ranchi.
He is in the US now. After much reluctance, I finally told him how I had managed to get him the money that day. I also told him how I celebrated the success with all the kids later that evening.
Before disconnecting the call, He asked me one thing, "Had you somehow not been lucky that day, would you have had the courage to still go and celebrate with the kids? "
Would I not have been too sad otherwise to have done something like this?
We bid ourselves goodbye and disconnected the call.
With the phone still in my hand, I kept thinking about the question my friend had asked.
Would I still have celebrated the day with the kids?
Maybe some other day. But probably not that day.
Thank You Aditya Birla Group for not only being a part of my friend's success story but also bringing a smile across the faces of all those little kids that day.