Stock Up Essentials For Two of The Most Important Years of Your Life
One of the most important things that you must do is prepare a shopping list for everything that you will need in a business school - food, clothes, electronics, etc. This is a highly cumbersome task, so we decided to help you out a bit! We have created a highly comprehensive shopping list that will give you a fairly clear picture of what you need to purchase for the next two years and where you can purchase it. Here is a glimpse of the shopping list, based on your preferences and personality type:
There's a LOT more where that came from. Check out the complete shopping list here.
Happy shopping!
****
Expect The Unexpected - Realities of A B-School
Before you step into your campus, it is imperative that you have a fair idea of what goes on behind the scenes - what really happens in placements, what friendships mean at B-schools, etc. Here are some extremely important realities that you may need to come to terms with:
I. Saurabh Sengupta's talk at the InsideIIM Pre-MBA Social - Season 3
Saurabh Sengupta, an IIM Indore alumnus and the ex-VP Sales at Zomato is one of the most candid and straightforward personalities you will ever see. In the Pre-MBA Social - Delhi edition, Saurabh ripped the band-aid off and shared some blunt truths about life at a B-school campus. In this candid three part series, find out what you can expect during your 2-year campus life, and get a glimpse of what lies beyond.
Part 1 - The Reality of Life At An IIM
In this video, Saurabh speaks about his life at IIM Indore and the key learnings he took away from those 2-years. He also candidly shares tips drawn from his own experiences, such as identifying and maintaining your distance from what he calls the "faltu janta", as well as the importance of academics and visiting faculty at a B-school. He also talks about and compares his life at IIT Delhi and IIM Indore, and speaks at length about the " charitra parivartan" that he observed in people at IIM Indore.
Part 2 - "I Chose The Wrong Job From Campus Before Joining Zomato"
In this video, Saurabh shares his journey from taking up the wrong job as an HR Consultant to joining Zomato, and also talks about the reality of placements at Indian B-schools, and the myth of "dream jobs". Saurabh also forewarns the attendees of the InsideIIM Pre-MBA Social – Season 3 of the trap of adjusting to jobs and losing one's individuality in the process, and shares some excellent tips for identifying who you really are, what career you are cut-out for, and how you can switch to a job where you belong.
Part 3 - "My IIT-IIM Tag Has No Value When I Am Doing Sales"
In yet another candid talk at the InsideIIM Pre-MBA Social Season 3, Saurabh takes us through his journey of making a lifestyle change and joining a start-up, after realising he couldn't deal with the office politics in big companies and the perfunctory nature of the job. Through hilarious and thought-provoking anecdotes, he takes us through his journey of multiple rejections and explains how everyone, after 10-12 years, automatically becomes a salesperson. He also explains why 'Sales' has a negative connotation attached to it, and why there exists a stereotype around the role.
Over half a decade of collecting thousands of B-school stories, we have come across many stories that claim to reveal what really goes on behind the scenes - these don't paint a rosy picture of the huge pay-cheques, fancy companies and a glamourous campus life, but rather bring out some not-so-great facts about the MBA life, such as:
"Everything about a business school is artificial. We like to portray ourselves as liberal people with progressive thoughts as we are supposed to be the so-called "cream of the nation". But we don't let go of our judgemental attitude and hypocrisy that we use to fool ourselves every day. We are worse than those middle aged aunties when it comes to gossips, we literally go gaga even if a guy merely hangs out with a girl."
"The DISCRIMINATION AGAINST ENGINEERS doesn't end with you making it to a B-School. It continues. The courses, the shortlisting criteria, the entire process is crafted to give an edge to the non-engineers."
"Placement committees cheat. It's an open secret. They consider it as their right to get into top firms because according to them they slog hard. College authorities are busy filling some survey ranking forms to project their institute as one of the premier b-schools in India. They care for the 100% placement mark & not anything else."
Here are 35 truths about what really goes on in B-schools to mentally prepare you for what you can expect at your campus.
****
Things To Do To Get The Right Mentality For A B-School
1. Do A SWOT Analysis - "This is an analysis that should be done from time to time to gauge the progress that we are making, particularly in your professional lives. It becomes all the more imperative to do the same before starting your MBA degree. It is highly likely that the vast majority of your competition is going to have a profile very similarly to yours (particularly if you are an engineer). To make an early head start, you need to understand your strengths and weakness so that you can make use of the former and work on the latter."
2. Be Clear In Your Head As To Why You're Doing An MBA - "If you think you have heard the last of that much dreaded 'Why MBA?' question in your b-school selection interviews, then you are grossly mistaken. Throughout the course, even during your final placements, you will be bombarded with this question time and again. Your reason should reflect your clear-mindedness, particularly when taking important decisions."
3. Let Go of Your Ego - "B-School is one place where you can find people with 5 years of work experience as well as people who have just finished their under-graduation working together as part of the same project group. This inevitably leads to differences caused by working style and mental makeup. Shedding ego takes time and letting go of it at the earliest will increase the learning exponentially." Also read - Have An IIM Call? Show Some Humility.
4. Shed Shyness And Laziness - "24 hours a day won't be enough to do everything that you want to and the chances of you finding a knowledge base like this in the future will be slim. Hence being lazy is just not an option."
5. Understand Your Campus - "Each b-school has a distinct flavour and a character. Once you get that coveted call letter from a b-school, make sure you read and research about the institute by talking to the Alumni and the current set of students (there is no dearth of platforms that can help you do the same). You don't want to be in a situation where you land in an IIM-A and expect sports tourneys/cultural fests every alternate week. Being psychologically ready will help you settle in faster." Read more about becoming mentally prepared for an MBA here.
6. Have An X-Factor - "Just a few days after you land up in b-school, you will be bombarded with CV preparation workshops and deadlines. Before you even fathom you have made it into a prestigious b-school, you will have summer internships knocking at your door step. That is the time you are forced to ponder upon the x-factor in you." Read more about how you can find your X-factor here.
****
Simple Skills That Will Help You In A B-School
1. Learn Excel - "You will survive your deadlines, overcome your submissions and battle through your Internship placements. And then when you land in that fancy corporate office, you will realise that only Microsoft Excel can save you with its pivot charts and tables and functions. Utilise this time to learn as much as possible. Be it online or be it offline, learn as much of Excel as you can." Check out this fantastic course that can help you master MS Excel.
2. Fix Your Sleep Cycle - "Start cutting down on sleep now that you are out of danger. Start functioning on 6-7 hours of sleep everyday and cut it back to 5 by the time you reach college. It will be very difficult to adjust to the schedules suddenly. Train yourself to wake up at alarms. I have forgotten the number of times I have woken up at 8.56 AM for a 9 AM class."
3. Learn The Basics - "B-School professors are notorious for their superior intellect. Many of them will assume that you know basic frameworks like SWOT & Porter's 5 Forces. Find out your first-term subjects and go through the curriculum. Start brushing up on concepts of general subjects like Marketing 101, Microeconomics etc. Know what is the bottom line of a company and what is the top line. If you look at a couple of things now, you will not be entirely overwhelmed when the classes go at full speed in Term 1."
4. Start Gathering Your CV Points - "Your placement committees will start asking your for proofs and certificates once the CV making processes start. B-Schools have a robust checking mechanism in place due to which you cannot simply put points on your CV without proof. Start looking for your certificates. Start talking to your professors, your bosses and your school teachers. Let them know that you will be needing their help soon to get your extra-curricular points verified. Your boss and your HR manager will be verifying all the work you did at the company. So maintain talking terms with them. You will need a lot of calls and mails to get your extra-curricular activities verified before you sit for placements." Also read - 75 Ways To Develop Your Personality And Your Resume
5. Build A Good Network - "Start building a good rapport with your immediate seniors (from any institute) through social groups and LinkedIn. As an aspirant or a candidate, that network can help as you research about the different B-schools, and support you throughout your candidacy." - Read more here.
6. Build Your Resume - "Everyone needs time to get accustomed to the hectic and packed schedule, and you won't get much time to build your CV before the summer placements kick off. Try to highlight how your experience and how being an MBA candidate make you the best fit and uniquely qualified to bring a fresh perspective, which is what companies are looking for when they come for recruiting new candidates with fresh energy." Read more about the right ways to build your CV here.
7. Get Enrolled In A Short-Term Course - "Try doing a short-term online course – a course with recognised certification will be a great add-on. Such courses help an individual to improve his knowledge. Short term courses will give you the opportunity to know more about your field of interest. Apart from the huge options present in websites like Coursera and edX, people interested in Marketing can go for Google Adwords, Hubspot Inbound, and Google Analytics certifications. InsideIIM has some of the best courses on Brand Management, Fundamentals of Finance on offer." Also read - Courses You Need To Do Before Joining A B-School
8. Brush Up On Your Soft Skills - "A parameter that can really help you stand out from the crowd at the B-school is your presentation skills – so work a lot on this front. Create a Personal Development Plan (PDP) with actionable goals. As future managers, you will need to have an attribute to be able to make decisions quickly. You will also need to be able to justify those decisions and live with them! So, work on your soft skills as effective communication is the key to every success."
9. Learn How To Make An Effective Presentation - "Know your way around MS Powerpoint, Prezi and other similar software. Know how to make a business presentation – the structure, which fonts to use and which ones to not, how to make the most impact, and other DOs and DONTs."
10. Learn How To Prioritise, Schedule And Manage Activities - "Unless you are a vampire that does not need sleep, you will be short of time for the next 2 years. Know how to optimise what time you have."
****
Books To Read Before You Begin Your MBA
Over the past few years, we have received numerous book recommendations by MBA students (some of whom are now alumni) of the most interesting and insightful books that teach lessons not just on business or management but also on life. These are the best MBA books to read for those aspiring to join business schools, as well as for those already in their dream B-schools, looking forward to their life in the corporate world.
Take a look at 25 book recommendations by B-school students and alumni that can help you before, during, and after your MBA!
By the way, we at InsideIIM have crafted YOBO - a book meant for new B-school joinees to get a grasp of the B-school life, and how you can excel on your campus!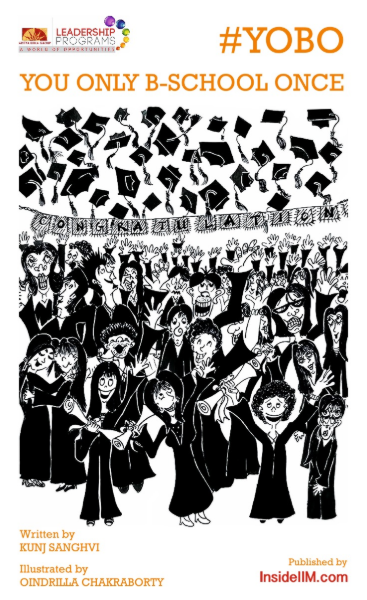 Grab a copy of You Only B-School Once here.
Have questions that you want answered by B-school students? Ask them here.
****
Bonus Section - The Mumbai Starter Kit!
Some of you may be shifting to top B-schools in the wonderful city of Mumbai, and believe us, your life is about to become amazing! The Mumbaiya culture is something that one needs to experience to believe, and we are here to help you discover what it means to be a true Mumbaikar! Presenting to you, the Mumbai Starter Kit: This 8-part kit is your shortcut to all things Mumbai. From finding accommodation to cheap eats and how to commute in Mumbai, we tell you all. Brush up on what you need in your kitchen, how to dress to impress and how to have fun in Mumbai. We make sure that your Mumbai experience remains unforgettable!
****
You may also be interested in reading: