Case interviews are a crucial part of the interview process for hiring management consultants. These interviews comprise challenging problem statements with the backdrop of a perplexing situation. Master the art of cracking case interviews, and you stand a very strong chance of getting hired even by the likes of McKinsey, BCG and Bain. Do you possess the skill of strategic thinking and problem-solving? Then show us and solve this case problem presented by a BCG Consultant. Psssst! There's an exciting reward if you provide the winning answer!
"How much time does it take to relocated an average size mountain 10 miles using an average size dump truck?"
Take Your Career To The Next Level. Ask Our Experts Anything. We Will Respond Within 48 Hours.
"Audi claims that it makes the safest cars in the world because fewer people die in an Audi than in a car made by any other manufacturer in the world. What's wrong with this conclusion?"
Do these question seem intimidating and make you scratch your head? These are all real case interview problem statements from actual consulting interviews!
Does the idea of solving these problem statements excite you? Are you looking to make a career as Consultant? Are you appearing for a Consulting interview soon? If yes, we think you'd love to enroll for 5 of our very special sessions on cracking case interviews, conducted by Pratik Ranjan - a Senior Associate at the Boston Consulting Group and a recent IIM Lucknow graduate!
This program is completely free for InsideIIM Premium Subscribers. Neither Pratik Ranjan nor the company or any institution he is associated with, stand to commercially benefit through this educational initiative.
Before you sign up as an InsideIIM Premium Subscribers, we have a special challenge for all you future Consultants - find the winning solution to the problem statement given below and become an InsideIIM Premium Subscribers for free!
Though there can be only one winner, we have something for all participants who provide a high-quality response to this case problem. You can become an InsideIIM Premium Subscriber at a flat discount of ₹ 500!
Your Case Topic - The Government of Uttar Pradesh wants your help to decide the ticket price to explore one of the seven wonders of the world - the Taj Mahal, located in the North Indian city of Agra. What should be the ticket price for the Taj Mahal?
The Deadline - We expect your responses to be in by 11:59 PM, Sunday, 26th July 2020. Responses beyond the deadline will be accepted but not evaluated.
---
Need Help Structuring Your Response? Here Are Some Resources That Can Help You
---
About The Case Interview Masterclass With Pratik Ranjan - Senior Associate At BCG, IIM L Grad.
Consulting is a dream to many but most people's journey stops as questions like the above. If you've ever dreamed of landing a Consulting role, here's your opportunity to get a step closer to realizing it!
We are very excited to launch the InsideIIM Case Interview Masterklass in association with Pratik Ranjan Verma, Senior Associate at BCG India and an MBA mentor to over thousands of aspirants and B-School students!
These sessions will cover topics like:
How to make a CV for consulting roles
Types of cases asked in interviews
Framework and approach to crack case interviews
Mock cases across all types of cases
HR prep and Interview guidance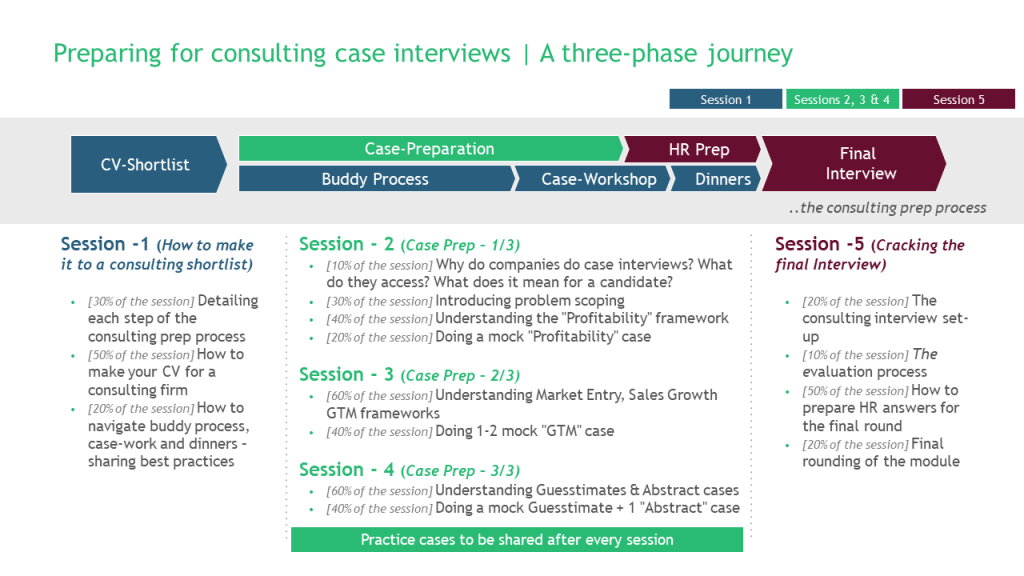 Interested? The first session starts on 30th July at 7:00 PM.