---
---
What Is the Bare Minimum CAT 2022 Percentile You Need to Make It to a Top IIM?
Before you can even think of being shortlisted for the WAT-PI process of the top IIMs, you need to meet the minimum overall as well as sectional cut-offs.
Based on the numbers below, if you get 80 percentile or more across all three sections of the CAT 2022 exam, and more than 85 percentile overall, you're eligible to be shortlisted by IIMs Ahmedabad, Bangalore, Calcutta and Kozhikode. That's four of the top-six IIMs in the country.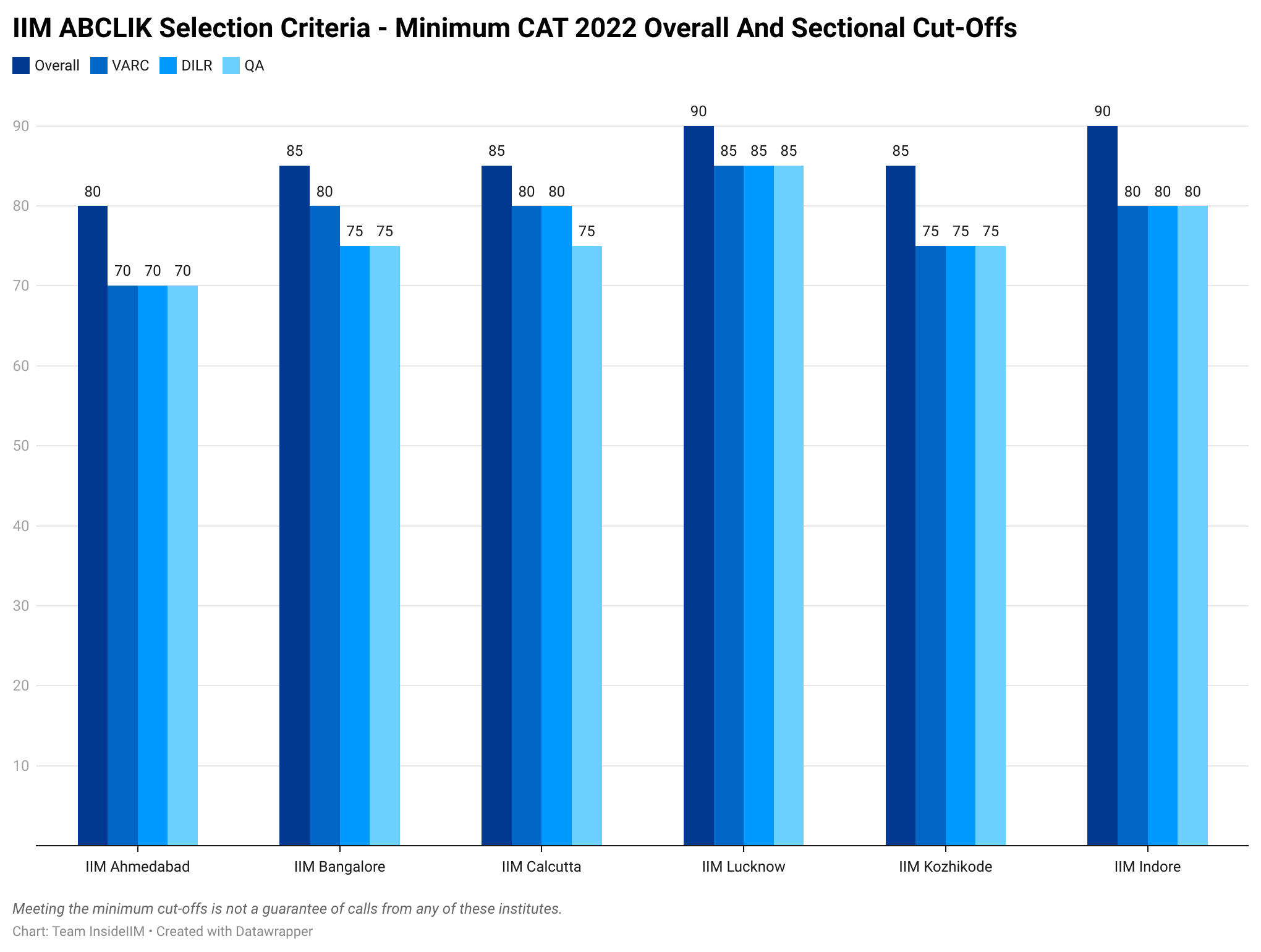 Please note that in some cases, meeting the minimum CAT cut-offs is also not enough. For instance, IIM Kozhikode insists that you also meet the minimum cut-off for 10th and 12th marks to be eligible for progressing to the next stage of the process. Also, some IIMs like IIM Bangalore have different weights for each of the three sections of CAT. The sectional cut-offs can also be different for different sections, as is the case with IIMs Calcutta and Bangalore.
---
---
CAT 2022 Didn't Go as Expected? You Could Still Get an IIM Shortlist
When it comes to the admission process for IIMs, realistically, the only component you have control over is the CAT exam. So, how much weight does each top-ranked IIM give to CAT scores during the WAT-PI shortlisting process?
According to the latest IIM selection criteria, IIMs Ahmedabad and Calcutta give about 2/3rd of the weight to a candidate's CAT 2022 performance, with the rest going to the candidate's overall profile. IIM Lucknow gives 60% of the total weight to CAT scores, followed by IIM Bangalore which gives 55% of the total weight to CAT scores.
This means that between two candidates with similar profiles, chances of being shortlisted boil down to CAT 2022 performance.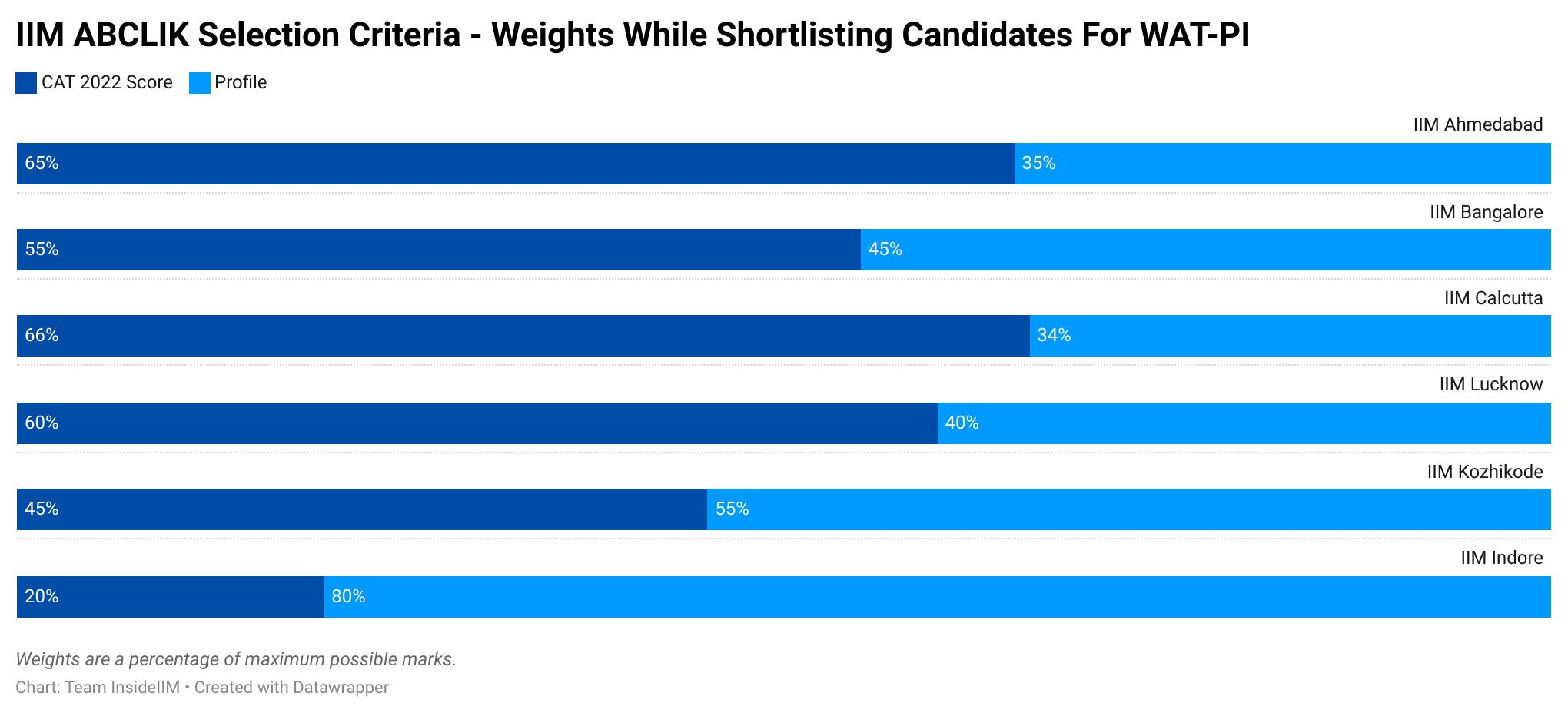 But what if your CAT 2022 sucked? All is not lost.
You could still make it to IIM Kozhikode or IIM Indore, but most likely only if you have a great overall profile. IIM Kozhikode gives 55% weight to your profile, while IIM Indore gives an incredible 80% weight to your profile, which means an underwhelming CAT 2022 performance can potentially be compensated for with a stellar profile.
---
We at InsideIIM, are absolutely thrilled to present to you MBA Admissions Bootcamp WAT-PI Edge S03, a WAT-PI training program where we put you directly in touch with business school students and alumni from your dream institutes. These MBA students and alumni, having gone through the grueling WAT-PI process themselves, will train you to smash any and every b-school interview that comes your way!
---
Which IIMs Will Punish You Most for Past Sins?
Given that the IIMs consider past academic performance to shortlist candidates, you may be somewhat anxious about how much your academic profile will damage your chances.
Let's start with graduation marks, the admission criterion applicants are most jittery about. Based on the latest numbers, your graduation marks will only matter for admission to IIMs Ahmedabad and Lucknow. Even there, grad marks get only 10% weight in the WAT-PI shortlisting process.
Every single top-ranked IIM will consider your 12th marks while shortlisting candidates for the WAT-PI round. The weight for 12th marks is highest at IIM Indore (40%), and lowest at IIMs Ahmedabad and Lucknow (10%).
Five out of the six IIMs include 10th marks as a selection criterion. The lowest weight for 10th marks is at IIM Lucknow (0%), followed by IIM Ahmedabad (10%). The highest weight for 10th marks is at IIM Indore (34%).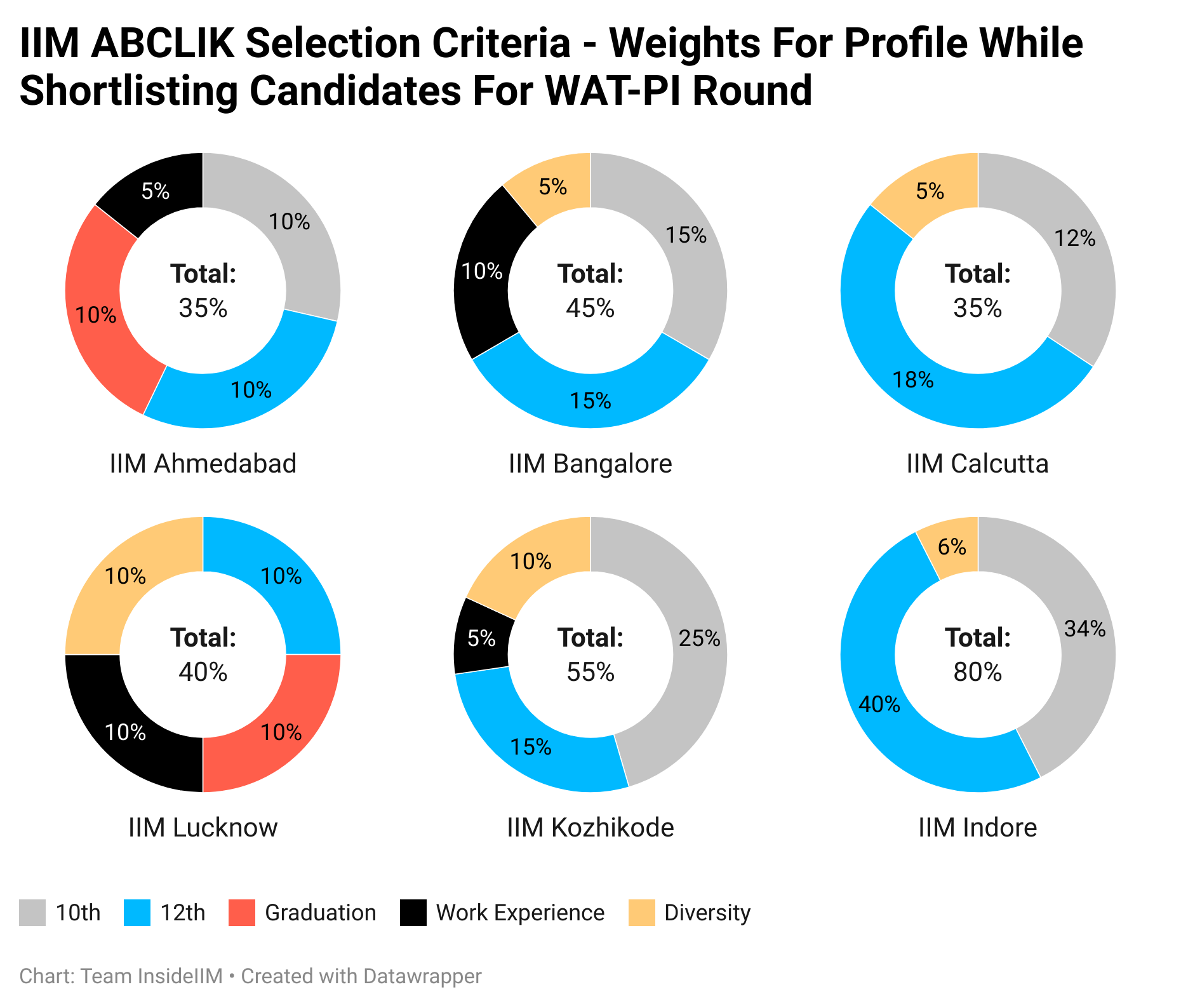 Next - how much of an advantage do applicants with work ex have in the WAT-PI shortlisting round? Not much at IIM Calcutta. Work ex really counts for something at IIM Lucknow and IIM Bangalore. For instance, at IIM Bangalore, those with about 3 years or more work experience have a significant advantage over the rest. In fact, about 71% of IIM Bangalore's batch has work-ex of over a year, and half the batch has experience of over 2 years.
Finally, let's look at diversity. Each of IIMs ABCLIK factors in diversity into the admission process, IIM Ahmedabad more uniquely so with its elaborate scoring system based on academic categories. IIMs Lucknow and Kozhikode assign a significant 10% weight to diversity in the WAT-PI shortlisting process. So if you're a non-engineer and/or female applicant, these are the institutes where you'll have the maximum advantage.
---
---
What Will It Take to Get an Admission Offer From the Top IIMs?
Making it to the WAT-PI round is very tough. But getting an actual admission offer is arguably tougher, given the incredible degree of preparation you need to get through the personal interview (PI) round.
Every single IIM here gives maximum weight to the PI component. If you want to make it to any of these institutes, you have to do well in the interview. Based on latest numbers, IIM Ahmedabad cares most about how you do in the PI, assigning a 50% weight to that component. The lowest weight (relatively) for PI is in IIM Kozhikode's admission process (35%).
Next, let's look at how much your WAT performance counts. At IIM Indore, it counts for nothing since there isn't a WAT round at all. At IIM Kozhikode, WAT accounts for 20% of the total weight. This means even an average interview can potentially be offset by fantastic WAT essays, though there may be a minimum PI score cut-off that you may have to surpass.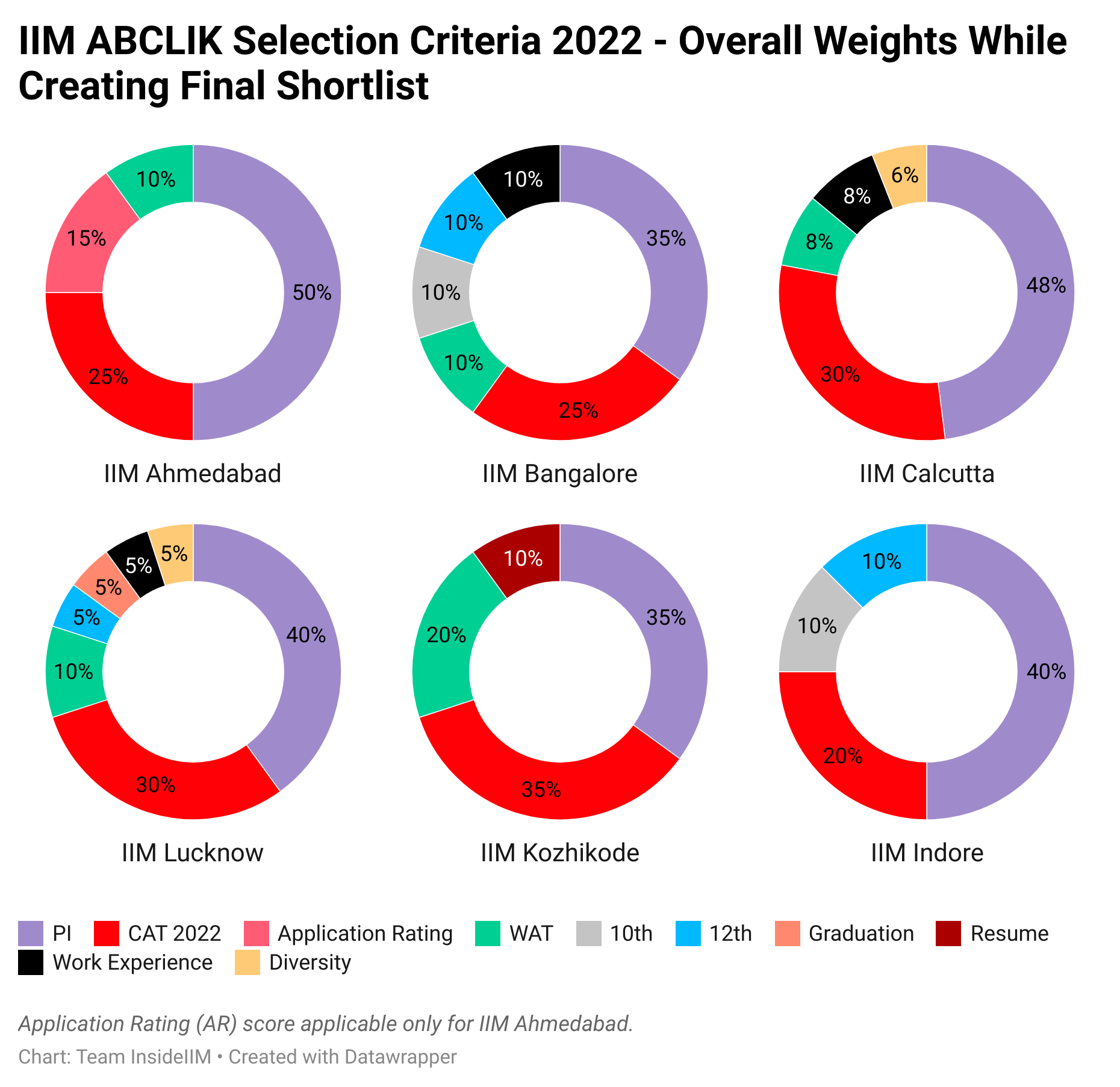 How much do CAT 2022 scores matter at this stage? Quite a bit. The least weight given to CAT scores is 20% (by IIM Indore), and the highest weight is 35% (by IIM Kozhikode).
What about 10th, 12th and graduation marks? Out of the six IIMs, three evaluate 10th, 12th, and/or graduation marks while creating the final shortlist for admission. IIMs Bangalore and Indore give 10% weight each to 10th and 12th marks. IIM Lucknow gives 5% weight each to 12th and graduation marks.
---
85%+ of students enrolled for InsideIIM's MBA Admissions Bootcamp converted their best b-school calls from institutes like IIM BLACKI, FMS Delhi, XLRI Jamshedpur, SPJIMR Mumbai, MDI Gurgaon, IIFT Delhi, NMIMS Mumbai, SIBM Pune, and more! Check out InsideIIM's MBA Admissions Bootcamp - WATPI Edge S03!
---
What Do the Latest IIM Selection Criteria Mean for You?
If you get above 80 percentile across all three sections of the CAT 2022 exam, and over 85 percentile overall, you're eligible to be shortlisted by four of the top-six IIMs, including IIMs ABC.
At the WAT-PI shortlisting stage, if you have a not-so-great CAT score but a good overall profile, your chances of being called for an interview are highest for IIMs Indore and Kozhikode, especially if you've done very well in 10th and 12th.
If you did well in CAT 2022 but don't have the best overall profile, your chances of being shortlisted for an interview are highest at IIMs Calcutta and Ahmedabad.
The chances of actually getting an admission offer largely come down to how well you do in your PI, and also how well you've done in CAT 2022, since these are the two components that account for at least 60% of the total weight for the admission process for any of IIMs ABCLIK.
---
Read Next → Is Your Academic Profile Good Enough For The Top Six IIMs? Here's What Data Says
---