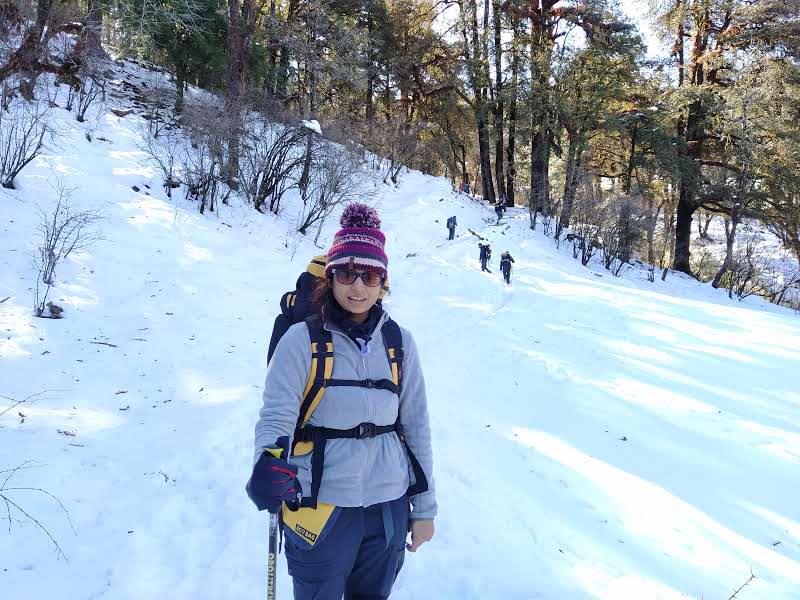 At IIM Lucknow, this is a course designed to give students a learning experience on leadership and team dynamics through a 6-day expedition trek in the Himalayas.
Incepted at IIM Lucknow in by Professor Sushil Kumar, the course is conducted in association with India Hikes who are known for safety and their sustainable style of trekking. Currently, IIM Banglore and IIM Indore are other B-Schools that have included this challenge in their course curriculum.
More than trekking, this course is about planning and working with the team, involving team members in tasks assigned, identifying the strengths and weaknesses of each teammate and managing the resources to deliver the best, motivating each other and most importantly reflecting individually and as a team to learn from the challenges.
Pre-Trek: The Preparation
Firstly, as fitness and stamina are important to have a safe and enjoyable trek, we were instructed to carry on a fitness regime of jogging, squats, and stair climbing at least 4 days a week for one month with the target to be able to run 5 km in 35 minutes or less.
Secondly, as the trek was scheduled in the last week of December and the temperatures were expected to drop to as low as -12°C. To keep us warm and safe in snow, we were required to get a checklist of items like trekking shoes, backpacks, trek poles, thermos, padded jackets, synthetic gloves, woolen socks, fleece jackets, trek pants, etc. Many of these items were available for rent with India Hikes.
The Trek: Himalayan Mountain Challenge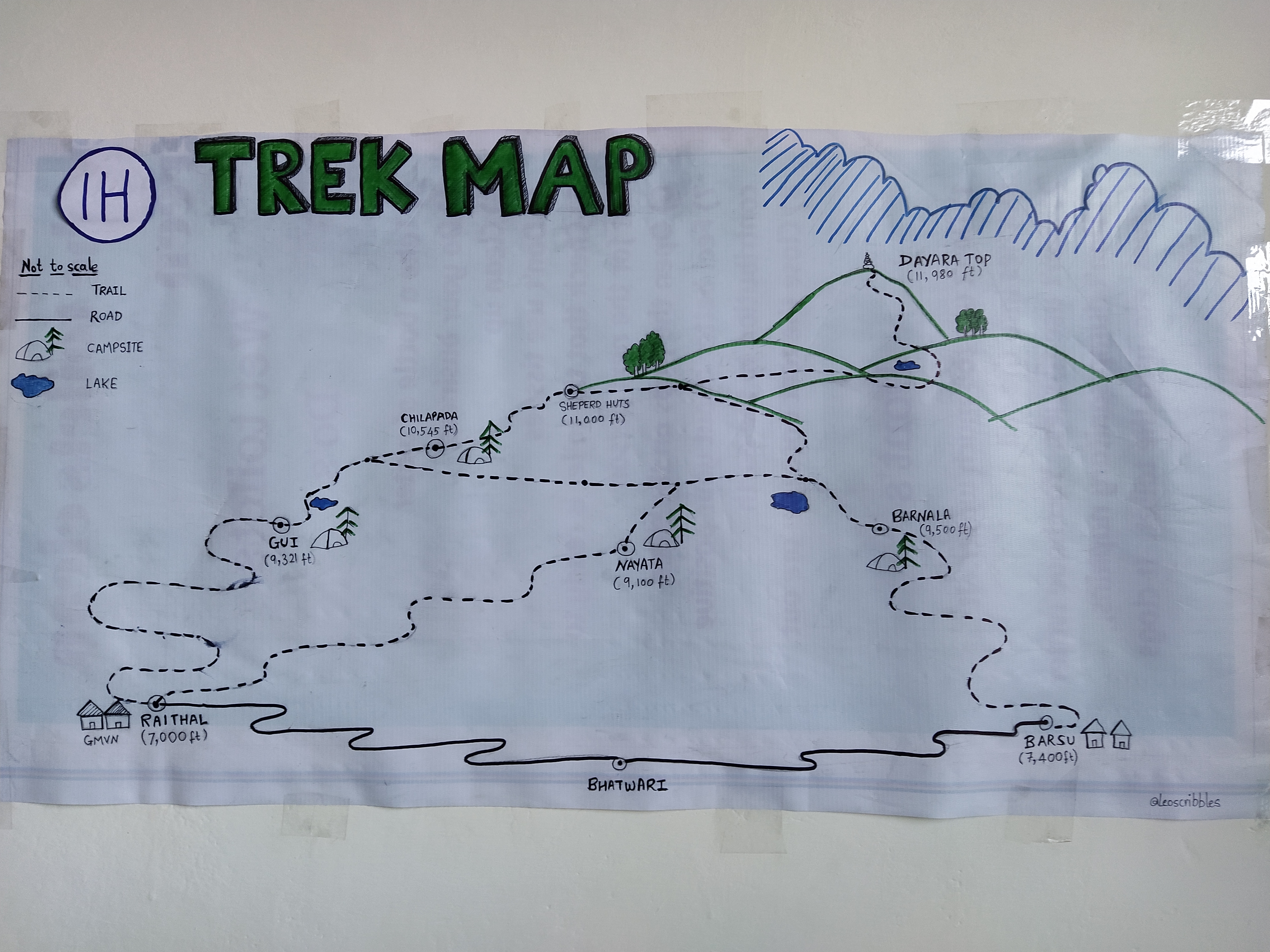 Day 1: Dehradun to Raithal (7000ft)
We left Dehradun at 6:00 am in a tempo traveler. It was a 10-hour drive with 2 stops for breakfast and lunch in Mussoorie and Uttarkashi. Geared up in 4 layers already, we could already feel the chills through our way amidst the curvy roads, forests, step farms sights and glances of the snowy Himalayas.
At Raithal, we were put up in Base Camp of India Hikes for the night and were briefed about the upcoming days by Game Master and Trek Lead. The snowy mountain range of Gangotri and Yamunotri could be spotted from the Base Camp which was set in the beautiful village of Raithal.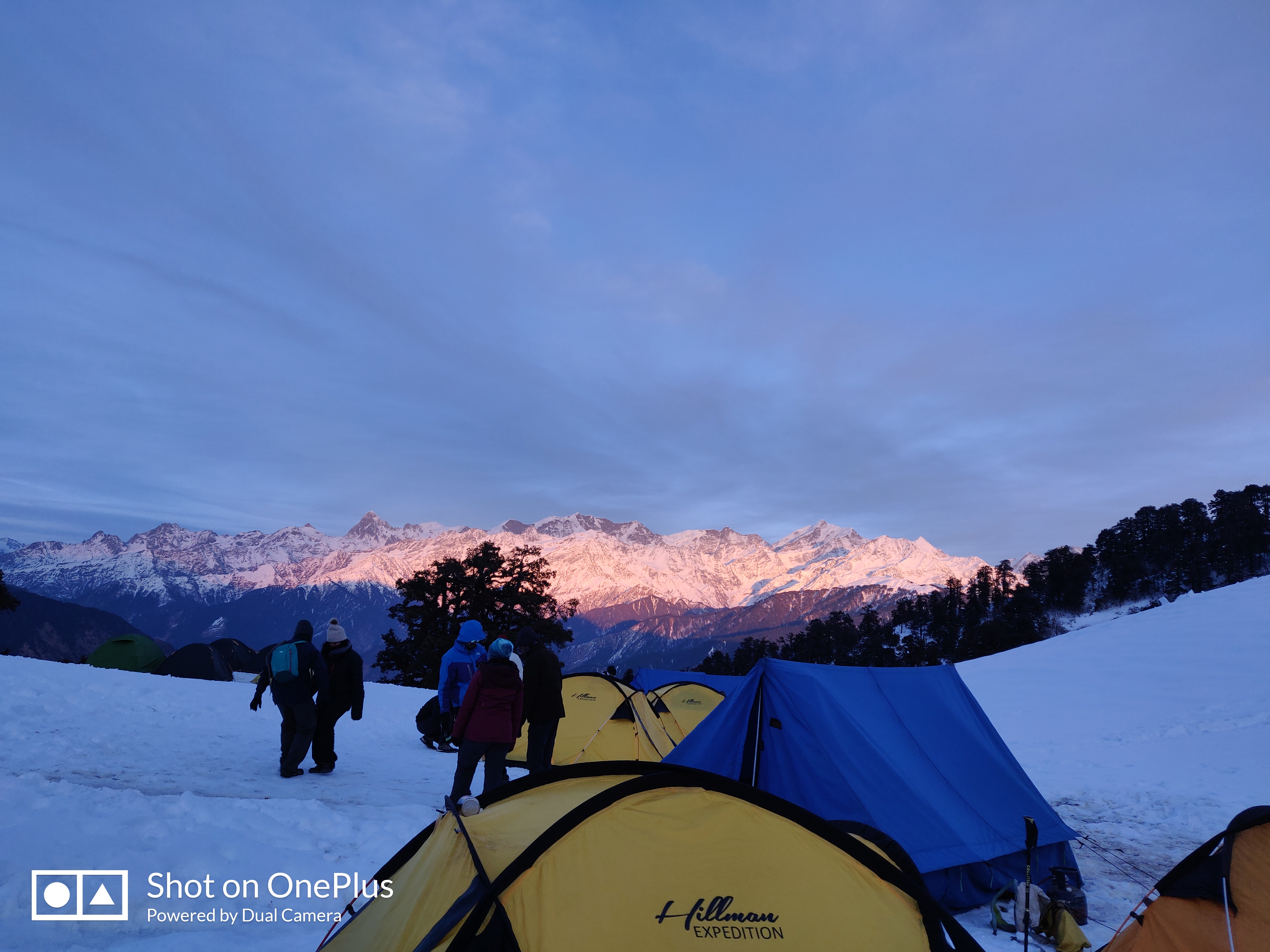 Day 2: Raithal to Gui (9321ft)
We started at 9 am from Raithal fully geared and warmed up. This was also the junction from where we would not have any electricity for the next 4 days. It was a 5 km trek with gradual descend throughout the meadows. We found many natives women collecting leaves and woods on the way.
We reached GUI campsite around 2 pm where we were trained on pitching our tents. The evening was spent on cooking meals for the team and reflections of the day- what went right and what went wrong. Gui campsite was a beautiful location surrounded by forests of silver, gold oak trees, bloomed with rhododendrons.
Day 3: Gui to Chilapada (10545 ft)
Gui to Chilapada was a 3km trek. This day was deliberately kept light to give us adequate rest as the next day was supposed to be the summit day. We were to wake up at 3:30 am to be able to start early to the summit and be back to the campsite before sunset. We were provided with sleeping bags to fight the bitter cold with temperatures reaching -14°C.
Day 4: Chilapada to Dayara Top (11980 ft) to Nayata (9100 ft)
The summit day was a 10 km trek starting 5:30 am onwards. To tackle the steep slopes and knee height snow, gaiters (snow gears) and micro-spikes were provided. We reached the peak at 9 am and stayed there for an hour. It was serene to watch the snowy valley and mesmerized people all around. It was a view that was worth all the effort. An experience that can neither be expressed in words not captured in photographs. It was a sense of achievement of having completed the feat of hiking 12000 ft and the joy of discovering the heavenly abode of Himalayas and our own strengths and weaknesses. We reflected for some time and started back after clicking pictures and chanting team slogans.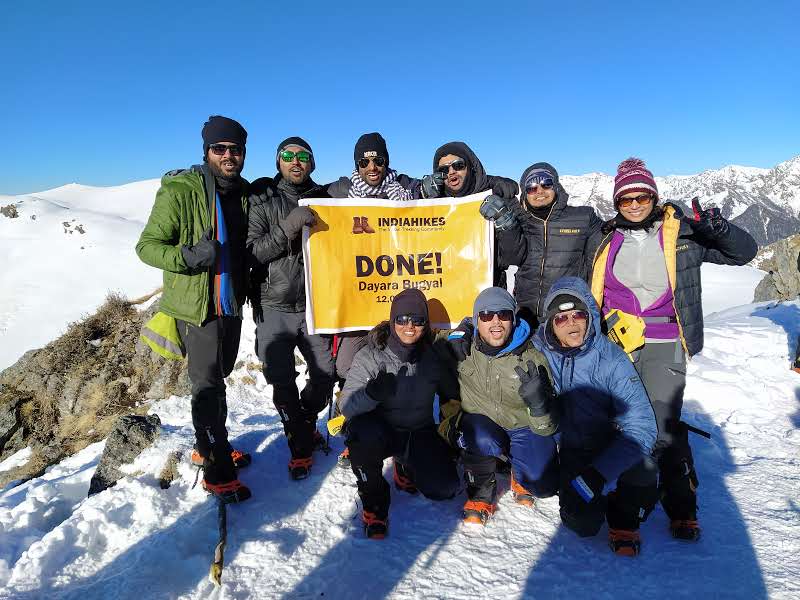 Day 5: Nayata to Barsu(7400ft)
The downhill trek required less effort though we needed to be more careful to avoid slipping in the snow. The India Hikes Campsite at Barsu was a comfortable resort where we were finally able to sleep in cozy beds and blankets. The evening saw presentations from the group on their trek experience.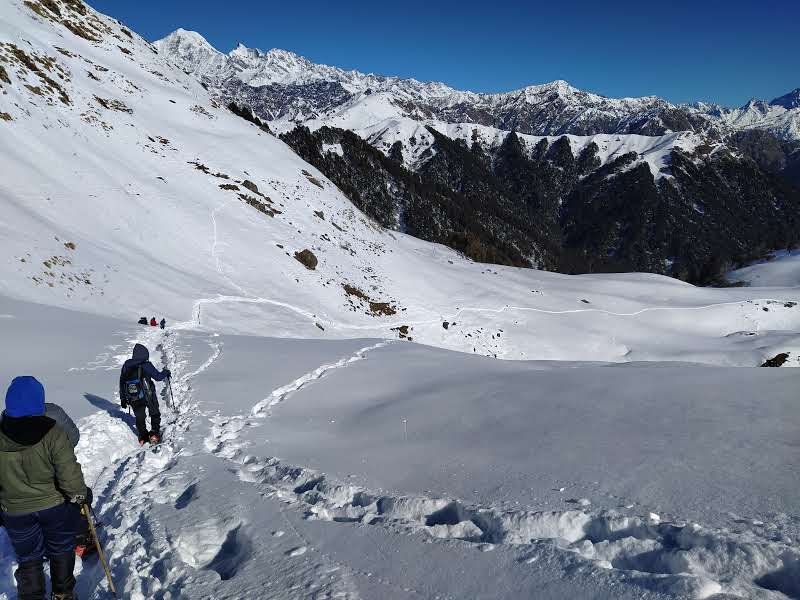 This to me was once in a lifetime experience mainly with manky takeaways like:
I was able to test my perseverance and push my own limits. The different tasks, be it setting up the tents or cooking meals or planning and executing the trek itself helped me develop team skills and a sense of ownership.
The experience of living in snow and observing the serene nature with a close eye was something that I will cherish for a long time.
Lastly, I bonded closely with 9 batch mates who happened to be my teammates and will certainly carry the bond for years to come!
_______________________________________________________________________________________________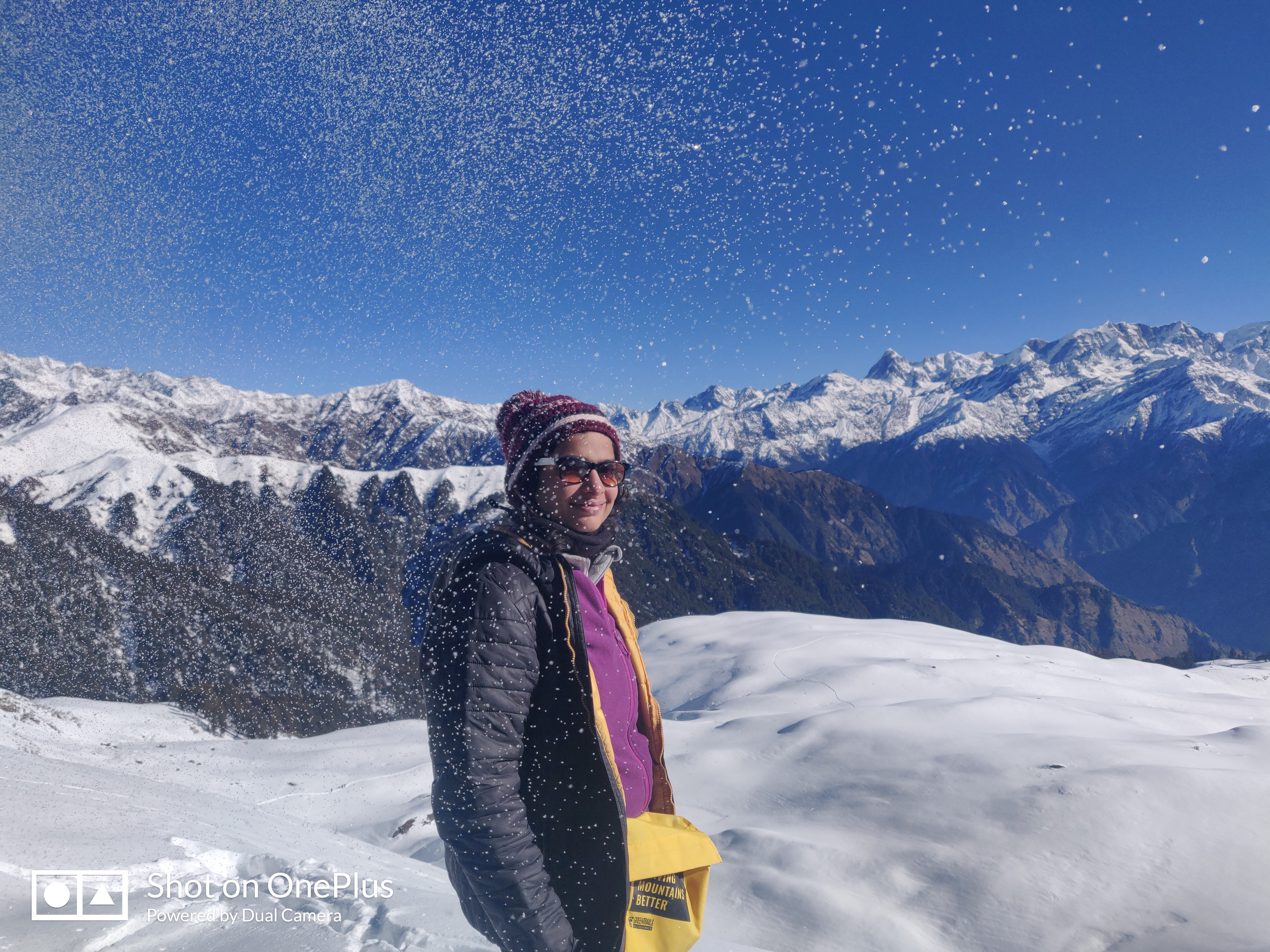 Shashin Singh is currently pursuing her MBA from IIM Lucknow. She likes going on adventure trips and is an active sportsperson. At IIM Lucknow she is a part of the Sports Committee and the Vice-Captain of the institute Volleyball team. Prior to joining IIML, she did her graduation in Electronics and Communication Engineering from NIT Bhopal and has 3 years of work experience at Tata Motors.