Tough times reveal a lot. IIM Bangalore's report on the career opportunities provided to its graduates shows us why certain brands are worth their weight in gold. IIM B is one such brand. Across sectors and domains, graduates have been provided ample opportunities. One of them is an opportunity to work in the Office of Mukesh Ambani as an executive assistant, chairman of India's most celebrated enterprise (Reliance Industries Ltd.- Strategic Services Unit). HCL Technologies participated with a unique initiative - Entrepreneur@Residence, under which candidates selected will work directly under Mr Shiv Nadar, Founder & Chairman, HCL. Premier private equity firm, the Blackstone Group (London) and consulting firms Greenwich and Roland Berger, hired exclusively from IIM Bangalore offering international locations. Despite the global slowdown, 21 students will start their careers abroad from the Class of 2013 at IIM Bangalore. Almost every company ranked in the top 5 in our Recruiter Rankings has visited IIM Bangalore (Morgan Stanley being the only exception). Any student graduating from IIM Bangalore who feels hard done by can only be termed 'ungrateful'. In any case, we at InsideIIM believe that no business school is obligated to provide jobs to its graduates.
You can find the Final Placements Report for the Class of 2012 here.
One must also note that a big reason for the great show is the blockbuster summer placements that this batch enjoyed which we covered here. A lot of the companies mentioned below may not have visited the campus again and just given out Pre-Placement Offers after the internship. 77 out of 97 such offers were accepted. A high number of PPOs also says something about the high quality of the students admitted and the strength of the IIM Bangalore's brand among recruiters.
While a comparison is not easily available since we don't have separate data for FMCG from other campuses, it seems that not many are keen on a career in FMCG companies from IIM B (We have XLRI numbers of around 20% for FMCG but batch size is considerably smaller to directly compare). We must say that sectoral data released by IIM B is far more useful than what is released by many other campuses where sector/domain classification is done interchangeably. Hence, you will see Sales & Marketing as a sector whereas it is actually a domain. Ideally, there should be information which tells us sectors broken down further by domains. For e.g, FMCG broken down into roles in Sales & Marketing, Finance, IT, Supply Chain and HR.
The list below is not exhaustive.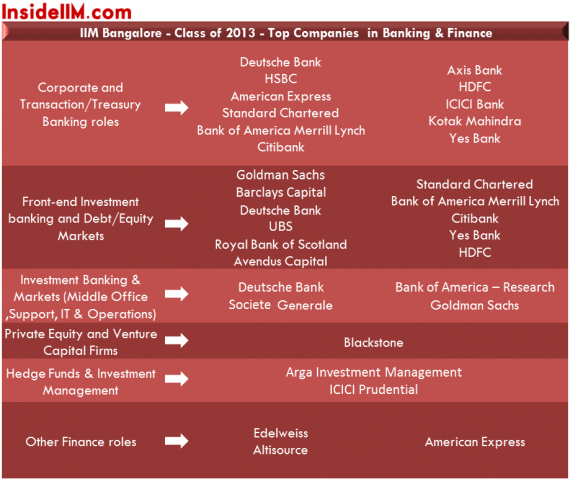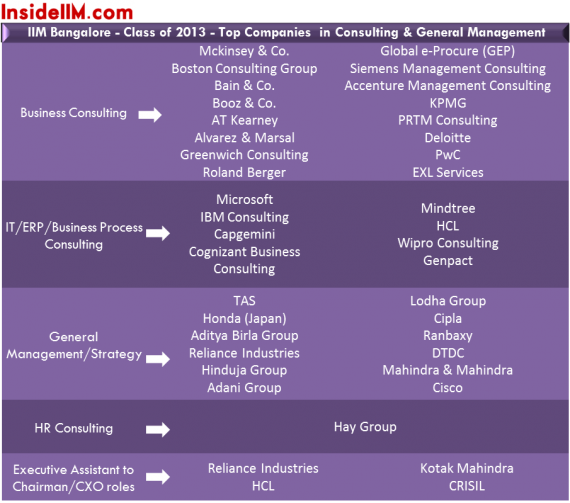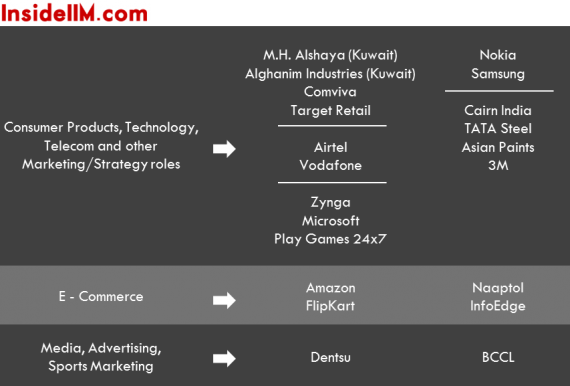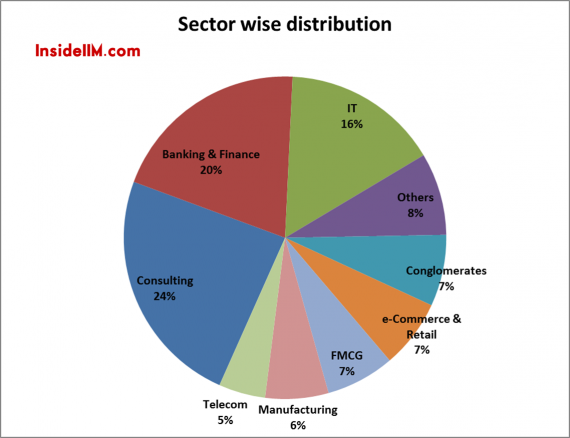 7 Students showed the courage to start their own ventures/join a social cause and the institute allowed them to defer placements. Some of the initiatives include startups like Hedge Quants, Learning Outcomes and joining Azim Premji Foundation
We cannot guarantee that 100% of the information above is accurate but we have done our best to verify. We would like to thank the Placement Team at IIM Bangalore for their co-operation.
In case you wish to point out anomalies in the report, do write in to us at editor(at)insideiim(dot)com. We will try to clarify it with the placement committee. Anonymity will be ensured.
Other placement reports this season:
Final Placements : IIM Indore - Class of 2013
Final Placements : FMS Delhi – Class of 2013
Final Placements : XLRI Jamshedpur – Class of 2013
Final Placements : IIM Kozhikode – Class of 2013
Final Placements : SPJIMR Mumbai – Class of 2013 (Unverified Report)
Final Placements : JBIMS Mumbai – Class of 2013 (Unverified Report)