The most crucial lesson that I have learnt is to keep moving in spite of a lot and lot of failures. Failures are very important to help you succeed. Treat it as motivation to do better and you will go places.
Whole of my life I had been a failure.
1. AIEEE 2008--> I got a score of -1. My all India rank was around 660000.
2. IIT-JEE 2008 --> Single Digit Score.
After this debacle, I still had the audacity to take a year drop and prepare for the upcoming year.
3.AIEEE 2009--> Rank of around 100000. A lot of improvement, though.
4. IIT-JEE 2009-> Didn't qualify. I don't exactly remember my score.
5. WBJEE 2009--> Rank of around 13,000. Took admission in a not so good branch as this was my only resort.
During my engineering, I decided to write CAT as the urge to do something big in me was always there. Then I started preparing for CAT with putting in a lot of effort, as I had to make my parents proud of me someday, somewhere.
6. CAT 2012- Scored 62.87 %Ile. I cried a lot that day, was is depression for a month but then the hope that my time will come some day, pushed me to prepare again.
Initially, I thought of working for 2 years then, I would write CAT, but I wrote it includes between.
7. CAT 2013- Scored 85.xx %ile. Again felt very low, but then realised these failures has become a part and parcel of my life. So, I "Hoped" again!
8. CAT 2014- This year I studied very hard alongside my job. Left everything aside and the only focus was to bell the CAT.
The results came and I scored 94.73%ile. I had a few calls from good institutes, but could not convert to any of them. So this season again, I was a failure. I had quit my job in the hope that I would convert at least one call, but as fate has decided, I didn't.
It was June 2015. I was jobless, a big failure with no hope what to do next. I was unable to sleep for a month. I used to be awake and go for a walk at 5 in the morning when sun rose; finding ways to overcome this difficult phase.
My father then gave me a push saying, "Beta, tumko kya tension hai, humlog hai na. Kuch sochlenge. Give one last try, we have faith in you. (Son, why are you worrying, we are with you. Well, will think on it. Give one last try, we have faith in you.)"
That day I left all my failures behind and started studying again day and night. I didn't think about the results. I just had the thought that I have to give my 100%. That's it.
CAT 2015- It was 8th January 2016 when the results were out. I told my father that the results were out and I don't have the courage to see it, this time. My dad said, "Don't worry. Jo hoga acha hoga (Don't worry. Everything will be fine.)"
I opened my results and turned the desktop towards him praying.
He started crying and I asked what happened. He told "Beta, 99.93 (Son, 99.93)".
He didn't say a word and hugged me like a child. My mother too started shedding tears of happiness, telling us to stop crying. My father then took us to the temple and we all prayed to say thanks to give us that moment.
That moment took away all my failures and finally instilled in me the confidence that "If you keep trying, you will succeed, no matter what comes your way".
Failures make us. It is important to fail because that makes winning all the more sweet.
P.S :- There are a lot of things that happened in between all these which I cannot pen down right now because tears have already started pouring out of my eyes.
Edit : Thanks a lot for the response :) If my journey has motivated even a single being ill feel it was worth it :) A lot of people have asked which IIM did I get into ?. So here is the further story:
After the CAT results, when the shortlist of IIMs started coming I didn't even get a call from the 1st 4 IIMs that I checked! Yes IIM-A, IIM-B, IIM-I, IIM-S didn't even call me because of my past. I felt a bit dejected but then I got a call from my dream institute-IIM-C which was more than enough for me. I have calls from IIM-K, IIM-L and FMS. I am done with all my interviews but one and the results are awaited. I will update as soon as I get the good news :) If not then will "hope" again!
Edit 2 : It was 15th April around 5 when I got a call from my friend that the results of IIM C is out. I was Riding my bike and stopped in between a busy road. I started shivering and opened the site on my cell. It took me 10-15 mins to enter the correct ID as I was numb at that moment. A lot of scenes of my past were going in my mind and I was just praying and praying. Somehow the tab opened and I closed my eyes. After a lot of self-convincing, I saw the Screen and the 1st thing that I saw was "Confirmed" and the feeling! Tears of happiness started pouring again and God I had made it. I thought to give the good news to my parents personally as I wanted to see their proud faces, the moment of their life. I reached home and touched their feet and hugged them and told, "We have done it, I am going to IIM C". I cannot describe what happened next as those are the moments that we live for. Their eyes said it all. :) This part of my life... this little part called "happiness". :) :)
So there is always light at end of the tunnel, we just need to keep moving with full of our efforts! Never Lose Hope, Never !!
With all your wishes and support I have finally converted my dream college --> IIM CALCUTTA :) :). #JOKARFORLIFE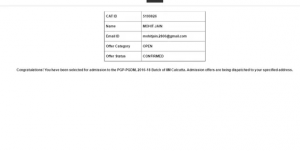 This article was first published as a Quora Answer by Mohit Jain who is currently pursuing Management Studies at IIM Calcutta.
p.s: Mohit Jain was a student of Iquanta Coaching Classes.