This article will help you to prepare sports-related GK questions for XAT/ TISSNET / SNAP / IIFT.
Started in 1930, and were held every 4 years with the exception of 1942 and 1946, which were cancelled due to World War II.
Australia has hosted four Commonwealth Games and will host for the fifth time in 2018. Canada has hosted four Commonwealth Games. Two cities have hosted Commonwealth Games more than one time: Auckland and Edinburgh.
Only six countries have attended every Commonwealth Games: Australia, Canada, England, New Zealand, Scotland, and Wales.
Australia has been the highest achieving team for twelve games, England for seven, and Canada for one.
The first Commonwealth Games in 1930 were held in Ontario, Canada and 11 countries participated in them. They were called the British Empire Games until 1952.
In 1962, The Commonwealth Paraplegic Games were commenced. These involved athletes with a disability from Commonwealth Countries. They were discontinued after four events in 1974. Athletes with disabilities were reincluded in Commonwealth Games in 1994, and have been continued ever since.
Countries which hosted Commonwealth Games in 21st Century:
2002 England Manchester, England
2002 England Manchester, England
2006 Australia Melbourne, Australia
2014 Scotland Glasgow, Scotland
2018 Australia Gold Coast, Australia
India has won medals in 16 Commonwealth Games and won 155 gold medals, 155 silver medals and 128 bronze medals. India has not participated in every Commonwealth Games even since Independence.
Asian Games were commenced in 1951 in New Delhi, India and are held every four years.
In its history, nine nations have hosted the Asian Games. Forty-six nations have participated in the Games, including Israel, which was excluded from the Games after their last participation in 1974.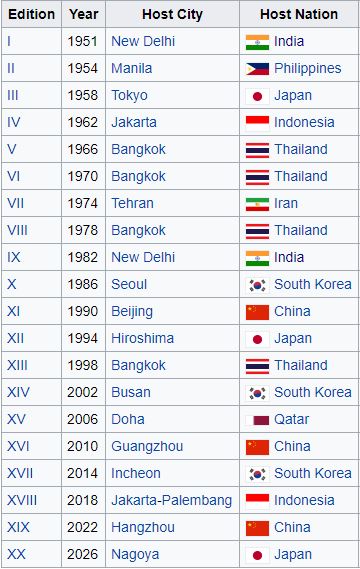 On many occasions, there was a lot of crisis around Asian Games because of religious, political and financial reasons.
India hosted Asian Games in 1951 and 1982.
Olympic Games are considered the world's leading international sporting events, in which players from more than 200 countries participate. Their creation was inspired by the ancient Olympic Games, which were held in Olympia, Greece, from the 8th century BC to the 4th century AD.
The Olympic symbol, better known as the Olympic rings, consists of five intertwined rings and represents the unity of the five inhabited continents (Africa, America, Asia, Australia and Europe). The coloured version of the rings—blue, yellow, black, green, and red—over a white field forms the Olympic flag. These colours were chosen because every nation had at least one of them on its national flag.
[caption id="" align="aligncenter" width="471"]
Olympic Flag[/caption]
The Olympic motto, Citius, Altius, Fortius, a Latin expression meaning "Faster, Higher, Stronger" was proposed by Pierre de Coubertin in 1894 and has been official since 1924.
The modern Olympic games were commenced in 1896 with just 14 nations participating. The ceremony typically starts with the hoisting of the host country's flag and a performance of its national anthem. The host nation then presents artistic displays of music, singing, dance, and theatre representative of its culture.
Since the modern Olympics began in 1896, there have been 28 Summer Olympic Games held in 23 cities, and 22 Winter Olympic Games held in 19 cities.
In 2022, Beijing will become the only city that has held both the summer and the winter Olympic Games. Seven cities have hosted the Olympic Games more than once: Athens, Paris, London, St. Moritz, Lake Placid, Los Angeles, and Innsbruck. Tokyo will join this list upon hosting the 2020 Summer Olympics, having previously hosted the summer games of 1964, as well as Beijing upon hosting the 2022 Winter Olympics, having previously hosted the summer games of 2008.
London became the first city to have hosted three Games with the 2012 Summer Olympics. Paris will become the second city to do this with the 2024 Summer Olympics, followed by Los Angeles as the third in 2028. The United States has hosted a total of eight Olympic Games, more than any other country, followed by France with five editions. Canada, Germany, Italy, Japan, and the United Kingdom have each hosted three Games.
The Games have primarily been hosted in the continents of Europe (36 editions) and North America (12 editions); eight Games have been hosted in Asia and two have been hosted in Oceania. In 2016, Rio de Janeiro became South America's first Olympic host city, while the African continent is yet to hold the Games. Other major geographic regions which have never hosted the Olympics include the Middle East, the Indian subcontinent, the Caribbean, and Southeast Asia.
India first participated at the Olympic Games in 1900. It has won more medals in field hockey than any other sport at the Olympics. For a period of time, India national field hockey team was dominant in Olympic competition, winning eleven medals in twelve Olympics between 1920 and 1980. The run included 8 gold medals total and six successive gold medals from 1928–1956
At the 2008 Beijing Olympics, Abhinav Bindra won gold in the Men's 10-metre air rifle event becoming the first Indian to win an individual gold medal at the Olympic Games. Vijender Singh got the country's first medal in boxing with his bronze medal in Middleweight category.
The 2012 Summer Olympics saw an 83-member Indian contingent participating in the games and setting a new best for the country with a total of six medals. Wrestler Sushil Kumar became the first Indian with multiple individual Olympic medals (bronze at the 2008 Beijing Olympics and silver at the 2012 Summer Olympics) since Norman Pritchard in 1900. Saina Nehwal won a bronze medal in badminton in Women's singles getting the country's first Olympic medal in badminton. Pugilist Mary Kom became the first Indian woman to win a medal in boxing with her bronze medal finish in Women's flyweight category.
At the 2016 Summer Olympics, a record number of 118 athletes competed. Sakshi Malik became the first Indian woman wrestler to win an Olympic medal with her bronze medal finish in Women's freestyle 58 kg category. Shuttler P. V. Sindhu became the first Indian woman to win a silver medal in Olympics and also the youngest Indian Olympic medallist.