Avoiding a mistake or learning from a mistake can be a key to success.
"Never Give Up" has always been my prime motto. I was brought up in Srikakulam of Andhra Pradesh. I joined NIT Patna in 2014 in Electrical Engineering. Despite my low grades (6.75 CGPA in B.Tech), I was part of many extra-curricular clubs and also worked as Coordinator for Fest and Placement Cell. One of my seniors helped me realize that I possess few skills which helped me get into these positions. I decided to make the best use of those skills and realized that pursuing an MBA would help me with it.
First Attempt: CAT 2017
I treated this attempt as a mock attempt and did not pay much attention to preparation. Just 2 weeks before the D day, I glanced through the syllabus and studied the basic formula. The D day has arrived and I was tension-free as I did not have any expectations towards the exam. The result was out and I was surprised to see that I scored 93.56 percentile. I also received a few Interview calls. This made me happy and I was confident till I started my preparation for CAT 2018 in March. For the first time, I went through the model of the paper and got to know that the LRDI section has 8 sets with 4 questions in each set. I understood that I committed a grave mistake by not preparing for the examination in a proper manner.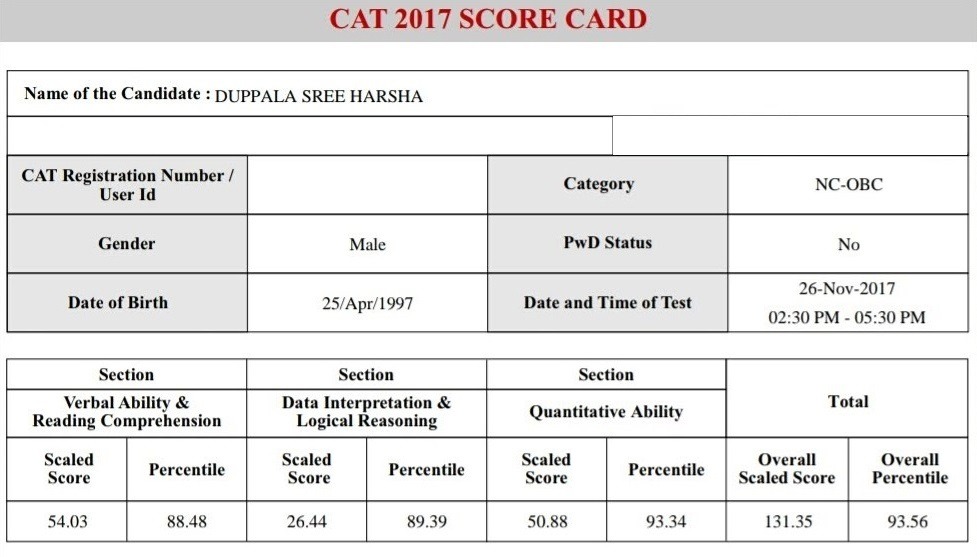 Mistakes:
Did not analyze anything about the syllabus and the model of the paper.
Especially LRDI which was really easy, but because of absolute zero knowledge, I was unable to devise a strategy to effectively solve the section
Learning:
Always go through the previous year's papers and devise strategies to attempt.
Try to cover at least the basics of all sections.
Second Attempt: CAT 2018
I left an offer in a reputed company to continue my preparation for CAT. I started my preparation in May 2018 and did not opt to join any coaching Institute. I went through the syllabus and built a strong foundation in the basics of all the 3 sections. I had given numerous sectional tests and mock tests. I was pursuing an Internship in the 1st half of the day and prepared for the exam in the other half. I revised the formulas thoroughly and made short notes for each topic. Finally, D-day has arrived, and I was very much tensed about the exam and its output which had an impact on my VARC section. After the exam, I was confident about QA and LRDI but was worried about VARC. The results were out in January and VARC was a disaster. The total percentile was 91.52 which was less than the last time and I was totally devastated.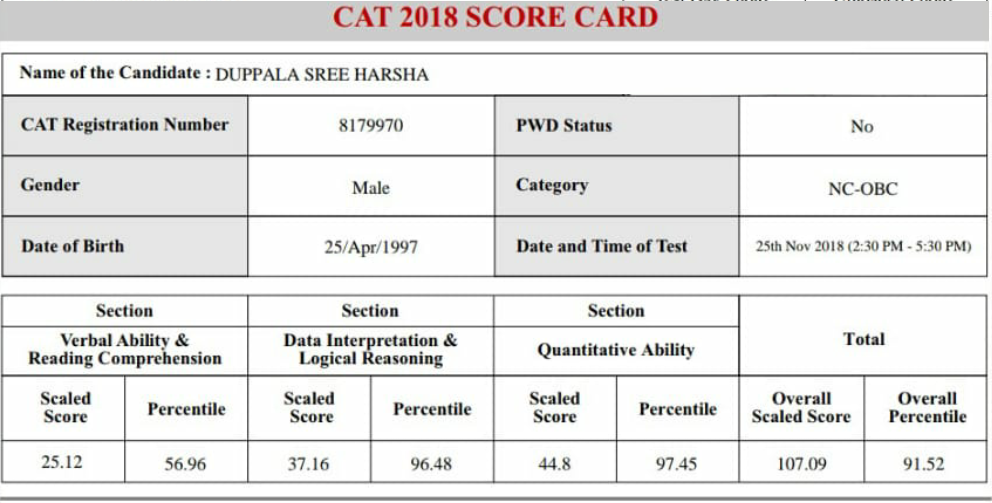 Mistakes:
Tension before and during the exam.
Giving up on job offer to prepare for the examination.
Learning:
Sectional tests and Mock tests are really important for our preparation. They help us in identifying our strong areas and they are almost a true reflection of our current level.
Stop getting tensed before and during the examination as it will hamper the result more. Stop the exam for a min and take a breath to get back to your normal self.
If one can plan accordingly, he/she can prepare effectively while giving his best in his job responsibilities. So do not give up your job unless you feel it will create a great impact.
Take Your Career To The Next Level. Ask Our Experts Anything. We Will Respond Within 48 Hours.
Third Attempt: CAT 2019
There was a lot of pressure from my family to give up on this attempt and prepare for Govt Examinations. In order to satisfy their wish, I started preparing for both Govt. Exams and CAT simultaneously. I had taken up coaching for VARC especially. I revised all the basics quickly and concentrated on solving advanced-level problems and new varieties without any time limits. Because of the Govt. Exams preparation, I wasn't able to spend much time for CAT and my actual preparation started on Sept 15th. I gave a few mocks but did not give any sectional tests. On the D-day, I was able to control my anxiety and was able to concentrate on my exam. But I completely messed up the LRDI section due to time mismanagement. The percentile fell to 90.75 but still, I received calls from New IIM's.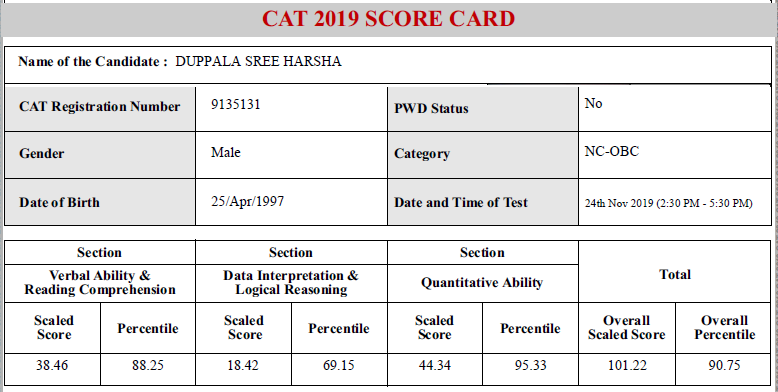 Mistakes:
No time-bound practice of LRDI questions during practice.
Neglected the basic models while concentrating on new models and advanced level questions.
Learnings:
The time-bound practice of LRDI & VARC is really important to manage time well in Exams. Start with 15-18 mins a set and as you go on reduce it to 12-15 mins.
Do not neglect Easy questions for the sake of learning new and variety of questions. Pick up any previous year's paper and you can easily find 8-10 questions that are basic.
Stop sailing on multiple boats at once. Concentrate on one thing at a time.
Fourth Attempt: CAT 2020
Though I converted few colleges, I wasn't quite satisfied and decided to give it one more try while continuing my job. There was a lot of opposition to my decision but eventually, I started preparation, and initially, I worked on making my basics clear. Worked on different level questions from various sources. Finally, on the D-day, I maintained my calm in the VARC & QA section. I was able to attempt only 1 set in the first 30 mins in the LRDI section which made me a bit nervous, but I tried my best to calm down myself and was able to crack one more set in the last 9 mins. Finally, the results are out and I scored a 99.30 percentile. I received interview calls from all IIM's except A and B, FMS, MDI, IIT Delhi, IIT Bombay.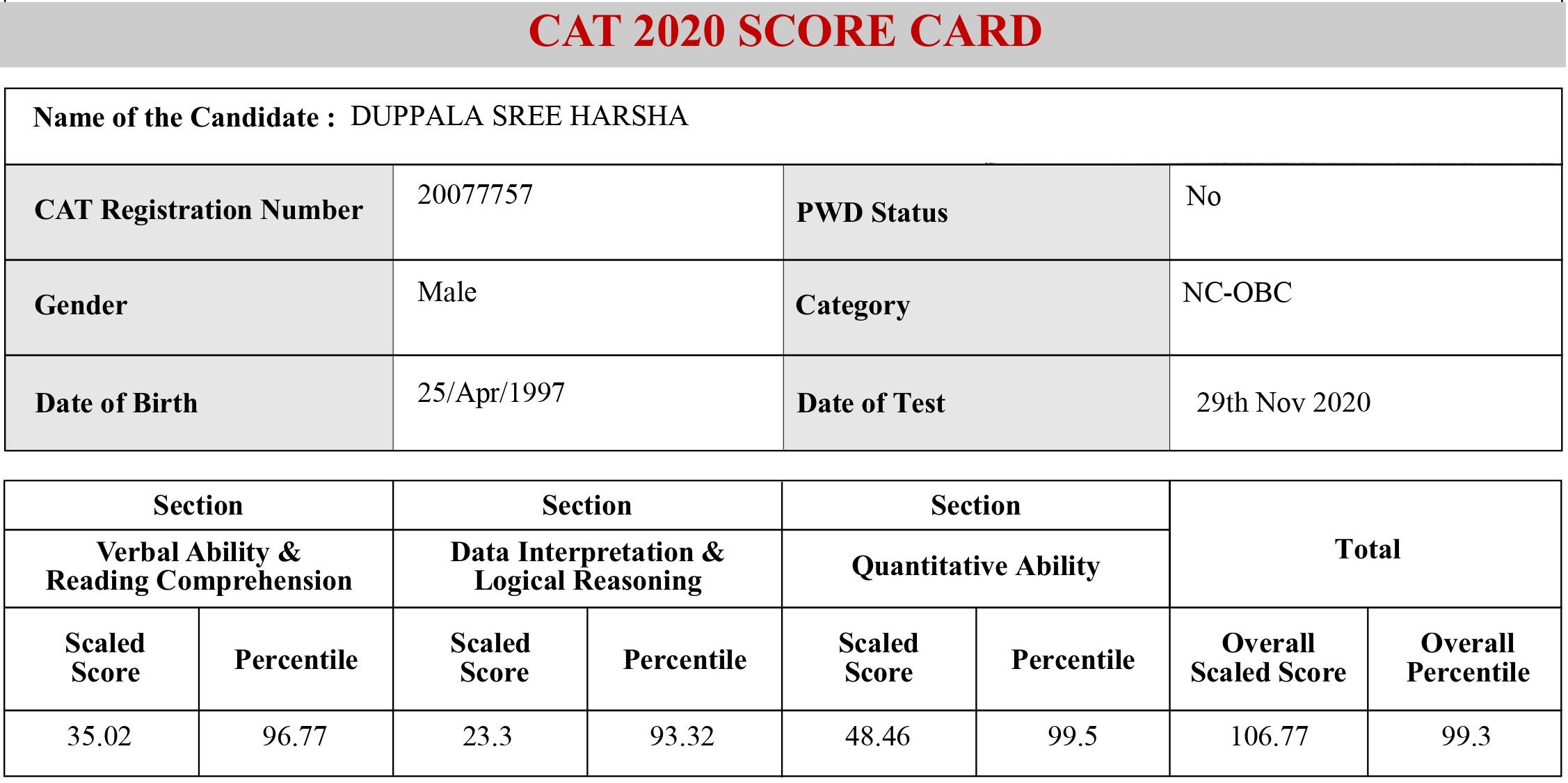 ---
My Advice to CAT Aspirants
S. No
Trait
Ways to Improve
1
Concept
Coaching Institutes, Coverage of Basics, Short Notes, Constant revision
2
Question Selection
Through Mocks and Sectional Tests(Identifying different level questions), Identifying strong and weak areas
3
Solution Approach Planning
Strong concept and Practice can help us with this
4
Execution
Through Constant Practice from Worksheets & Books.
I would suggest beginners go with stepwise solving in the beginning and mental calculations in the end
5
Speed
Doing good in the above 4 areas would automatically improve your speed. Identifying and Excelling at basic questions in minimum time would fetch us a minimum score can help us save time.
1. Syllabus & Model of Question Paper:
Based on the syllabus devise a preparation strategy and based on the model of question paper devise a strategy to attempt the paper.
2. Build a strong foundation in basics:
Each section contains 8-10 questions that can be solved by just understanding the basics of the topic. These questions upon attempting correctly can fetch us 90 percentile.
3. Make Short Notes:
Short notes should comprise only important formulas and a few important and new model questions (10-15). This will be helpful during revision.
4. Importance of Sectional Tests:
They help in time-bound practice and can create a huge impact on your preparation. Try to give at least one sectional of each section a day from September. TIME institute provides an adequate number of sectionals.
5. Do not get fooled by Mock test percentiles:
Attempt at least 10–15 mocks and keep a tab of your score and not percentile. If you score 100/300 and get a percentile of 76 in the mock test, the same score would yield 90 percentile in the real examination. So I advise you to keep a tab on your score and not on percentile. Also, analyze and review your mocks after each exam.
6. Initial Mock results effect:
Do not get offended if you score fewer marks in the initial 3 to 4 mocks (it happens with most of the people), work on identifying weak areas, and try and improve your score by 10 marks for the next 1-2 exams. Be cautious about the difficulty level of mocks. Scoring 70 on a difficult paper after scoring 100 on an easy paper does not imply a bad performance.
7. Preparation Groups effect:
Stop getting worried about other's performance when they post their mock scores on preparation groups. There would be hardly 30-40 people who would be actively posting the scores or answering the questions. Dunn let them bother your preparation.
8. Strong and Weak Sections:
Try to complete your strong sections first and work on weak parallelly. Maximize score in strong sections and try to score the best in your weaker areas (Covering basics can help you with this).
9. Skipping Easy questions during practice is a big "No":
Practice all types of questions easy, moderate, and difficult. While moderate and difficult questions improve your concept, practicing easy questions makes you comfortable with the topic along with improving speed. A lot of beginners tend to stop solving easy questions which affects their speed, so try to solve all sorts of questions.
10. Coaching Institutes:
Opt for any coaching institute for your preparation. But remember that Coaching Institutes are merely data centers. Our results depend upon how well we receive, analyze, and use the Data.
Do not follow only a particular method of solving, there may be other methods that are much easier in solving some problems, try to adapt to different methods and use all of them accordingly. Sometimes mixing two different techniques can give a better result.
Use the Facebook groups and Youtube channels (Ex: EG, LRDI preparation, Iquanta Etc..) to gather additional information or new ways to solve problems.
11. Time Bound practice of questions:
While practicing questions on your own set a timer for each question and try to solve it within the timer. This will help you with time management. Initially start with a particular time and reduce it as you go ahead.
12. Preparation Strategies:
Different people have different capabilities. Method or style of preparation suggested by one aspirant or mentor may or may not be beneficial to other aspirants. Try to develop a way of preparation which suits your needs.
13. Worrying about your profile:
Stop worrying about your profile. There are hundreds of students who made into good IIM with a decent CAT percentile and good Interviews. Concentrate on your CAT preparation and give your best.
14. Best Motivator:
Whenever you feel demotivated talk to the person inside you (The motivator inside you when your friend needs motivation). "Only you are your best Motivator".
All the best for your CAT 2021
***