Markets are constantly bombarded with new products every day. And to stand out, you need to come up with marketing strategies that cut the clutter. If you are on any of the social media channels, chances are, you might have come across one or the other 'out of the box' campaigns of Durex that caught your eye. Or you might have taken part in the recent #HandWashChallenge by Dettol and performed to the tunes on TikTok!
We all understand the importance of marketing for the success of a product, but what exactly goes behind creating this impact? Over the years how has marketing evolved and how the FMCG industry leveraged the ever-growing world of digital marketing?

If you are an aspiring marketing student, waiting for your GD-PI rounds these are some of the topics you should definitely brush upon. And to provide you with that opportunity, we are here with the second webinar of the SoaRBeyond program, powered by RB.
RB, an FMCG company with market-leading brands like Dettol, Lysol, Harpic, Durex, Veet, and Mortein, among others, is here to help you SoaRBeyond the GD-PI processes that will lead you to your dream B-school.
Take Your Career To The Next Level. Ask Our Experts Anything. We Will Respond Within 48 Hours.
Check out the first webinar here.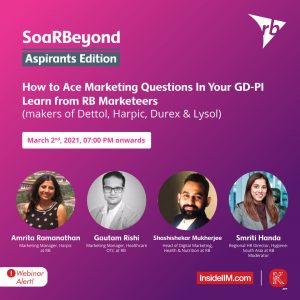 In this webinar, we have Amrita Ramanathan, who has over a decade of experience working in the internet & FMCG marketing industry and currently works as the Marketing Manager for Harpic at RB. We also have Gautam Rishi, Marketing Manager for Healthcare at RB who will be talking about the campaigns he has worked on and how a shift in brand strategy leads to shifting in marketing approaches. The panel will also be joined by Shashishekar Mukherjee, head of Digital Marketing, Health & Nutrition at RB, talking more about its importance and future.
Smriti Handa, Regional HR Director, Hygiene- South Asia at RB will be moderating the webinar asking questions to the panelists that can be helpful for you to crack your much-awaited GD-PI rounds.
So, why wait. Register now for the second webinar of the SoaRBeyond program.
What do you get?
● Opportunity to ask live questions and solve your doubts
● Discuss business cases and live problem solving
● Understand how companies like RB deals with marketing
● Learn about probable GD-PI questions through quiz (to be taken by the attendees after the webinars)
● Stand out of the B-school crowd with an exclusive certification from a leading FMCG recruiter
When is it happening?
The second webinar of the SoaRBeyond program will take place on March 2, 2021, from 7 pm onwards.
Fairly Simple!
If you are someone who has cleared their CAT and are waiting for your B-school interviews, you can simply fill in your details in the registration form and be part of the webinar.
You can check out the first webinar of the SoaRBeyond program on How Businesses Triumphed Over The Pandemic here.
To Know more about SoaRBeyond program, click here.