On the occasion of International Women's Day 2018, we asked the women of top b-schools across India to highlight their achievements, views on feminism, the #MeToo campaign and their perception of gender inequality in our country.
I am Shuchi Agrawal. I come from a relatively small town in Rajasthan. Owing to the transferable nature of my father's job, we had to shift places frequently during my childhood. This provided me with an opportunity in disguise to interact with different people, which has given me a broad outlook towards life. Most of these places were small towns and hence my education until high school was mostly in Hindi medium. Since my childhood days, I have always been interested in mathematics and science, and hence, I joined Chemical Engineering course in IIT BHU. Soon after completing my graduation, I joined a process design firm in oil and gas sector. While on the job, I got the opportunity to work with clients all over the world and I learnt a lot during my work. After five years of working there, the power of knowledge called out to me, persuading me to seek more. In my opinion, MBA is a good platform to gain the deeper background and insight about management and hence I joined IIMA. So, here I am, a first-year student at IIMA, preparing myself for the life ahead.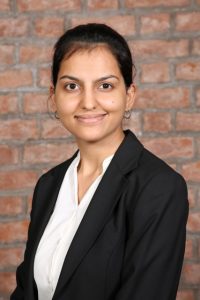 How would you explain feminism to a 10-year-old?
I would like to tell a 10-year old, that every human being has the right to choose what he or she wants to do. Whether a girl or a boy, they are all equal. There is no inherent difference between the two and hence one should never think like that. To a girl, she is free to do whatever she wants to, and for a boy, to enjoy the same and respect the other genders' rights.
Which female icon has inspired you the most and why?
India's first female Prime Minister Indira Gandhi. She served as the Prime Minister of India for three consecutive terms, as well as a fourth term. She evokes the image of a strong and determined woman. Among several progressive schemes, Indira Gandhi is credited with supporting India's nuclear weapons program, which helped establish India as a formidable force. She is also known for boosting the Green Revolution, a program which enabled India to not only become self-sufficient to a large extent in terms of food supply, but also established India's presence as a major food exporter. She stayed in power despite a culture, which viewed women to be subservient to men and in spite of representing a relatively newborn democracy, she tackled the world's superpowers with her no-nonsense attitude. Her sole determination and dedication towards her work inspires me a lot.
What kind of impact do you think the #MeToo campaign created?
Through #MeToo campaign, social media has democratised feminism, helping women to share experiences of sexual violence. This allowed women to talk about the issue in public, which was kept behind curtains until now. Until the internet came along, we just were not having these conversations about what it is like to be a woman, what it is like to walk down the street and be harassed and catcalled. We did not know about the idea of everyday sexism.
The movement is part of a string of hashtags and methods used by women to highlight harassment. The effects are being seen every day. One anonymous woman used the #MeToo hashtag to accuse Vice journalist Sam Kriss of forcibly kissing and harassing her. Kriss posted an apology on Medium, but has since been sacked from Vice and had his membership to the Labor party suspended. Many other such incidences happened after the campaign. The movement has also inspired a series of offshoot hashtags used by men, including #IDidThat and #HowIWillChange, in which men have admitted inappropriate behaviour, which is a great contribution of the campaign.
What are your thoughts and feelings about such movements?
#MeToo represents, what has happened to pretty much every woman you know. I think it's really important that we don't allow this to become a story about this one bad guy who did these terrible things because he's a monster. To make it clear that actually, it is not just one case, it happens in every country every day to all women, and it's done by friends, colleagues, 'good guys', and even the people in influential positions. Such campaigns raise the awareness level of common people through social media and make us more vocal to take a stand for ourselves.
What attitudes towards women have you encountered by men in education - professors and students - that you wish to be corrected?
I have been fortunate enough throughout my life to never encounter any discriminatory behavior from either professors or students. However, there is a common perception in the mind of people, even until today, that what will a girl gain through studying too much. They are not going to work eventually, so they should take easy subjects, graduate and be happy.
I want such people to understand that the only motive of studies is not to take-up a job. Also, there should be enough freedom to everyone, be it a man or woman to choose their own path without having any social boundaries.
Having gotten the benefit of elite education, how do you plan to pass it on to other disadvantaged women?
I plan to raise awareness among the disadvantaged women regarding education and provide them with some sort of training to make them self-dependent. If women will understand the necessity of education, they will ensure that their children get adequate educations and get every opportunity, which they may miss otherwise. This will enable the next generation to come out of this never-ending cycle of disadvantage.