The average of the top-100 and top-200 offers saw a significant increase year-on-year, with the former touching INR 52 lakhs per annum.
Also Read → IIM Lucknow final placements 2023
---
IIM Indore Final Placement Report 2023: Consulting, Sales and Marketing, Finance emerge As Most Sought-After domains
Consulting was, once again, the domain most of IIM Indore's MBA batch flocked to. Preference for finance profiles dipped marginally, while that for general management, operations and other roles increased compared to last year. Sales and marketing continued to be among the top-three most desirable domains at IIM Indore.
Read IIM Indore's full placement report on the institute's official website.
---
IIM Indore Placements: Top brands hire for coveted profiles
In 2023, companies offered coveted finance profiles like Asset Management, Corporate Banking, Counterparty Risk, Credit Risk, Equity and Derivatives Trading, Equity Research, Financial Advisory, Financial Reporting, Financial Strategy & Operations, Fund Advisory, Investment Banking, Insurance Strategy, Portfolio Management, Pricing, Risk Management & Underwriting, Tax, Trade Finance and Treasury & Trade Solutions to IIM Indore students.
Sales and marketing profiles offered included Account Management, B2B Sales, Brand Management, Category Management, Digital Marketing, Growth Marketing, Institutional Sales, Pre Sales, and Product Marketing.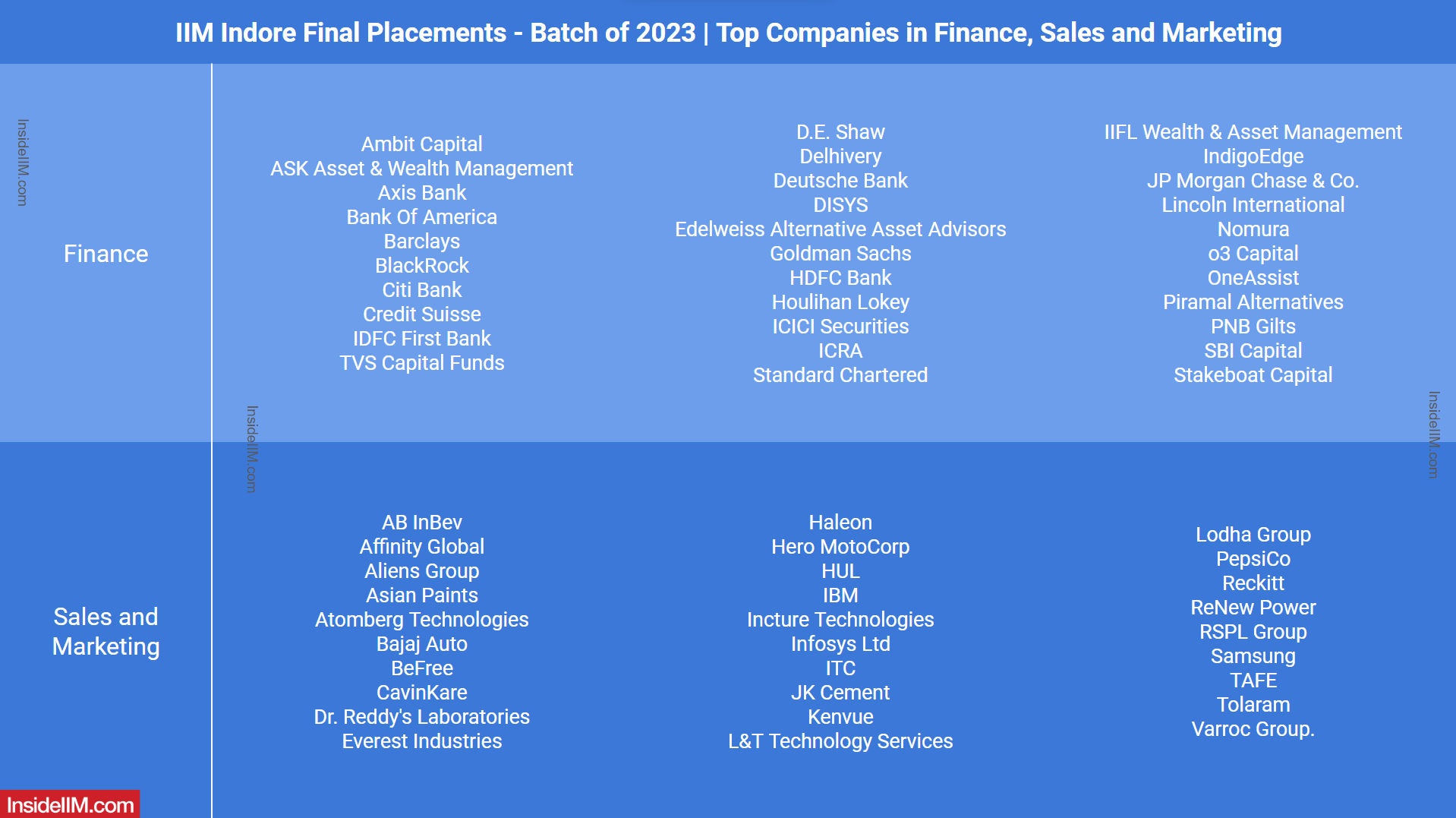 Consulting firms expanded their offerings beyond generalist consulting roles to cover specialized positions in avenues like BFSI, Deal Strategy, Digital Transformation, Enterprise Strategy, IT Transformation, M&A, Operations Transformation, Private Equity, Products & Platforms Strategy, Research & Advisory, Risk & Financial Advisory, Business Restructuring, Strategy & Business Optimization, and Technology Consulting.
IT and analytics profiles included Bid Management, Cloud Services, Digital Application Operations, Digital Innovation, Digital Journey Owner, Digital Project Management, and Product Development.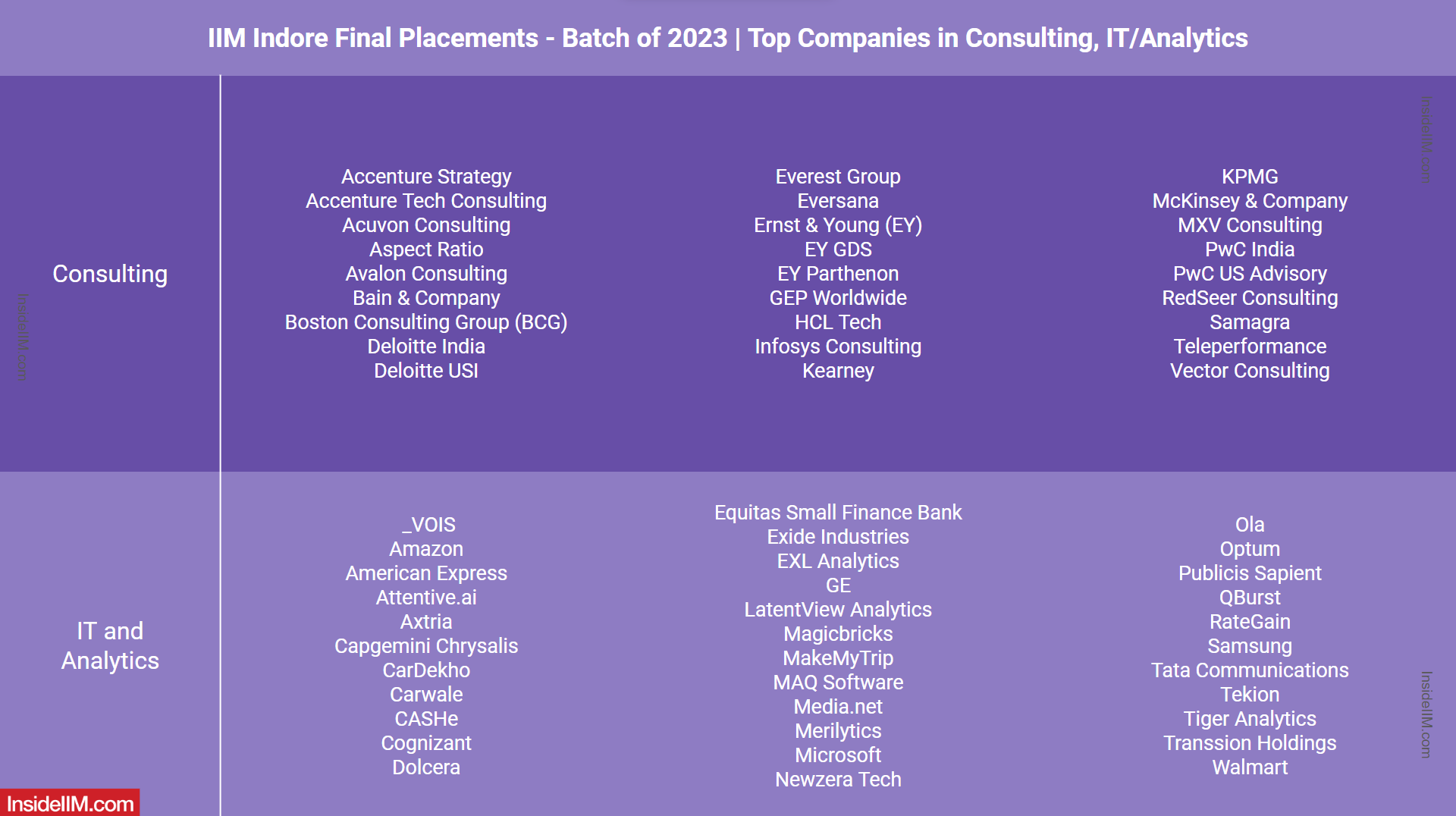 Notable profiles in the general management, operations, and HR domain included Business Strategy & Planning, Corporate Strategy, Deal Execution, HR Consulting, Import Operations, Investor Relations, Process and Operations Excellence, Project Management, Service Operations, and Supply Chain Analytics & Transformation. Several conglomerate companies hired for their coveted leadership positions in big numbers. Hiring for prominent CXO verticals also increased.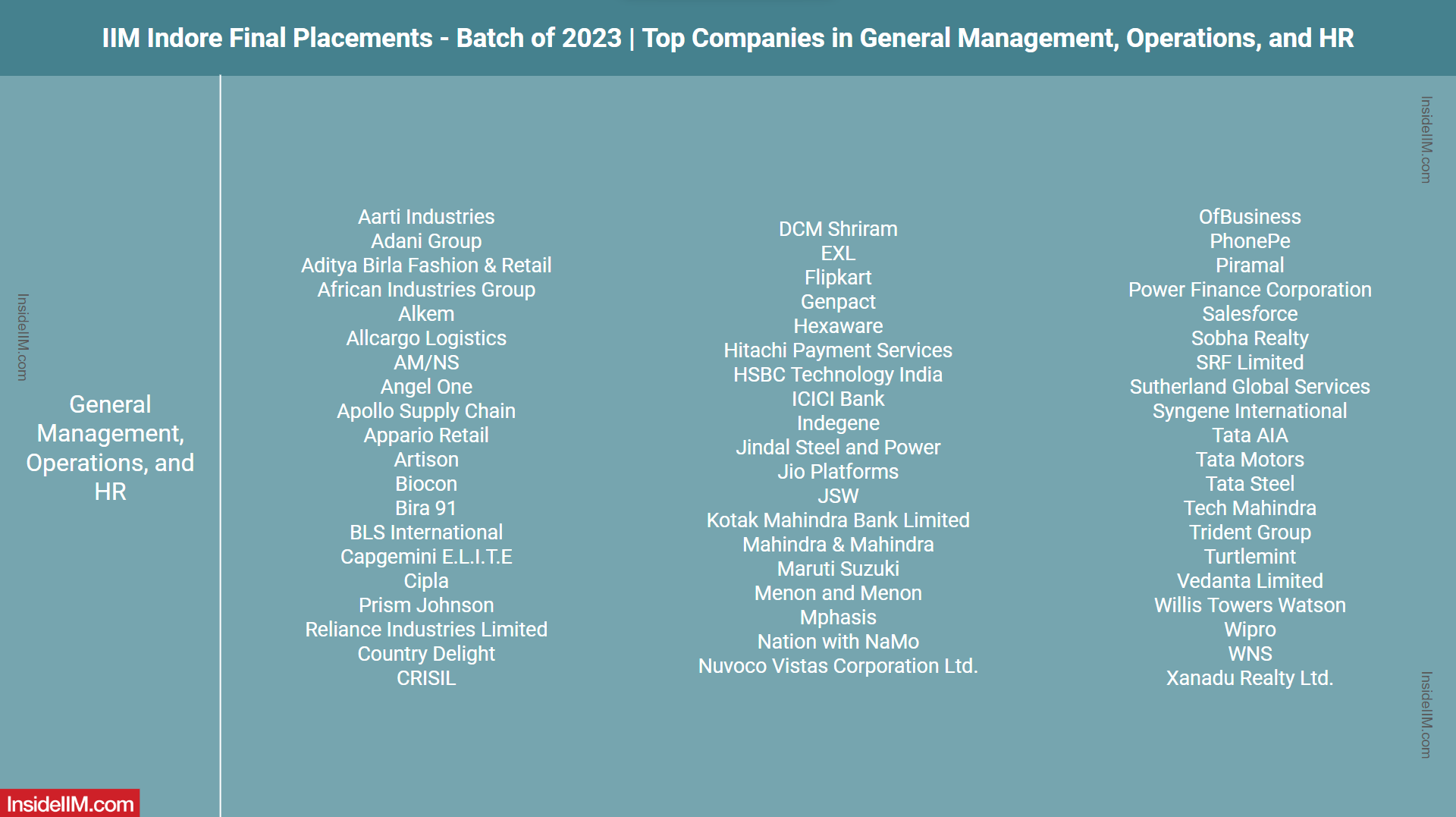 ---
Read Next → Final placements at India's top b-schools in 2023