---
IIM Lucknow's Selection Criteria Stage 1 - Shortlisting on the Basis of Minimum CAT Percentile Cut-Offs
There's approximately 2 lakh CAT aspirants who take the exam every single year. Shortlisting every single candidate based on their CAT score and profile can be a long-drawn process. This is why the IIMs set minimum CAT cut-offs to eliminate a good chunk of test-takers from the admissions process. The table below captures the minimum overall and sectional CAT 2023 cut-offs set by IIM Lucknow.

Essentially, the table above means that candidates must achieve a minimum 85th percentile score in all three sections of the CAT exam + a minimum 90th percentile overall score. Please note that simply meeting the minimum CAT 2023 percentile cut-offs is not a guarantee of being shortlisted for the next round.
---
IIM Lucknow's Selection Criteria Stage 2 - WAT-PI Shortlisting on the Basis of Weighted Selection Criteria
By this stage, only the top 10th percentile of CAT 2023 test-takers are eligible to be shortlisted for IIM Lucknow's Writing Ability Test (WAT) and Personal Interview (PI) round. Now, it's time to shortlist candidates based on a weighted composite score, calculated on the basis of various selection parameters. In 2023, the IIM Lucknow selection criteria includes a candidate's CAT 2023 score, their 12th and graduation marks, work experience, academic background, and gender.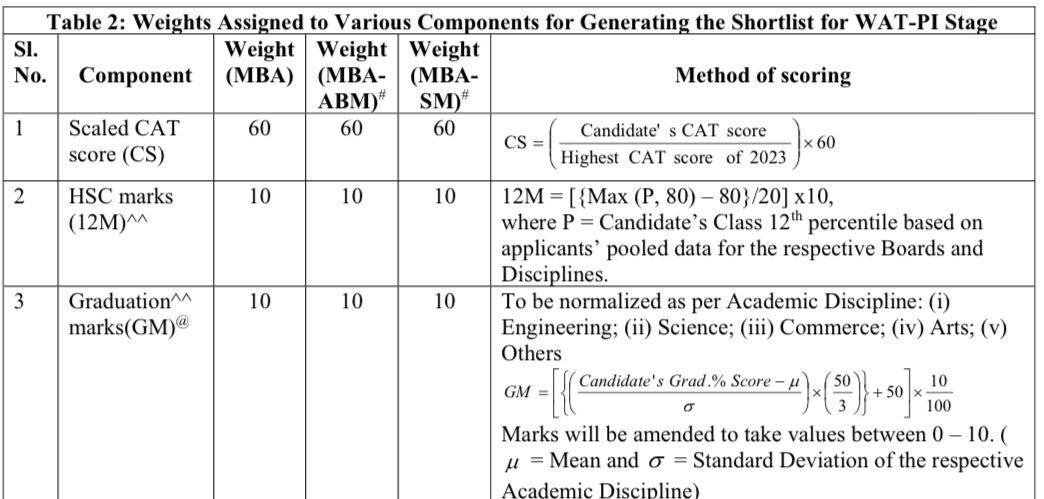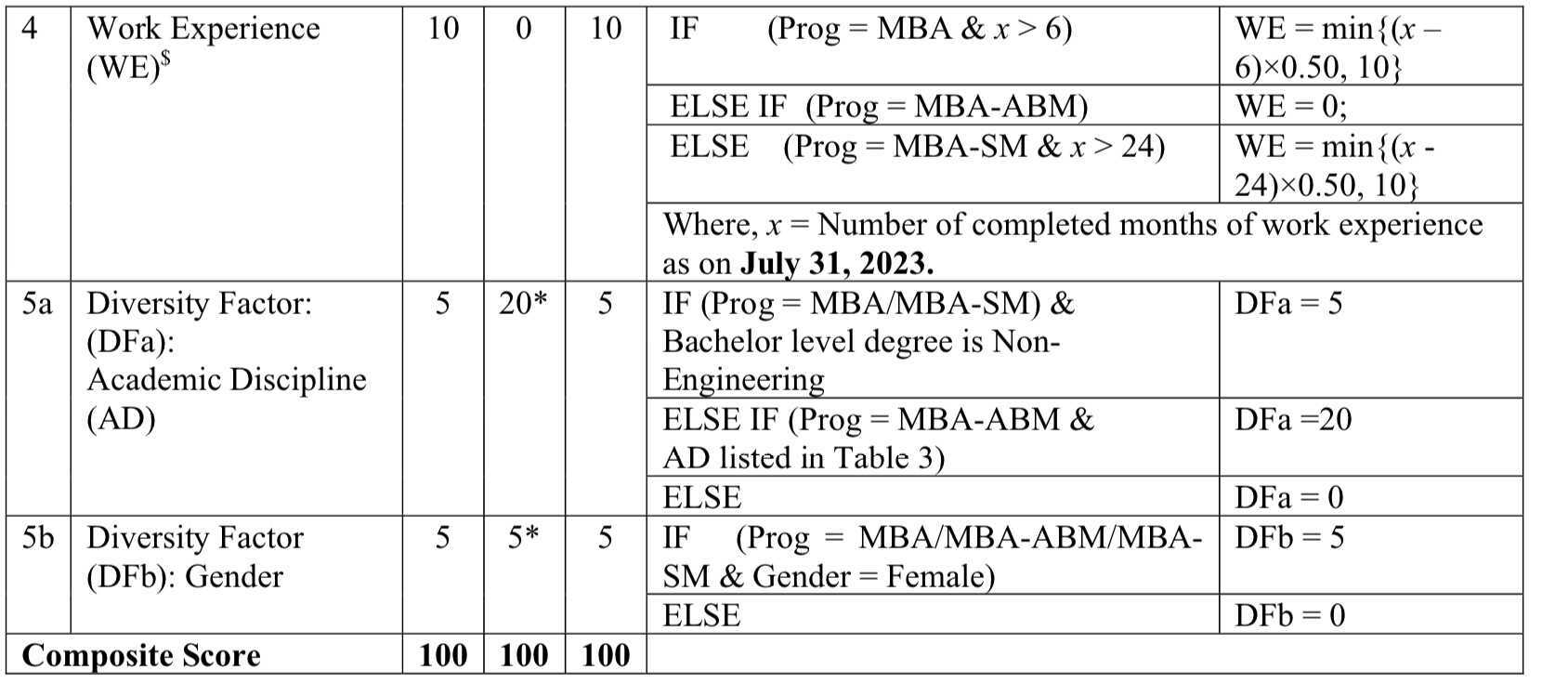 Like last year, IIM Lucknow has assigned a massive 60% weight to candidates' CAT 2023 performance.
In terms of academic profile, the institute has assigned a 10% weight to a candidate's 12th marks. It's important to note here that IIM Lucknow will assign scores not on the basis of the absolute percentage achieved in HSC but the significance of that percentage. In simpler terms, a 90% in CBSE with Science may only be amongst the top-85% of all CBSE Science percentages, or a 92% in ICSE with Commerce may be amongst the top-90% of all ICSE Commerce scores. This is an important distinction to note. Graduation marks will be normalized as per the academic discipline.
Candidates with less than 6 months of job experience will get no points for work experience. The work experience shall be considered till 31 July, 2023, that is entered in the CAT 2023 Application form.
Female and non-engineering applicants will have up to 20% advantage over their general engineering male (GEM) counterparts.
Based on the weights of these selection criteria, a composite score will be created and a limited number of candidates will be shortlisted for the WAT-PI round.
---
IIM Lucknow's Selection Criteria Stage 3 - Shortlisting on the Basis of WAT-PI Performance
At this stage, after candidates have undergone the WAT-PI process, they will be evaluated on their performance and either shortlisted or rejected for admission to the PGP program. IIM Lucknow's final shortlisting criteria are captured in the table below.

For the personal interview parameters, candidates must score a minimum of 12 out of 40 marks to become eligible for inclusion in the final merit list. The final shortlist will be released between april and May of 2024, and selected candidates will receive their admission offers.
---
Don't Miss:
Check Latest Update For CAT Notifications 2023
5 Tips: Prepare For The CAT 2023 In 100 Days
CAT Score Vs Percentile 2022 - Check Details Here
---
Frequently Asked Questions: IIM Lucknow Selection Criteria 2023
What is the selection criteria for IIM Lucknow in 2023?
To get into IIM Lucknow for PGP 2024-26, you need a minimum of 90th percentile in CAT 2023 overall score and 85th percentile in each section. Shortlisted candidates are selected based on a weighted score: CAT score (60%), 12th and graduation marks (20%), work experience (10%), and diversity (10%). The Writing Ability Test and Personal Interview have weightages of 10% and 40% respectively. Candidates must score at least 12 out of 40 in the Personal Interview. The final list is released in April-May 2024.
What is the primary factor for admission to IIM Lucknow's PGP program in 2024-2026?
The most crucial element is your CAT 2023 score. To be considered, you need a minimum of 90th percentile overall and 85th percentile in each CAT section.
How are candidates shortlisted for the WAT-PI round at IIM Lucknow?
CAT 2023 scores carry the most weight at 60%. Additionally, 12th and graduation marks hold 10% each. Work experience matters, but if it's under 6 months, it doesn't contribute points. Work experience up to July 31, 2023, is considered.
Does diversity play a role in the 2023 IIM Lucknow selection process?
Certainly. Diverse backgrounds can earn you up to 20% extra points. This means non-engineering and female candidates are at an advantage due to academic and gender diversity, respectively.
What is the significance of CAT 2023 scores in the WAT-PI round?
CAT 2023 scores contribute 30% to your score in this stage. The Personal Interview holds a weightage of 40%, and the Written Ability Test (WAT) contributes 10%. Other factors like 12th grades, graduation marks, work experience, and diversity each hold 5% weightage.
How are final selections made after the WAT-PI round in 2023?
This includes the candidate's performance in the Writing Ability Test (WAT) and Personal Interview (PI) rounds. CAT 2023 scores have a weightage of 30%, and the Personal Interview holds substantial importance with a weight of 40%. Additionally, the Written Ability Test (WAT) contributes 10% to the overall composite score.
Both the candidate's 12th standard academic performance and graduation marks hold a weightage of 5% each. Moreover, diversity and work experience have a 5% weightage each.
***