Students at IIM Shillong have voted Dr. Rohit Joshi as their Professor of The Year in 2021! Dr. Joshi, an Associate Professor who teaches Operations and Quantitative Techniques to MBA students, has been associated with IIM Shillong for over a decade. Find out what students have to say about Dr. Joshi and his teaching methods!
---
Meet Dr. Rohit Joshi - Associate Professor At IIM Shillong, InsideIIM Professor of The Year 2021
Dr. Rohit Joshi is an Associate Professor at IIM Shillong, and teaches Operations and Quantitative Techniques to the MBA batches. Professor Joshi obtained his PhD from IIT Delhi and was a gold medalist and University topper during his M.Tech and B.Tech respectively. Professor Joshi has done his post-doctoral research work from UCLA.
Take Your Career To The Next Level. Ask Our Experts Anything. We Will Respond Within 48 Hours.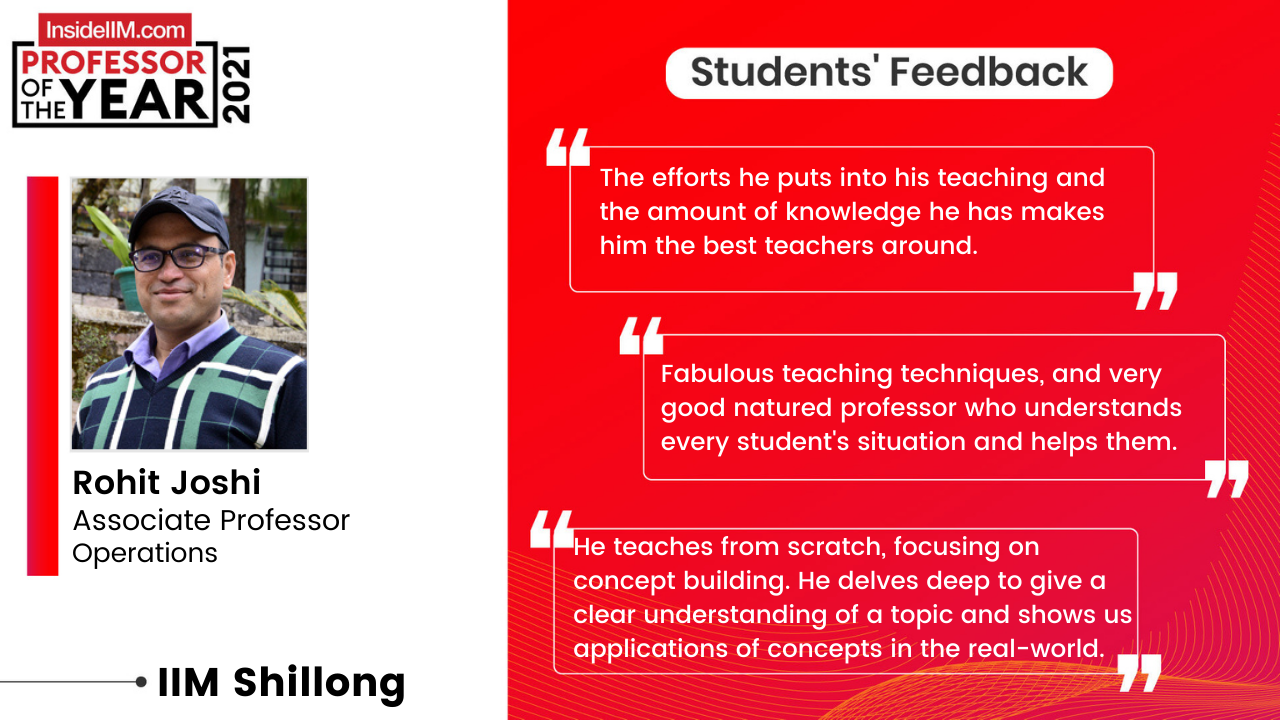 His areas of interest in consulting and teaching assignments include Supply Chain Management, Operations Management, Six Sigma and Lean Thinking, Business Statistics, Project Management, Value-engineering, Design Thinking and Creative Problem Solving.
---
InsideIIM Professor of The Year 2021 - What IIM Shillong Students Have To Say About Professor Joshi
"Irrespective of the classes being held online, he tries his best to teach each and everything in detail and makes sure that each and everything is crystal clear to everyone present in the class."
"He is one of the most upfront and empathetic professors I have ever come across. He just doesn't preach being fair and honest but practices the same too, whatever the situation is."
"The examples he gave while clearing the concepts are unbelievable and easy to understand. The knowledge he has is enormous and helps student think from different perspectives while learning."
"You know the professor is super amazing when in the world of Zoom fatigue, you wake up by yourself to attend his 9 AM online lectures after doing all pre-reads religiously."
"Professor Rohit Joshi deep-dives into the application of Statistics in everyday life and ensures that everyone is engaged through constant discussion with the students."
---
What The InsideIIM Professor of The Year Series Is About
In the last year, the whole country struggled in coping up with the pandemic and lockdowns. In this time of crisis, it was the great leadership shown by our teachers and professors to ensure that learning never stops. They went beyond just teaching and found solutions and created new learning environments for their students to continue learning.
We at InsideIIM want to recognize the efforts that various B-School professors throughout the country put in to ensure that their students are not left behind and continue to meet their potential and achieve great things. This is why we asked MBA students of the current batches in 2021 to nominate their favorite professors on campus for the title of 'Professor of The Year' as a small token of gratitude for professors who have made so many efforts in the last year, just so that students can head out to etch a successful career for themselves!