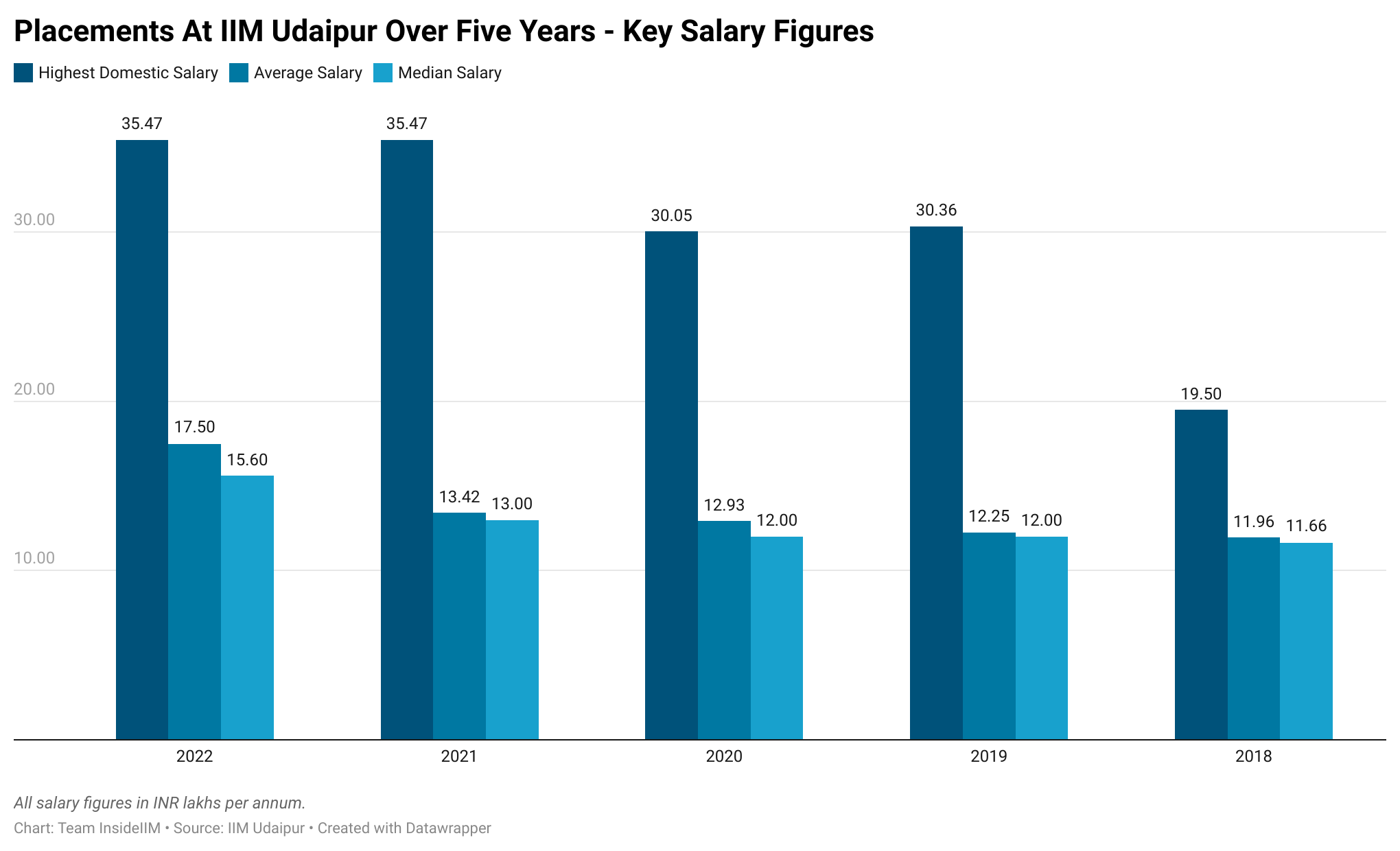 Growth in salaries is accelerating at IIM Udaipur—faster than ever before. But is this growth fast enough, or will the institute perpetually play catch-up with its older siblings? More importantly, will it sustain in the next five years as the batch becomes bigger?
---
Sales and Marketing Is out, Consulting Is In
Five years ago, preference for Sales and Marketing roles was huge at the IIM Udaipur campus—4 out of 10 students of a much smaller batch opted for these roles. Back then, barely 1 out of every 10 students wanted to take up Consulting roles, or actually got the opportunity to be interviewed by one of two Consulting recruiters on campus (Deloitte and KPMG).
Today, the obsession with Consulting roles has found its way into the IIM Udaipur campus as well. And why not—these roles are demanding but pay well and provide excellent exit opportunities. But while Consulting is the go-to domain for IIM Udaipur's MBA batches, preference for other functions is more evenly distributed. For instance, analytics—an integral part of every modern business—has consistently been amongst the most sought-after domains for IIM Udaipur students. In fact, in relative terms, analytics is more preferred by graduating batches than it was five years ago!

General Management has also risen in popularity in the last couple of years, as have Finance roles. Sales and Marketing, however, pushed down in the pecking order, accounts for over 15 percent of all offers accepted.
---
Brand Perception Is Improving, Overall Ranking Isn't
Growth is great. But what does it do for the brand? In terms of brand perception, the answer is refreshingly positive. InsideIIM, which releases perception-based rankings for MBA institutes, ranked IIM Udaipur a relatively lowly 25th in 2018. In 2022, the institute has risen up to the 19th place, despite slipping during the two pandemic years.
But the government's more holistic NIRF rankings don't give as much credit to the institute, with IIM Udaipur's rankings progressively deteriorating in the past four years (the latest rankings for 2022 are yet to be released). This implies that while the weight of the IIM Udaipur brand is considerable from an employment standpoint, the institute may not be quite up to the mark in terms of classroom learning, academic contribution, inclusivity and other factors.

Even so, the institute continues to be amongst India's top twenty business schools—no mean feat by any standards.
---
Read Next → New IIM Placements in 2022 - IIM Udaipur Shows Greatest Growth Amongst All New IIMs