The pandemic years were extremely tough on placements at Indian business schools. As job uncertainty increased, many top-tier institutes showed drastically slowed growth and even significant dips in recruitment figures, offers were rescinded or delayed indefinitely, and anxiety was at an all time high amongst students who'd paid tens of lakhs of rupees to imbibe management education. In 2022, with the vaccine entering as an influx of hope amongst recruiters, institutes—at least amongst the upper tiers—are beginning to record pre-pandemic levels of growth in their placement numbers. Amongst these are the second generation "new" IIMs.
Often under scrutiny for suspected brand dilution, the new IIMs have had to prove themselves year on year with impressive placement figures. While 2021 was a less-than-impressive year, 2022 has reinvigorated placements at new IIMs, and all six institutes under this umbrella have seen growth in key salary metrics such as the average and median salaries. But how noteworthy is this growth, what are the areas of concern, and what type of jobs is the graduating batch of 2022 going to start their management careers in?
Take Your Career To The Next Level. Ask Our Experts Anything. We Will Respond Within 48 Hours.
This breakdown of new IIM placements in 2022 attempts to answer these questions.
---
New IIM Placements 2022 - IIM Udaipur Shows Tremendous Growth, Alarming Dip In Recruiter Numbers At IIM Ranchi
Placement figures are the ultimate indicators of graduation outcomes of an MBA program. When it comes to placements at new IIMs, the numbers have been largely impressive.
In terms of overall growth in average and median salaries, IIM Udaipur is well ahead of its counterparts, showcasing a double-digit surge in salary figures. This includes a nearly 33% and 25% increase in the average salary and median salary, respectively. The highest salary—already at an impressive INR 35+ lakhs—grew marginally but was still the second-highest amongst all six new IIMs. All of this despite a significant increase in an already humongous batch size. Though not as impressive as this year, IIM Udaipur recorded noteworthy placement figures in a pandemic year as well, while its counterparts struggled with declining or stagnant salaries.
IIM Raipur has also recorded impressive growth in its key recruitment figures, especially in the top salary on campus which shot up by an impressive 40% over the previous year. This also increased the institute's batch average by 17%. IIM Raipur's median salary growth, behind only IIMs Udaipur and Kashipur, is also significant.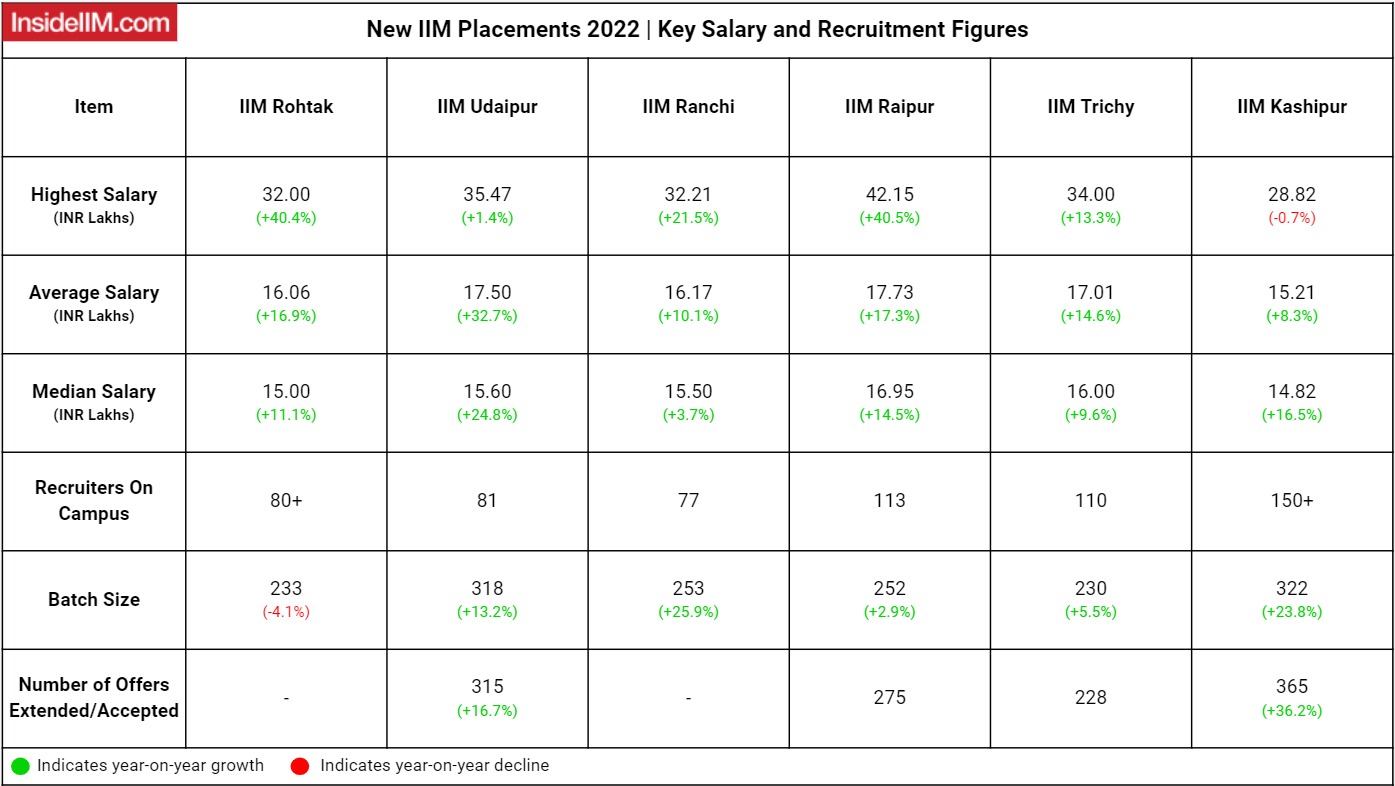 IIM Kashipur recorded a marginal 0.7% decline in the highest salary offered. Despite this, the average and median salaries continued to grow at an impressive rate of 8% and 16.5% respectively. It must also be noted that IIM Kashipur's batch is the biggest amongst all new IIM, increasing by 24% year-on-year.
Across IIMs, there has been a concerning dip in the number of participating/recruiting companies. For instance, at IIM Rohtak, over 100 recruiters participated in the placements process in 2021. This has now dropped to just over 80 recruiters. Similarly, the number of recruiters at IIM Udaipur went from 95 in 2021 to 81 in 2022, as per the latest placement report. The situation was particularly dire at IIM Ranchi, where the number of recruiters fell from 128 to 77—an alarming 40% dip.
Why is there such a drastic decline in recruiter numbers? Is the job market yet to stabilize, or are recruiters beginning to lose faith in the talent new IIMs have to offer? How are the IIMs able to place growing batches and show improvement in recruitment numbers? Is the ratio of offers per company simply increasing? Placements next year will be crucial in answering these and other questions.
---
New IIM Placements 2022 - A Mixed Bag in Terms of Domain and Industry Preferences
What roles do new IIM MBA students gravitate to? Like at the top-tier IIMs, does Consulting dominate placements at the second generation IIMs? Industry preferences at the new IIMs are largely mixed, with IT, BFSI, and Consulting sectors amongst the top two in the pecking order across institutes.
In terms of domain preferences, Consulting/Strategy, General Management, and Sales and Marketing are amongst the two most sought-after profiles for MBA students at new IIMs. Other profiles amongst the top five include Operations, Finance, and IT/Analytics.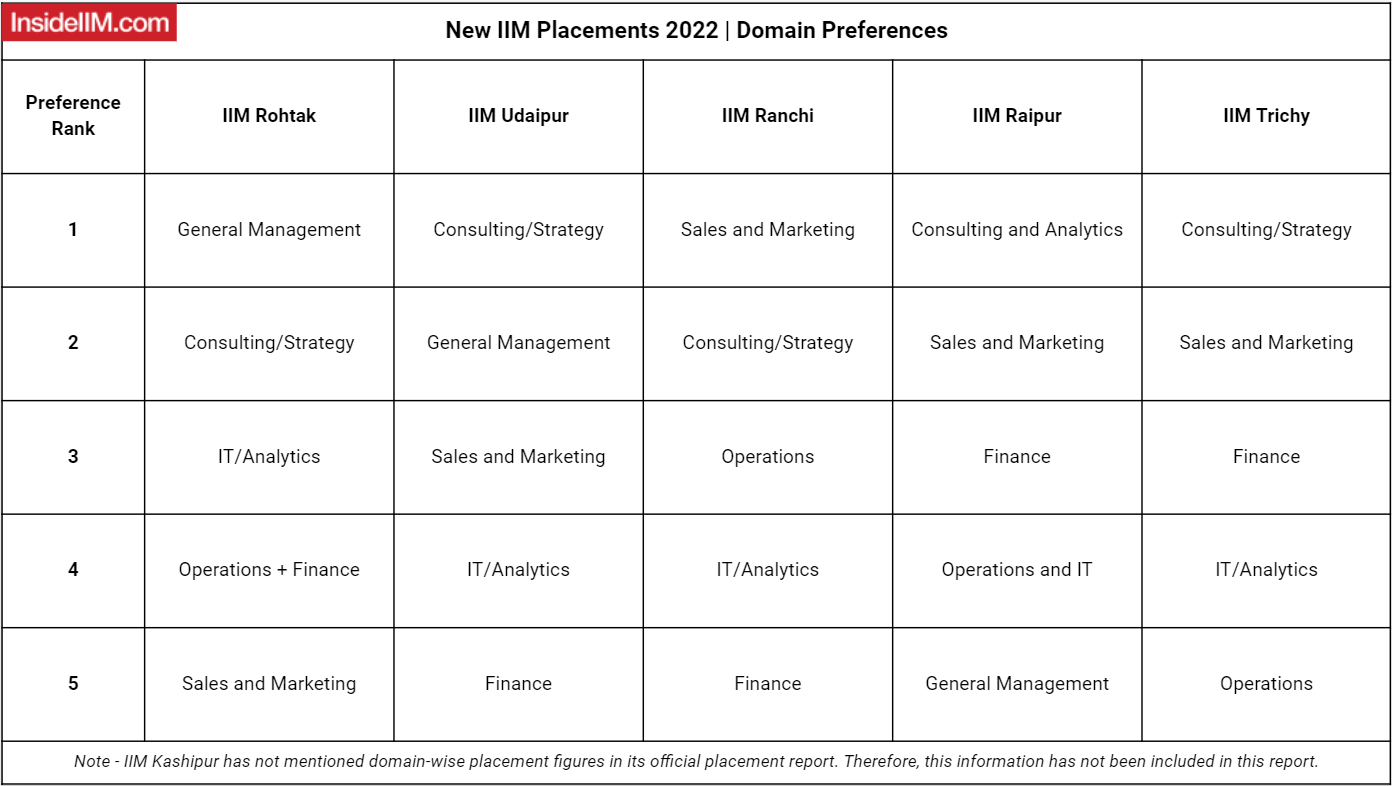 ---
New IIM Placements 2022 - Other Highlights From Placement Reports