Ketan Katkar has completed his graduation from IIT Bombay in Metallurgical Engineering and Material Science in 2017. After that, He went to Japan to work for a company called Tanaka Precious Metals as a research engineer. He secured 99.65 percentile in CAT 2019 and got interview calls from Bangalore, Calcutta, Lucknow, and Indore. At that time, he was still working in Japan. Here's the interview experience of Ketan who was stuck 4000 miles away from India and how he managed his online interviews for IIM Bangalore, IIM Calcutta, and IIM Lucknow's interview from Japan and made it to IIM Lucknow.
Take Your Career To The Next Level. Ask Our Experts Anything. We Will Respond Within 48 Hours.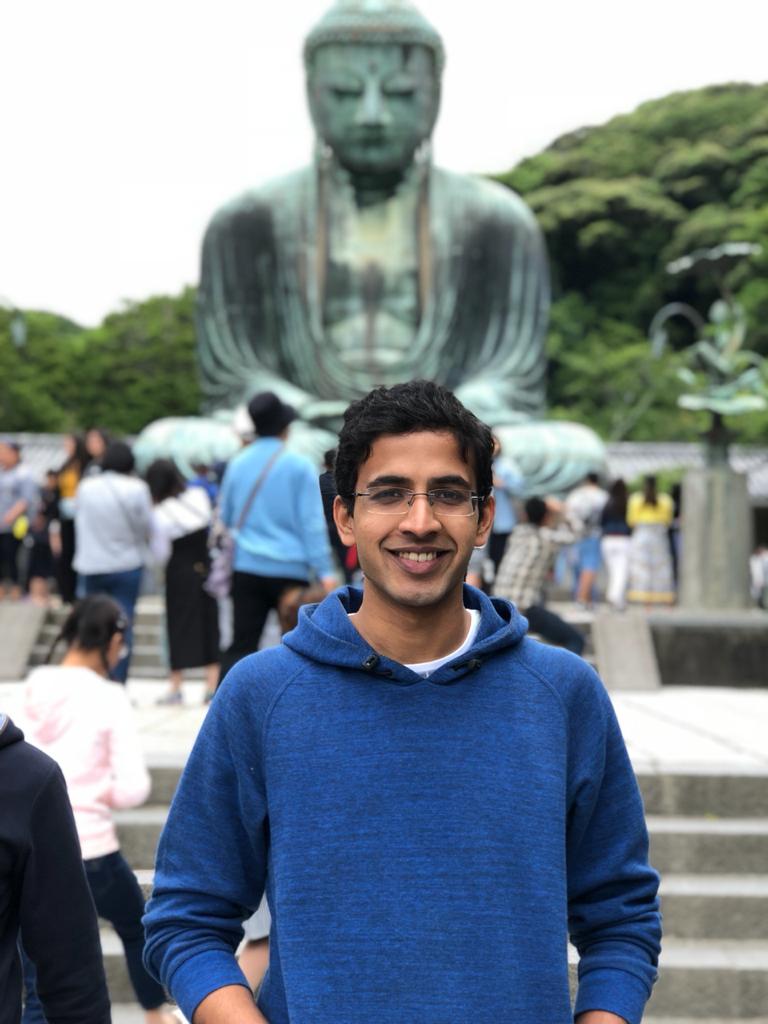 WAT topic: Whether we should remove homework for children below age 10?
Interview: It lasted for 20 minutes and I had 3 interviewers. Having worked in the semiconductor research and manufacturing industry for 3 years they asked a lot of questions related to manufacturing. Overall, I felt that IIMB focuses more on your work experience and the learnings you had from it.
Q1. Tell me about yourself.
A1. I told them about my background and ended by telling them what work I was doing. I specifically did it because of 2 reasons. The 1st reason was that I was confident about the work I had done and was comfortable talking about it, 2nd reason was that my work experience was unique (both field and the country) and that will ignite curiosity among interviewers.
Q2. Briefly explain what work you did in your company.
A1. My work was highly technical, so I tried to explain them in simple terms. I explained the business implications of my work in detail. The conversation revolved around who the customers were of our company and other businesses my company did. We also talked about whether it was the correct time for my company to enter India or not and on what parameters should I make my decision.
Q3. 3 key learnings from your stay in Japan
A1. My answer was based on real-life experiences I had related to the 3 values Japan is famous for - Politeness, hardworking nature, and interdependence (family first)
Q4. What was the reason behind giving CFA? Will you pursue CFA in or after MBA?
A4. I had passed CFA level 1 and appearing for CFA level 2 at that time. I mentioned the topics learned and how CFA level 1 helped me understand the basics of finance. My work was also related to gold, platinum, silver, and I explained to them how I understood the pricing of precious metals better by studying finance. I told them CFA along with MBA will make my profile strong and irrespective of specialization I choose in 2nd year at b-school will open job avenues in the BFSI sector.
Q5. One of your recommenders mentions you are not very good at time management. How will you manage the hectic schedule at IIMB?
A5. I was a bit surprised first by the fact that they read the letter of recommendations in such great detail. I gave an example from my under graduation when I managed with just 4-hour sleep for a month and I explained to them how by prioritizing and better scheduling I can manage the rigour at b-school.
No WAT due to technical issues.
Interview: It lasted for 15 minutes and I had 2 interviewers. The interview was a mixture of theoretical and experience-based questions. The interviewers were friendly and asked very relevant questions.
Q1. Why do you want to do an MBA? Why do you want to do an MBA from an Indian institute?
A1. My answer had 3 elements.
1. Learning business knowledge, leadership, and soft skills from the best faculties in India along with the brightest peers
2.To fast track my career in the corporate world and increase my field of work outside the semiconductor and chemical industry
3.To return to India and implement my learnings from working in a Japanese firm and serve my country
Q2. What are your dream companies?
A2. My 3 dream companies are Tesla, Apple, and 3M. I would like to work for these companies one day because of their culture of rapid and constant technological innovations. The interviewers asked me why is it called 3M and asked if I knew about few famous stories about it.
Q3. Mathematics problem related to exponential differentiation
Q4. What is Six Sigma? What is the underlying distribution for Six Sigma?
A4. I had mentioned quality control in my job description hence they asked me about the Six Sigma process. They asked me how many defects are allowed in the Six Sigma process and on what parameter Normal distribution is defined.
Q5. What is the Cramer rule (algebra-related)?
A5. I was not able to answer this question, hence I told I was familiar with this rule.
Q6. Why is the interest rate of Japan so low?
A5. One of the interviewers was an economics professor, so he asked this question. The 1st reason is to encourage borrowing, spending, and investment in mature countries like Japan. The 2nd reason is Japan's government is in severe debt and thus low-interest rate makes it easier for them to afford interest payments.
Q7. If you have any questions for them?
A7. I asked them about how student life in IIM Calcutta is and if I get selected what should I do in the next 2 years at IIMC.
No WAT due to technical issues.
Interview: It lasted for 10 minutes and I had 2 interviewers. The interview was short but
Q1. Why do you want to do an MBA? Why do I want to do an MBA from Indian institute?
A1. Similar answer as above
Q2. (After seeing my CFA experience) Do you think the current stock market is inflated?
A2. I explained about 2 industries I follow, the Automobile sector and the pharma sector. Later in terms of the P/E ratio, I expressed my views on Indian stock markets. They later asked me how we value a company and few valuation techniques.
Q3. Why are you choosing IIM Lucknow? Have you done any research on why IIM Lucknow is famous?
A3. IIM Lucknow PGP program is famous for rigorous all-round development of students, diverse students from different academic and professional backgrounds and highly successful alumni in all domains of management. They asked me further any specific domain I wanted to focus on in my career progression and I told them I was interested in Consulting and Product management roles and how every year the placements for both getting better and better at IIM Lucknow.
Q4. What do you do in your free time?
A4. I mentioned running and my Marathon experience. They asked me if I played any team sport and what were my learnings from Marathon. I told them I play football but have not played competitive matches. I explained to them how I train for marathons and what my motivation was behind running. They liked it when I brought the camaraderie in marathon running by telling them that Marathon is not just running individually but running together with strangers with a common goal to cross the finish line in the shortest time.
Q5. If you have any questions for them?
A5. I asked them about how student life in IIM Lucknow is and if I get selected what activities should I participate in.
My advice for candidates appearing for IIM interviews would be
1. Showcase the uniqueness in your profile. It might be some activity or experience you did in your school or at your college or workplace. When asked to explain it using the STAR (Situation, Task, Action, Result) framework. Also, for brownie points, explain what learnings you had from that activity or experience.
2. Prepare the basics of your domains (education, work experience, certifications). Internet is a great source for a quick revision.
3. Confidence is very important while answering and it is built up by facing those questions beforehand. For practice approach your mentors, seniors, colleagues and discuss with them commonly asked interview questions.
Remember to be relaxed, hydrated, and prepared before the interview. At last, do not stress out too much and enjoy the interviews.
Our team at Kounsel is absolutely thrilled to present to you 'The Final Push' (TFP), a WAT-PI training program where we put you directly in touch with business school students and alumni from your dream institutes. These MBA students and alumni, having gone through the grueling WAT-PI process themselves, will train you to smash any and every b-school interview that comes your way!