Dr. Jishnu Changkakoti is IMT Ghaziabad's Professor of The Year 2020! He has 23 years of industry experience and 2.5 years of academic experience. He has worked with big corporations like Johnson & Johnson and Samsung across multiple countries. He is a veteran marketeer and that clearly comes out in his classroom at IMT. Let's find out why students find him the "best."
Note - The winner(s) of the InsideIIM Professor of The Year at any given campus has/have been chosen by current MBA students of that campus. The voting process began in the month of February 2020, and MBA students could nominate their favourite professors here. The professor(s) with the maximum number of votes has/have been declared the winner(s) in 2020!
Meet Professor Jishnu Changkakoti - Professor at IMT Ghaziabad, InsideIIM Professor of The Year In 2020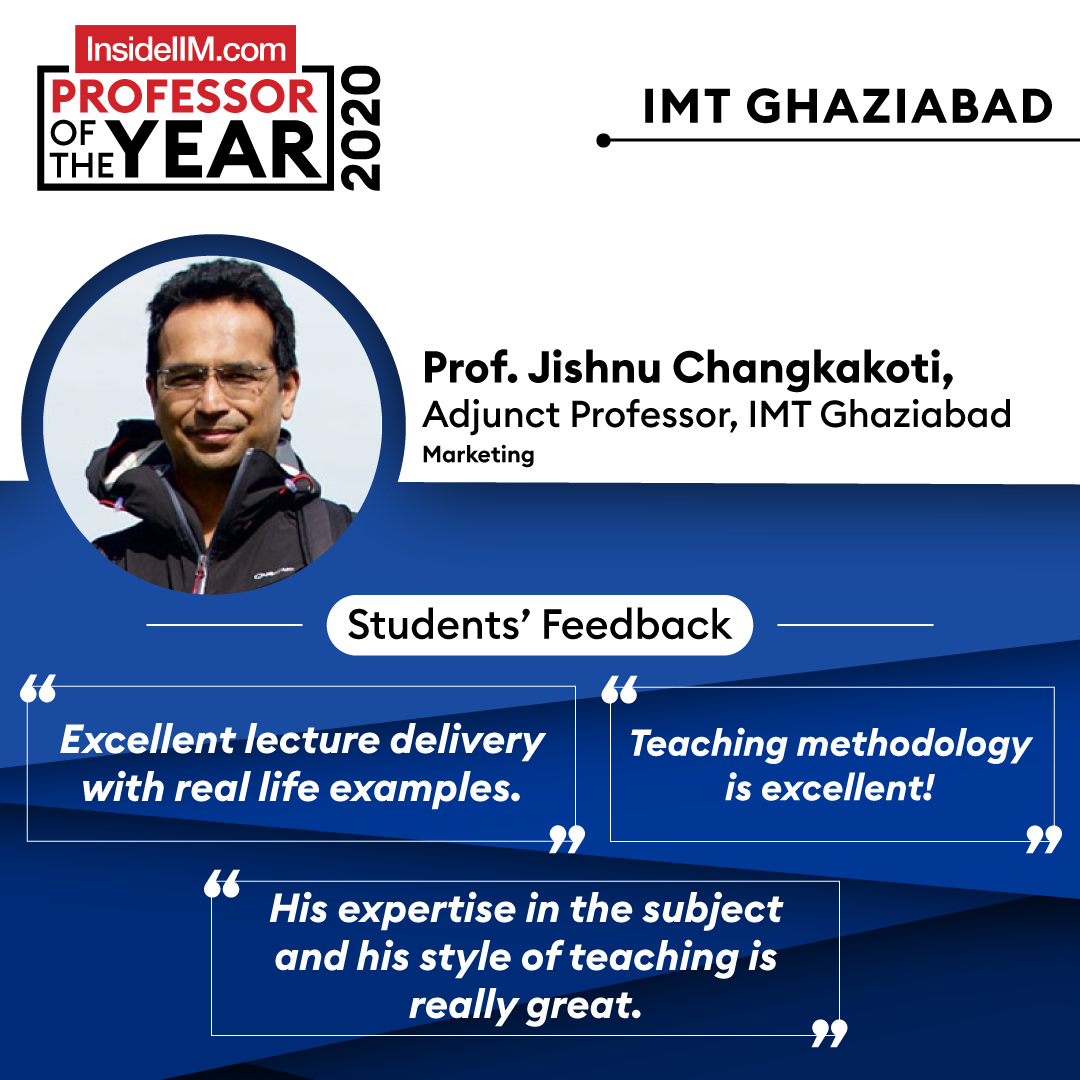 Professor Chankakoti is a hardcore marketeer with 23 years of work experience in big companies like Johnson & Johnson and Samsung around multiple geographies. With all the industry knowledge that he gained over the years has made him very knowledgeable.
Therefore, he decided to pass it on by moving into academics and becoming the adjunct professor at IMT Ghaziabad.
He finished his PGDM from IIM Calcutta in the year of 1994, after completing B.Tech - Electronics from REC Calicut.
In IMT Ghaziabad, he teaches various marketing courses and concepts. Apart from teaching, he is also a marketing consultant for many startups, and also a member of the consultants' panel for Stanford University's Seed program.
Read more about Professor Chankakoti here.
InsideIIM Professor of The Year 2020 - What IMT Ghaziabad Students Have To Say About Professor Changkakoti

"Real-life examples, easy to understand language, excellent analysis of case study" - 1st Year Student At IMT Ghaziabad
"Heaps of experience, experiential teaching, practical view of the concepts, very good speaking ability" - 1st Year Student At IMT Ghaziabad
"Gives a clear understanding of the subject, lectures are always interesting, he providing contemporary examples and we have a very lively case study discussion" - 1st Year Student At IMT Ghaziabad
The following are professors at IMT who were close to winning InsideIIM's Professor of The Year in 2020. But loved by IIM Sambalpur students:
Dr. Uday Bhaskar - "The quality of knowledge he transferred was amazing. So many stories and real case scenarios really added value to our learnings."
Prof. Elkana Ezekiel - "His wealth of knowledge and experience brings a great deal of learning opportunities for students. We are honored to be taught by him."
Prof. Abhishek Saxena - "He's the perfect combination of strict and fun."
Liked This? Here's What We Recommend What You Look At Next: