All it takes to get a good job or admission in a good school is... a Burger!
Check for a new Burger Delivery at 11pm each night. To read the old News Burgers - follow the repository here
Today's News Burger Delivered!
Essential reading for the day
Putin Declares Crimea Is a Part of Russia (NYT)
The crisis in Ukraine grew to dangerous proportions as Putin moved quickly to accept the results of Crimea's referendum. Crimean public, in a referendum voted to join Russia and secede from Ukraine. The vote is widely seen as rigged. Russia moved swiftly to accept the results of the order. The European Union (EU) and USA have not recognized this vote. The US and EU earlier imposed their first financial sanctions against Moscow.
Malaysia Airlines Plane: Investigators Use New Tools in Search (WSJ)
From analyzing communications-satellite transmissions collected by industry to seeking access to military surveillance data from various countries, investigators have broken ground not worked in previous commercial-jet accident inquiries.
Why India Has Leapt Ahead of China in Arms Imports (WSJ)
Sensex recedes from life highs, closes 23 points up (Livemint)
The S&P BSE Sensex and CNX Nifty erased most of the gains during the day, closing marginally higher on Tuesday, after earlier gaining more than 1% to hit record highs earlier as Goldman Sachs upgraded Indian shares to "overweight" from "marketweight" saying the cyclical macro adjustments has reduced external vulnerability. Gainers included Maruti Suzuki India Ltd that jumped 7.58% to Rs.1,868.85 after the company said it will seek approval of minority shareholders on parent Suzuki Motor Corp.'s plan to build a fully owned plant. State Bank of India (SBI) rose 2.72% to Rs.1,698.40 after it said in an email statement that it paid advance tax of Rs.1,456 crore for the fourth quarter of fiscal year 2014. Shares of ITC Ltd gained 2.56% to Rs.355.90.
E-commerce boom hurts brick-and-mortar retailers (Livemint)
Wholesalers and brick-and-mortar retailers, the worst hit by the boom in online shopping, are putting pressure on brands to help them compete more effectively with e-commerce websites.
------------------------------------------------
The Concept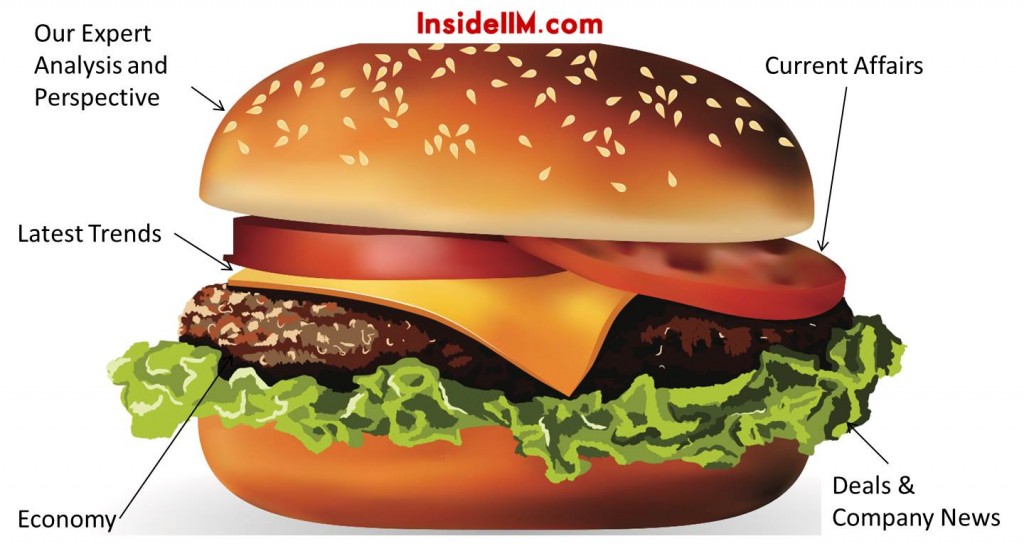 Hundreds of websites. Thousands of opinions. Millions of words to be read. Too much?
InsideIIM.com has a solution. We bring you everything rolled into one - A news Burger. Consume a news burger with us each day at 11 pm and be prepared to take on the world. We will try to add all the ingredients to our recipe necessary for a quick service prep to your dream job requirements.
Will a news burger guarantee you a job? Of course not. There are many other things at play. However, a news burger a day for the next 1 month will increase your odds of landing that dream job manifold.
As is the case with the best chefs in the world, we will try to add new variants and carry out slight changes to our recipe based on feedback from our consumers.
We can promise you one thing for sure - It will be the healthiest burger in the world!
-------------------------------------