Investment Banking is one of the most sought-after professions for MBA graduates, owing to the glamour quotient of the profession and massive paychecks associated with it. But not everyone is suitable for a dazzling i-banking job. It takes a certain set of skills - both hard and soft - to make a career as an investment banker. So what are these skills? What is the role that communication skills play in landing your dream investment banking job? How is the work-life balance of an investment banking job? How do investment bankers network and leverage their networks? The Ex-Director of Investment Banking at the Bank of America Merrill Lynch and an IIM Bangalore graduate answers all these questions and more!
The following set of sessions were recorded at the Mumbai Edition of Konversations Cafe, which was attended by a large number of students heading to their dream b-schools. Harsh's sessions have garnered hundreds of thousands of views on our official YouTube channel, and now after a huge number of requests, we bring Harsh back to you at the InsideIIM Finance Festival 2020!
Harsh will be conducting live sessions that'll lay before you the raw truth about:
What investment banking really is, and his journey to becoming a seasoned i-banker at a top firm.
The life of an investment banker - he will take you beyond the curtain of glamour and money in investment banking, and will present to you his experience as investment banker.
Becoming an investment banker - what skills you need, how to get those skills, how to use those skills, and what career routes you can open up for yourself with these skills.
What happens inside of a deal - ever read about those deals worth an obscene amount you wouldn't know how many zeroes to put behind? Harsh will take you behind the scenes of such massive deals, and the hard work that goes behind each one of them.
Check the MasterKlass outline here!
| | | | |
| --- | --- | --- | --- |
| Session | Date | Time | Session Details |
| Session 1 | June 21 | 7-8 PM | What is Investment Banking, Investment Banking in India, Harsh's Journey in the business |
| Session 2 | June 22 | 7-8 PM | Life Of An Investment Banker |
| Session 3 | June 23 | 7-8 PM | How To Be An Investment Banker? Career Routes and Hard Skills |
| Session 4 | June 24 | 7-8 PM | What Happens Inside a Deal |
| Session 5 | June 25 | 7-8 PM | Case Studies |
Additionally, Harsh will also share in a separate session real-life examples from his experiences that no MBA book can teach you about! Interested? Sign-up for Harsh's sessions here.
---
About Harsh Parikh - Speaker At IFF 2020
Harsh is an IIM Bangalore graduate (Class of 2006) and a certified Chartered Accountant who joined DSP Merrill Lynch after graduating from b-school. He spent nearly a decade at the company, going on to become the Director of Investment Banking! Harsh then made the tough decision to found his own company, and went on to become Co-Founder at DRiefcase Health Tech Private Limited, a platform to maintain medical records.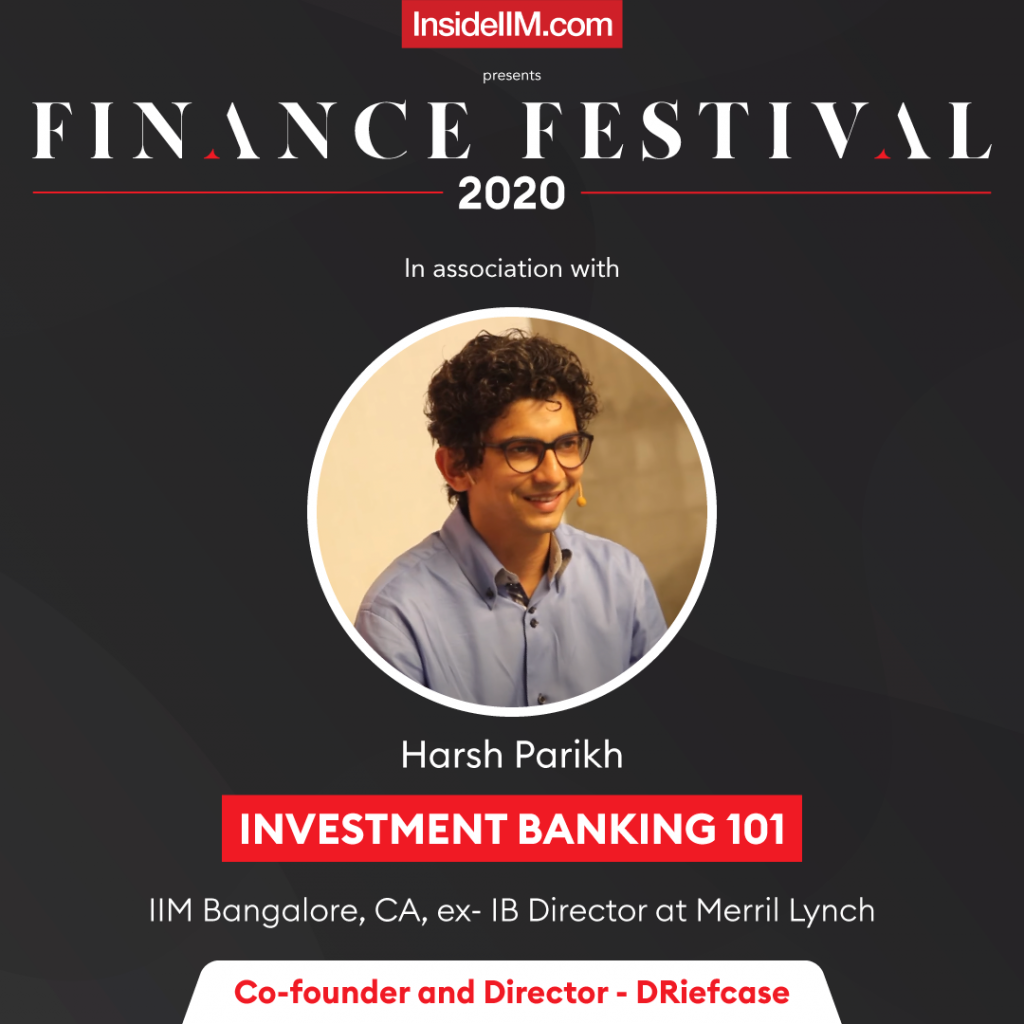 ---
The Reality Of Investment Banking – Harsh Parikh, Ex-Director-IB, DSP Merrill Lynch – Part 1
In this popular session, Harsh talks about his passion for investment banking and making big bucks. He also tells us about his experience of studying at IIM Bangalore!
As An Entrepreneur, You Cannot Have Ego – Harsh Parikh, Co-Founder – DRiefcase, IIM B Alum – Part 2
In this video, Harsh talks about founding his startup and the challenges faced by an entrepreneur. He also tells us why investment banking is infamous for backbiting and politics.
How To Network Like An Investment Banker? Harsh Parikh, Ex-Director – IB, DSP Merrill Lynch – Part 3
In this fantastic and final video, Harsh talks about the basic skills one needs to become an investment banker. He tells us why a Commerce student has an advantage in a Finance career after graduating from b-school. Harsh answers various questions from the audience (current students at India's top IIMs and other b-schools) about investment banking. He shares what hardcore skills one needs to get into a reputed IB firm!
Enjoyed this talk? Sign-up for the Masterklass with Harsh Parikh!
---
Sign Up Here!