---
Note: To reduce inaccuracies due to outliers, ISB releases only average/median of the mid-80th percentile of all salaries offered. All salaries mentioned in this report are mid-80th percentile values.
---
Average Salary Up By 21 Percent, Median Salary Up By 15 Percent | ISB Placements 2022
In 2022, ISB witnessed an impressive 21 percent increase in the average salary, and a 15 percent increase in the median salary for the graduating batch of 2022. This is the biggest leap in salaries at ISB in five years, in part due to relatively underwhelming placements during the pandemic.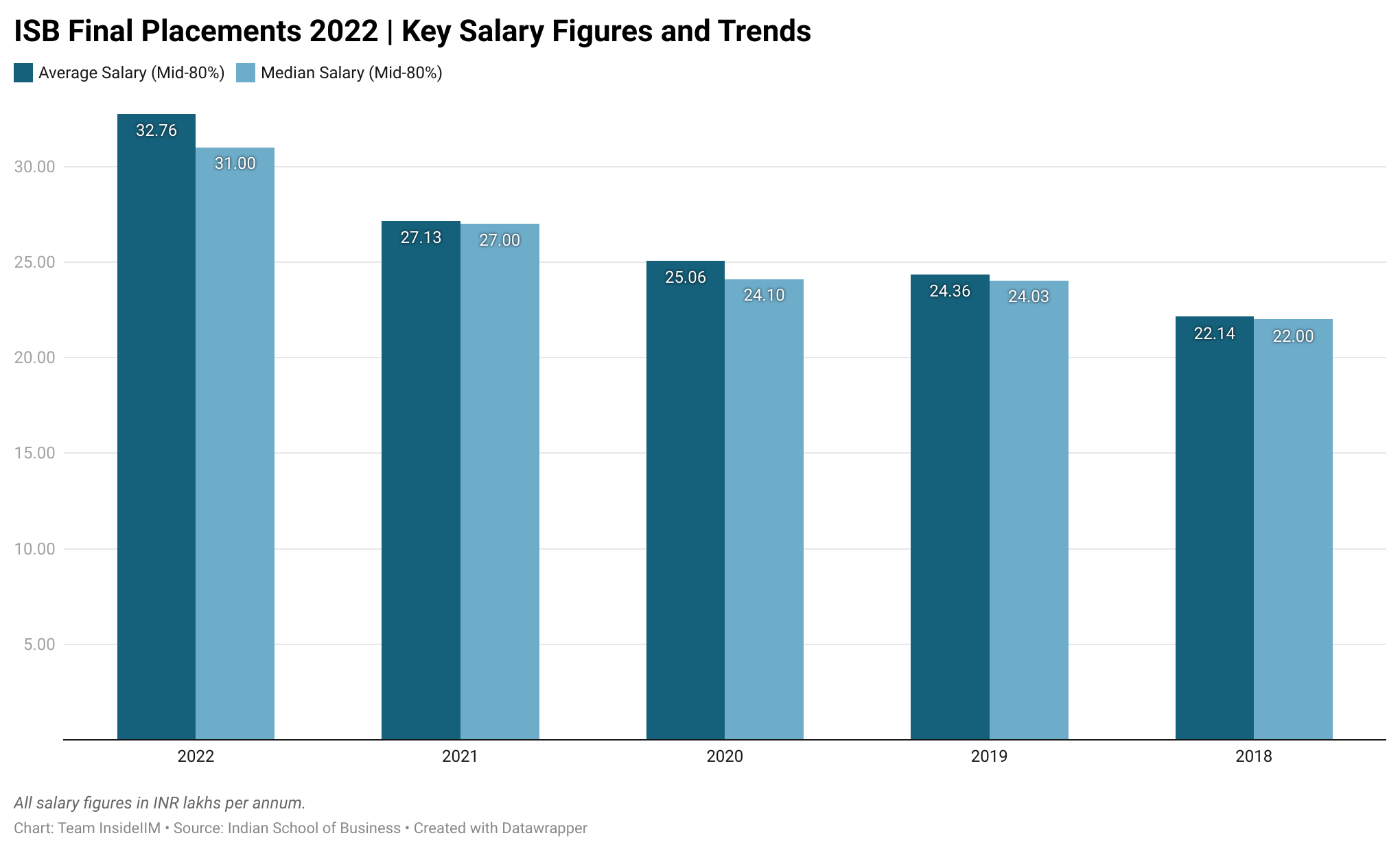 The mid-80th percentile average and median salary figures at ISB are at par with those at top-ranked IIMs, though the overall average salary for the batch—INR 34.08 lakhs—surpassed salary figures at the IIMs.
Also Read → I Wanted To Give Up After My 2nd Failed Attempt - Oshin Sharma, ISB
---
73 Percent Surge In Jobs Offered To Graduating PGP Batch | ISB Placements 2022
Jobs were aplenty in ISB's 2022 placements season. The 929-strong PGP batch received a whopping 2072 job offers—approximately 2.2 offers per student and a 1.73x increase as compared to last year. This is the highest number of offers extended in the institute's history.

In 2022, a total of 393 companies participated in the ISB placements process, including over 130 first-time recruiters. Notably, 52 companies extended more than 10 offers to ISB's graduating batch, accounting for at least a quarter of all offers.
100+ leadership roles were offered to the PGP Co22 by companies, across geographies and sectors. Women, who made up 40 percent of the batch of 2022, landed exceptional strategic roles like Country Head, Country Manager, DGM, EA, CEO, General Manager etc. from leading companies. The institute also witnessed placements in international and emerging domestic markets.
---
Urban Mobility Top-Paying Industry, Consulting Most Sought-After Sector For Class of 2022 | ISB Placements 2022
The fast-growing Urban Mobility industry, though hiring only a small fraction of ISB's graduating batch, was the best paying on average, offering a mid-80th percentile average salary of INR 37.34 lakhs. The highest mid-80th percentile salary, however, came from the BFSI sector and stood at INR 60 lakhs.
Consulting, the most sought-after industry on campus, offered an average salary of INR 33.38 lakhs, up 15 percent over the previous year. Salaries offered by companies in BFSI and Tech—the next most popular industries on campus—stood at INR 34.88 lakhs and INR 33.51 lakhs respectively, increasing significantly as compared to last year.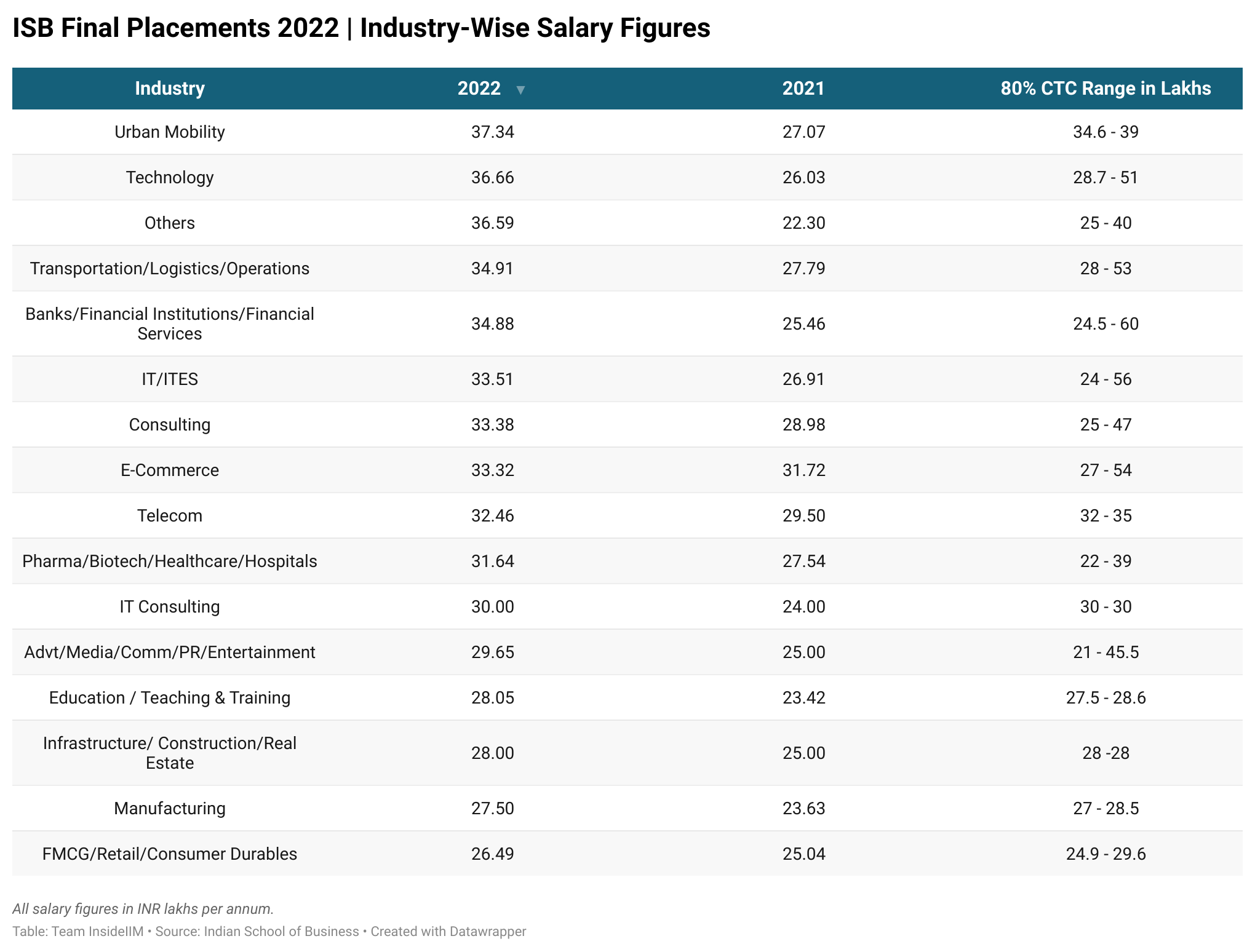 In terms of industry preferences, Consulting continued to be the most in-demand industry for ISB's graduating batch. Affinity for roles in the Ecommerce industry increased significantly, as did for roles in the BFSI sector. Leading private sector banks and multi-national banks, along with marquee Investment Management and Private Equity Firms made offers to ISB's batch of 2022.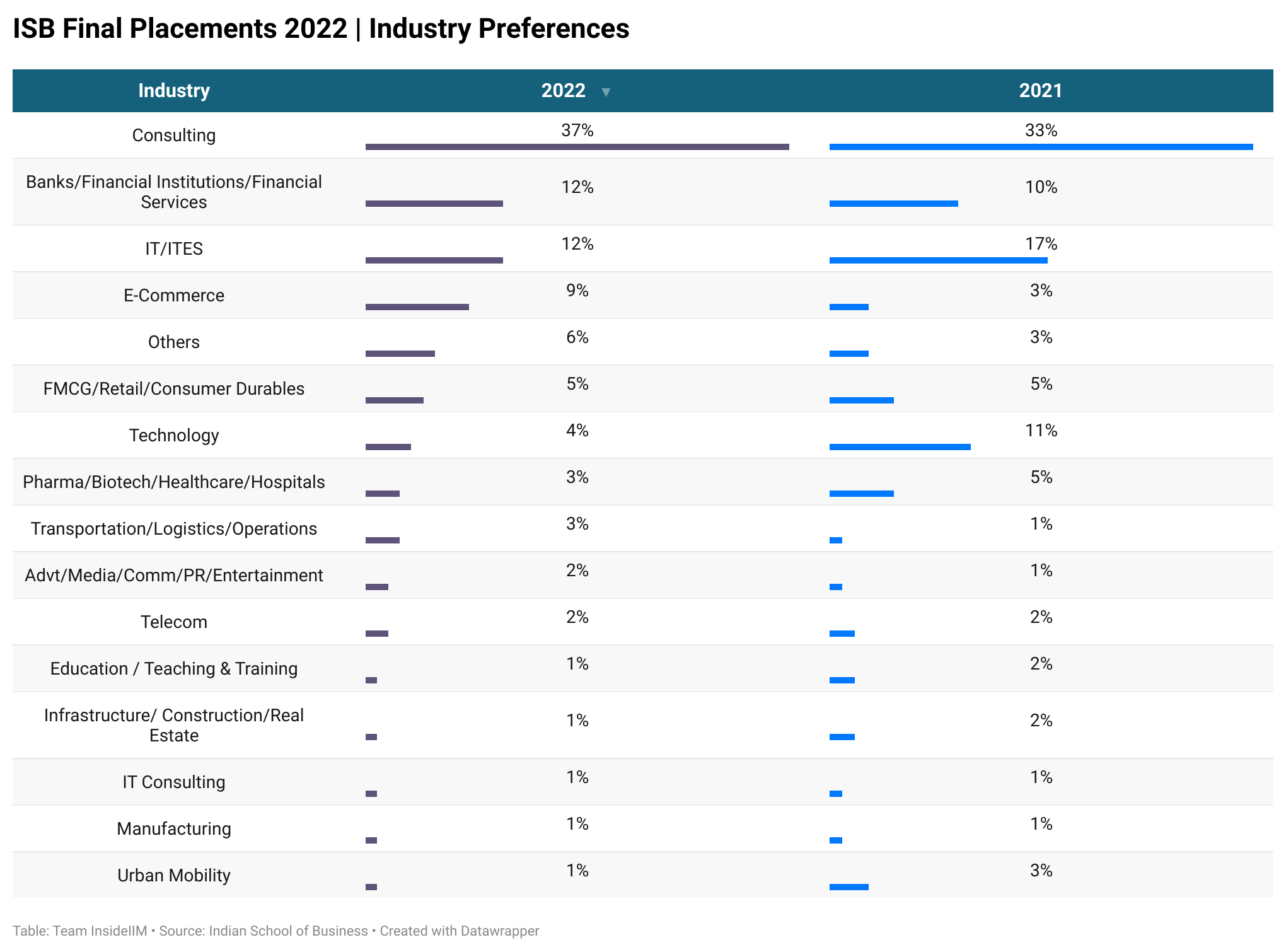 Preference for Tech and IT companies fell markedly as compared to last year, the former more so than the latter. These companies offered roles in Product Management, Program Management, and Consulting amongst others.
---
Tech, Product Management Best-Paying Jobs, Consulting Jobs Most Popular On Campus | ISB Placements 2022
Function-wise, on average, Technology and Product Management roles were the best-paying jobs on campus in 2022, offering INR 44.65 lakhs and INR 34.50 lakhs mid-80th percentile average salaries to the batch. These roles also accounted for 16 percent of offers extended to the batch.
The top-two most preferred roles on campus—Consulting, Sales and Marketing—offered average salaries of INR 33.49 lakhs and INR 29.91 lakhs respectively. Consulting salaries increased by 16 percent over the previous year. Analytics roles were also very well paying, offering an average salary of INR 32.49 lakhs.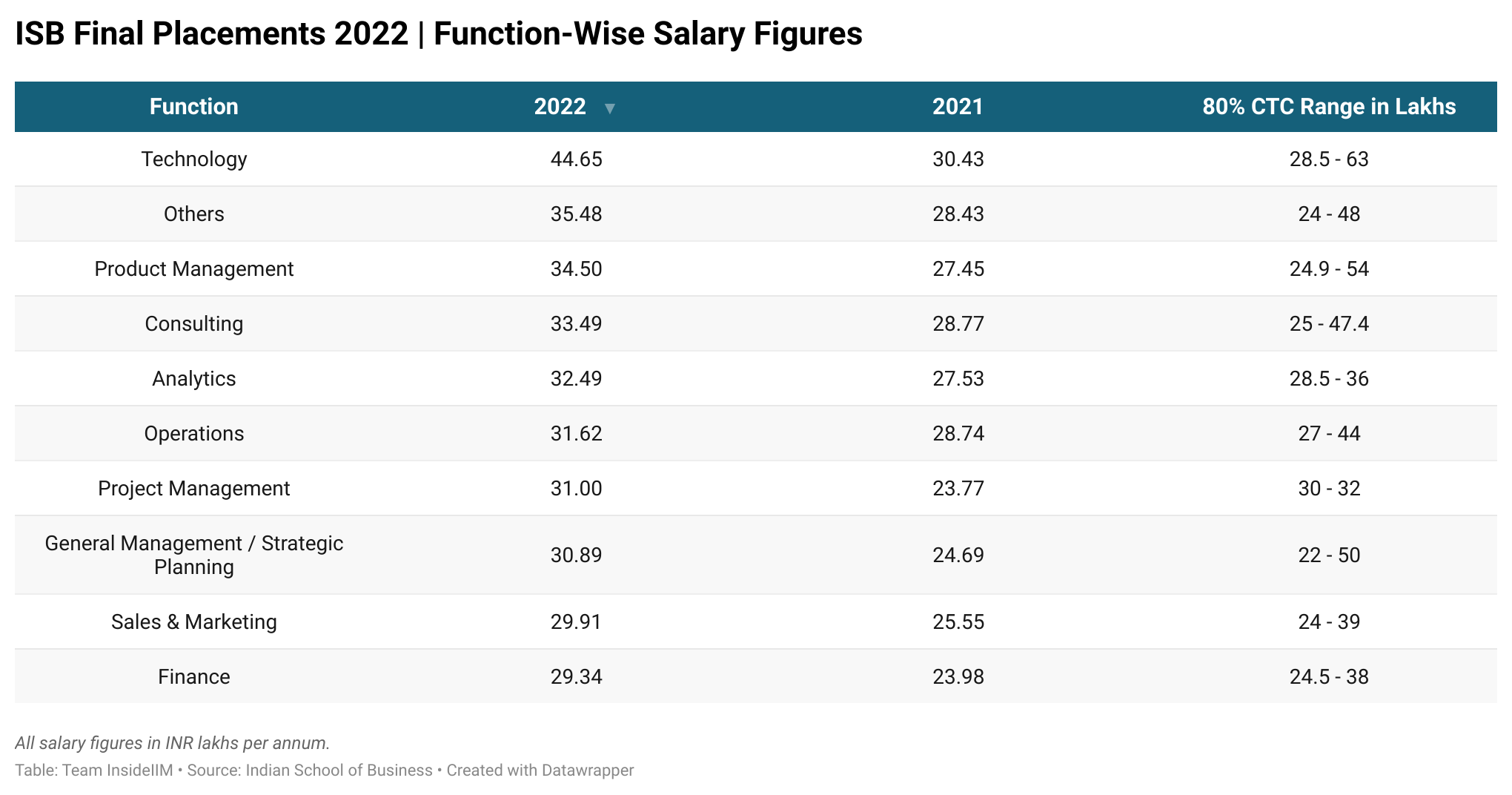 Consulting roles on campus accounted for 37 percent of all offers, up from 34 percent last year. Sales and Marketing was the next most preferred job function, accounting for 18 percent of all offers extended. In 2022, while affinity for Consulting, Sales and Marketing, and Finance roles increased, that for General Management, Product Management, and Technology roles diminished year-on-year.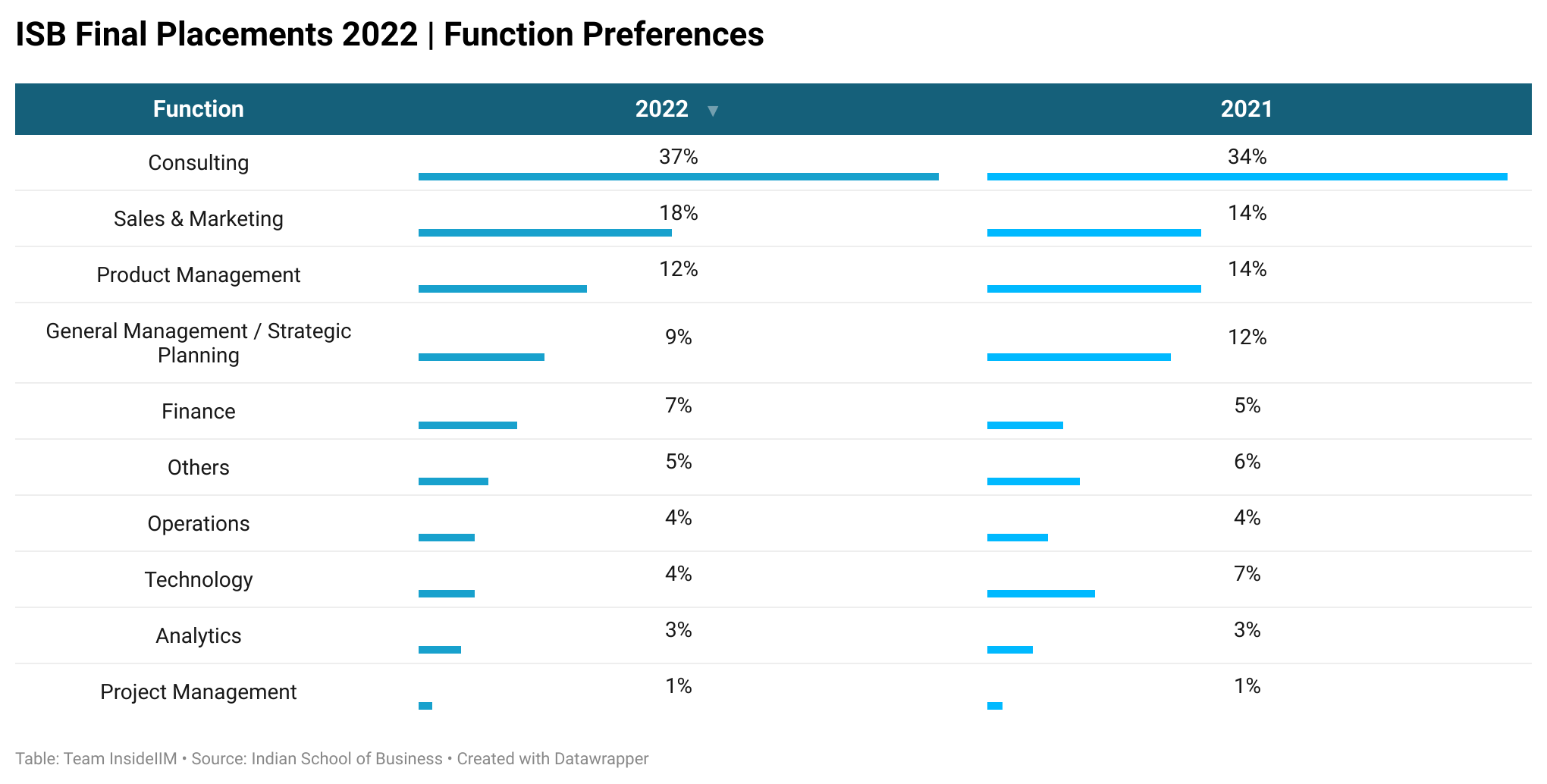 Amongst all roles, Project Management and Analytics offers were the lowest, cumulatively accounting for less than 4 percent of all offers extended—as was the case last year.
For more information, read the official report on the institute's website.
---
Read Next → Sample Essays For ISB's PGP In Management