Prof. Boman Moradian is JBIMS's Professor of The Year in 2020! The 70-year old gentleman teaches Operation Management at the college, and has been voted overwhelmingly by JBIMS students as their favourite professor! Here's why MMS students at JBIMS love Professor Moradian enough to vote him the InsideIIM Professor of The Year for a second consecutive year.
Note - The winner(s) of the InsideIIM Professor of The Year at any given campus has/have been chosen by current MBA students of that campus. The voting process began in the month of February 2020, and MBA students could nominate their favorite professors here. The professor(s) with the maximum number of votes has/have been declared the winner(s) in 2020!
Meet Prof. Boman Moradian of JBIMS Mumbai, InsideIIM Professor Of The Year 2020!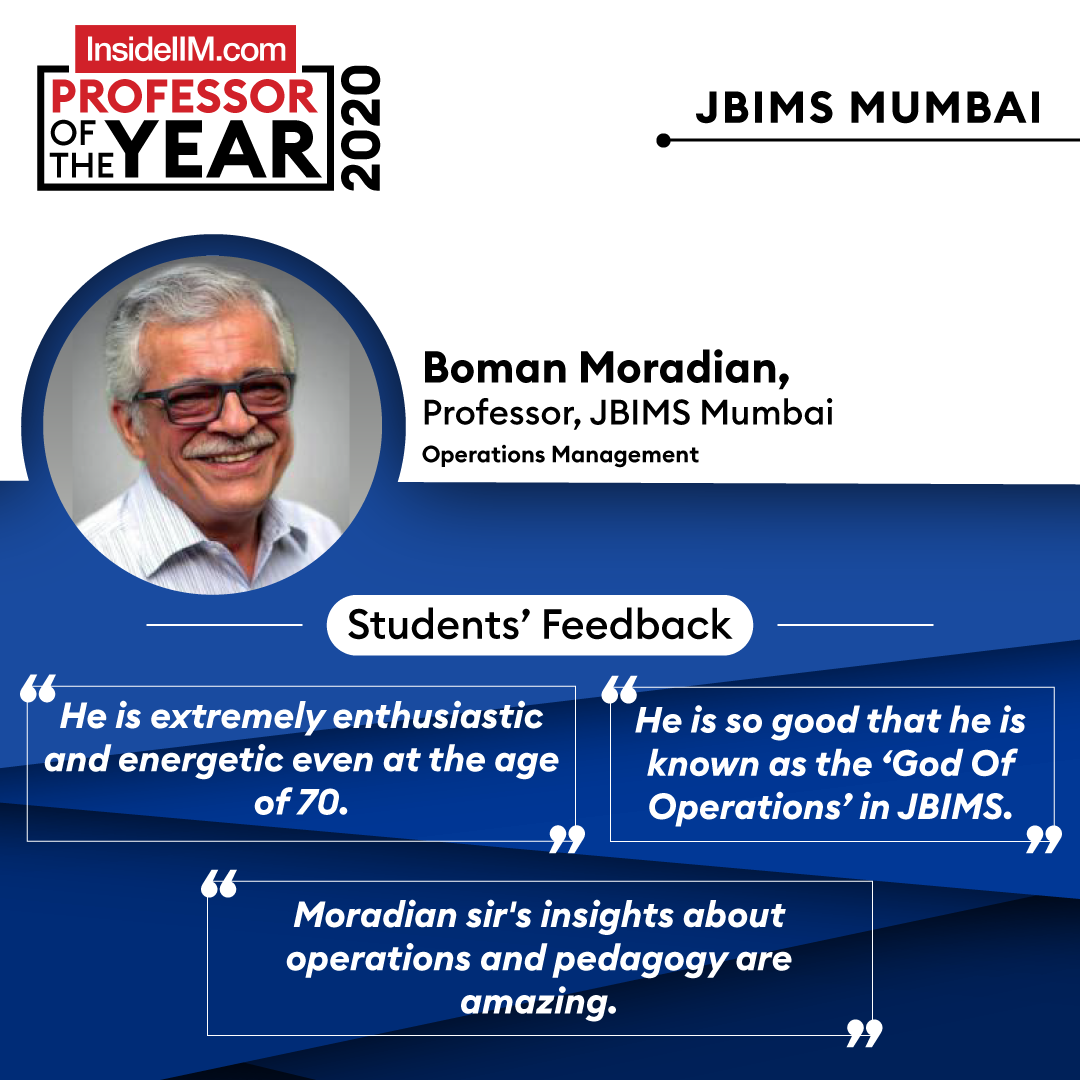 Mr. Boman Moradian, also known as the "God Of Operations'', is one of the longest-serving professors at the JBIMS campus. He is a mechanical engineer graduate from VJTI Mumbai and then went on to pursue the MMS program at JBIMS Mumbai.
He is a visiting faculty at JBIMS and has been associated with the college for more than four decades. He also serves as an adjunct professor at SP Jain School of Global Management. Apart from that he also runs more than 200 management development programs in leading manufacturing and industrial organizations in India. Want to know more about Prof. Moradian? Click here.
InsideIIM Professor of The Year 2020 - What JBIMS Mumbai Students Have To Say About Prof. Boman Moradian
"Professor Moradian can change your perception to look at things completely. His dynamic behavior and energy level always inspired me to go to my next best level. How you can convert a biggest management challenge to a simple tasks is an art what we have learnt from professor. Professor is a volcano of impeccable knowledge with a mind blowing hands on expertise on aspects of Production Management and Operations Management. His subject matter expertise in Production Management and unique style of teaching, presentations kept the students glued to his class even on a Sunday."
"His aura in the classroom is unparalleled. He can conduct a lecture for 6 hours and still can keep students engaged for entire class. He has great experience in the field of operations and is well known as the "God of Operations". He teaches lot more than Operations by his "management principles". He is the most punctual professor and in the career of over 40 years, he has been late to a class only 2 or 3 times."
"He takes classes for 6 hours and no student ever feels bored during the lecture. He teaches through his real life experiences that he gained while working in industry."
"The amount of real life applications he shares for each concept is astounding."
"Mr. Moradian's way of teaching is unparalleled. With 40+ years of experience under his belt, the wealth of knowledge he imparts is undifferentiated. His method of teaching keeps you engaged for the entire 6 hour duration of the lecture. And as described by our alums, his teaching goes a long way in their careers."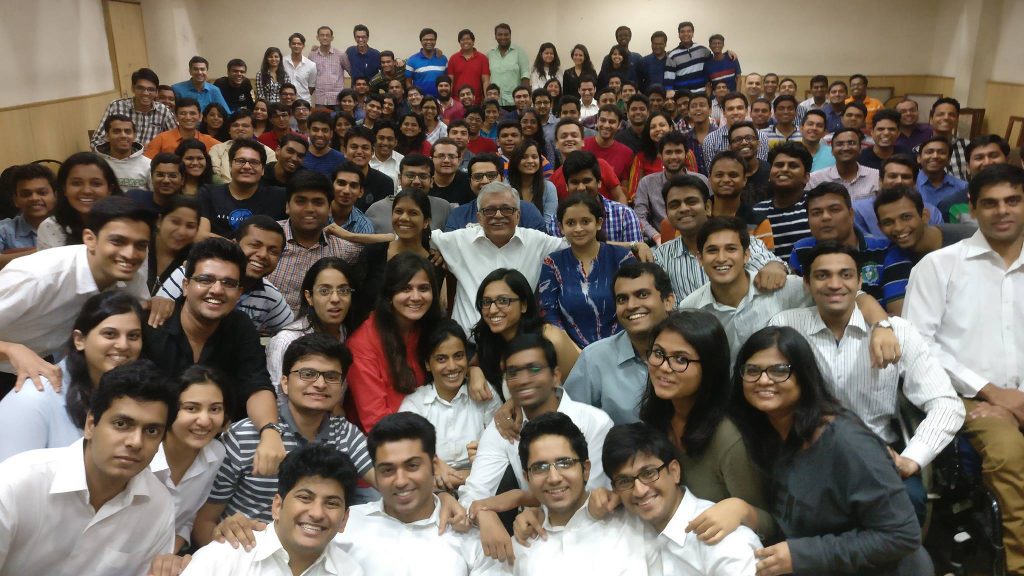 (Above) Professor Boman with his MMS (2016-18) batch at Jamnalal Bajaj Institute of Management Studies
The following are professors at JBIMS Mumbai who are also loved by the students:
Sandeep Gokhale: "His lectures are 20% theory and 80% practical examples that he has experienced during his tenure at various firms."
Chandrahauns Chauhan: "He is quite friendly and provides opportunities for self-learning through his self-assessment assignments and submissions."
Shivanand Mankekar: "Excellent teaching skills, the experience of market and business is enormous."