Harsh Pamnani is a much-appreciated storyteller in the world of business. His bestselling books- 'Booming Brands (Volume 1 & 2)' cover the inspiring journeys of new age 'Made in India' brands. These books are published by CNBC and have been appreciated by many government, business and academic leaders.
He is a management graduate from XLRI Jamshedpur. He writes on branding and marketing in many business publications, including Forbes, and The Economic Times (Brand Equity). He has given talks on platforms like TEDx, Josh Talks & Google Business Group.
Q: You did your MBA from XLRI and had a promising career as a marketer. What made you become an author?
Ans: I have always been curious to understand how come a few entrepreneurs create admirable brands while many struggles. I realized that the topic which is close to my heart is a need in the market. I had met many professors, marketers, entrepreneurs, and students, who had expressed that there is enough material available on growth stories of international brands, but not much has been written about Indian brands. India is not America. The way brands were created in America can't be built in India. Noticing this void, I felt I could write a book that could be leveraged by people interested in understanding how new age 'Made in India' brands are getting created.
In 2017, I ventured into writing my first book. It was vital for me to cover popular brands, get backing from a reputed publisher, and testimonials from influential leaders. I persisted and by God's grace – founders of 11 leading Indian brands like BookMyShow, Shaadi.com, Zomato, Paper Boat agreed to give me their valuable time and a few of the highly respected names in the world of business and academia like Mr. Harsh Mariwala, Chairman of Marico and Prof. David Bell, Professor of Marketing at Wharton gave me their testimonials. Luckily, CNBC agreed to publish my book.
Booming Brands was released at my alma mater XLRI by Prof. Sharad Sarin (one of the senior-most marketing professors in India, teaching at XLRI since 1976) along with Prof. Ashis Kumar Pani (Dean of XLRI). Later, Mr. Amitabh Kant, CEO of NITI Aayog, Government of India, and Mr. Prakash Javadekar, Union HRD Minister, Government of India, also praised the book. Over time, many other influential business leaders and academicians appreciated my book, and word of mouth picked up.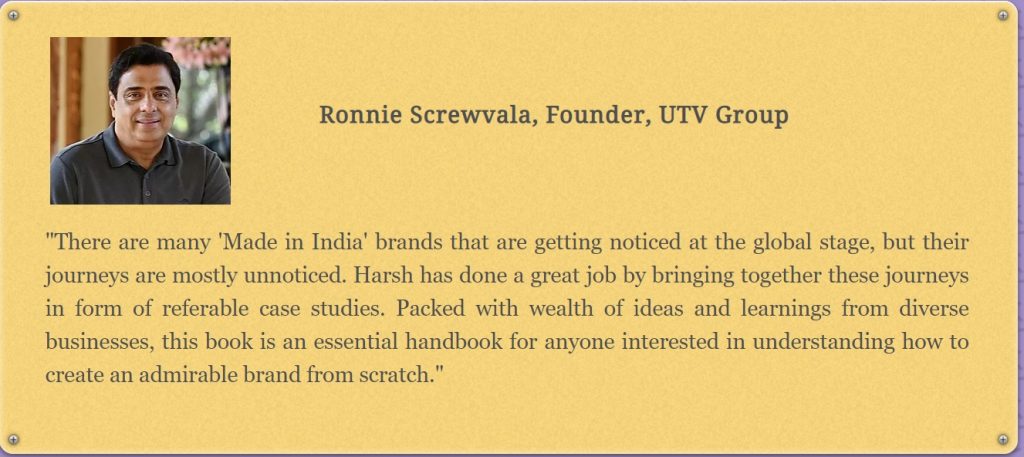 Appreciation received for Booming Brands (Volume 1) motivated me a lot. Moreover, many people expressed their desire to know about many more new-age Indian brands, so I decided to write the second volume. By God's grace, in 2020, Booming Brands (Volume 2) was published.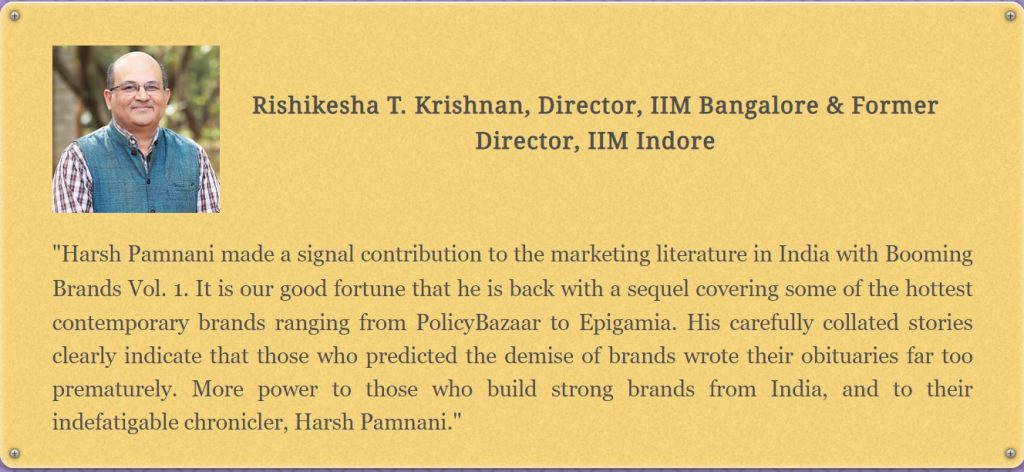 ---
Q: Which brands you have covered in Booming Brands (Volume 1 & Volume 2), and who all gave you the testimonials?
Ans: In Booming Brands (Volume – 1), I have covered brands like BookMyShow, BYJU'S, Paper Boat, Zomato, Shaadi.com, FirstCry, Goli Vada Pav, SU-KAM, Pagalguy, Elephant Design and Jayaashree by Arunachalam Muruganantham (Pad Man).
The book received testimonials from Mr. Harsh Mariwala, Chairman, Marico; Mr. Ronnie Screwvala, Founder, UTV; Prof. David Bell, Professor of Marketing at Wharton; Prof. Sharad Sarin, Retired Professor of Marketing at XLRI; Prof. Anand Narasimhan, Shell Professor of Global Leadership and Dean of Faculty & Research, IMD Switzerland; Mr. GV Ravishankar, MD, Sequoia Capital, India; Mr. Sridar Iyengar, Chairman of ICICI Ventures and Former Chairman and CEO, KPMG, India; Mr. Vinit Malhotra, MD, BlackRock, Sanfranciso and Mr. Anand Lunia, Founding Partner at India Quotient.
In Booming Brands (Volume – 2), I have covered brands like PolicyBazaar, BigBasket, OYO, Super 30, Josh Talks, Zoomcar, Epigamia, Quikr, ShareChat, Portea, and Hidesign.
The book received testimonials from leaders like Mr. Sunil Kant Munjal, Chairman, Hero Enterprise; Mr. Harsh Goenka, Chairman of RPG Enterprises; Mr. Suresh Narayanan, Chairman, and MD of Nestle India; Prof. Rishikesha Krishnan, Director of IIM Bangalore and Ms. Samina Hamied, Executive Vice Chairperson of Cipla.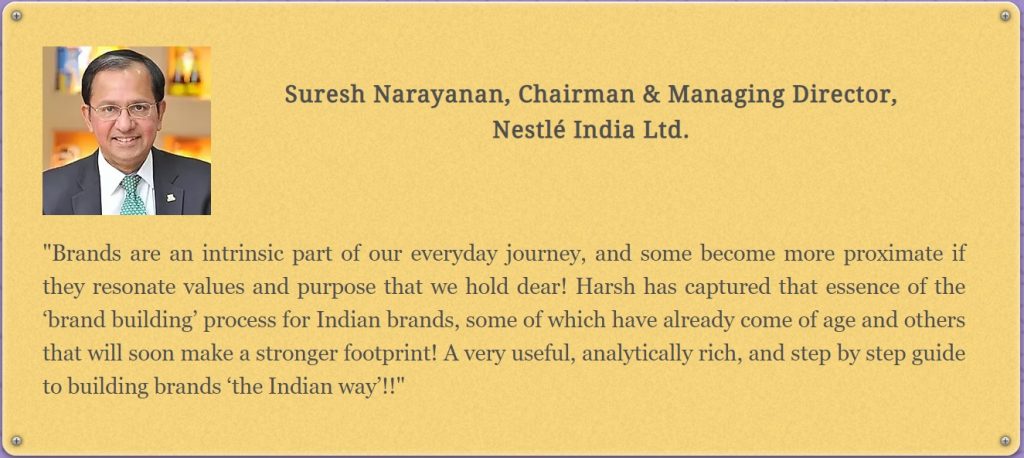 ---
Q: What's the sort of background work goes into your books — from both the primary and secondary research point of view?
Ans: I love reading about brands, and the knowledge I gain through my time spent reading is essentially what forms the foundation of my research. When I am reading, I don't really think about what and wherein the story the information will go. The idea is to let my mind absorb as much information as possible about brands. Interestingly, this reading helps me in understanding WHAT brands have done. I prepare questions around WHYs and HOWs behind those WHATs. My in-person interviews with founders help me in getting the answers of those questions.
Every brand is different in terms of sector, business model, customers, and founders, so their branding and marketing approaches are also different. After collecting all the information, I structure the stories in the form of 5 to 6 unique lessons from every brand, followed by advice from founders.
---
Q: Your books have become immensely popular among MBA students. What do you think is the reason behind this immense popularity?
Ans: We all, including MBA students, have been consumers of new-age brands like BookMyShow, BigBasket, Zomato, Paper Boat, and others. People want to know how these admirable brands were created in today's crowded, competitive, and complex Indian market. Also, the case studies and books taught in MBA colleges are mostly from American publications like Harvard Business Review and authors like Prof. Philip Kotler. These are great resources of knowledge but mainly cover international examples. India is very different from America. It is a developing country with 1,600+ vernacular languages. Every state in India is different. Also, consumer behaviour and insights are very different here.
There has been some literature written on established Indian brands in the form of case studies and biographies, but these brands were created before liberalization and digital era. Strategies that worked for those brands may not work in today's hypercompetitive digital era. Furthermore, the media writes a lot about new-age brands, but media mainly covers WHAT these brands are doing, like raising funds, etc. Media doesn't cover much about WHY and HOW behind the journeys of new-age brands.
I think, as Booming Brands is able to satisfy the curiosity of MBA students about new-age brands, it has become popular among them. Having said that, the purpose of Booming Brands is not to act as a substitute for any of the great research done and literature written by great authors. It's like a dessert that could be consumed after the main course. And there are people who like to eat dessert, I mean, there are people who want to know how a few entrepreneurs built something out of nothing and made their mark in the Indian start-up ecosystem over and above the concepts and case studies they study in B-schools.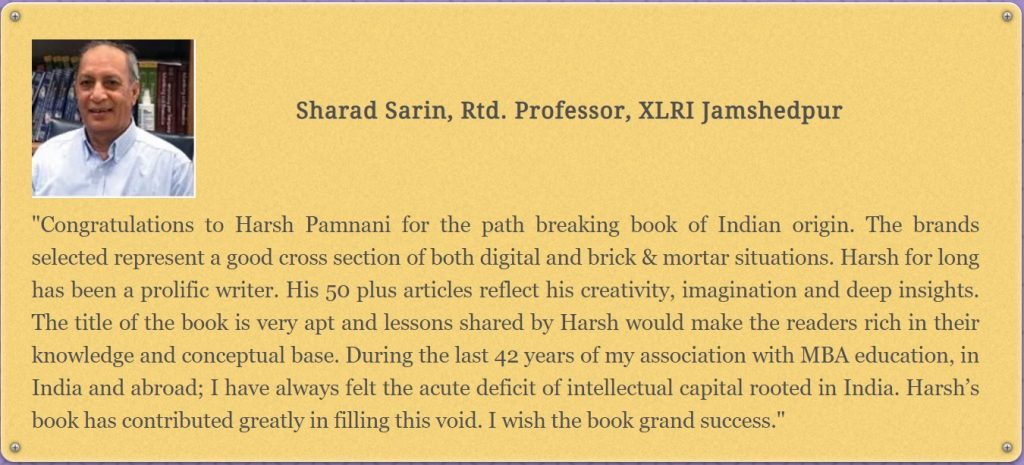 ---
Q. Writing a book requires long hours of sustained concentration. How you manage writing along with other stuff you do?
Ans. My wife, Pooja, has been a big supporter of my initiatives. She has sacrificed many things so that I could focus on my writing. When I was writing my second book, our daughter Yashvi was just 6 months old. To help me in my dream, Pooja took care of Yashvi single-handedly along with her job. Whenever I was losing my motivation, she pushed me to move ahead. She suggested me to create a schedule and follow it with discipline.
---
Q. Who is your favourite author?
Ans. I learned from the books of many authors. But as you have asked one, I will say Seth Godin. The first marketing book I had read was Seth Godin's Purple Cow.