Krishna Agrawal's CAP Interview Experience – IIM Rohtak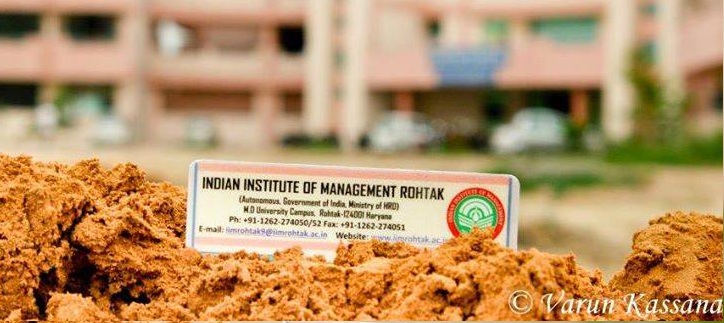 I had my interview on 27th February in Mumbai in the post-lunch session. Firstly, we had written ability test, and the topic was "Is it the moral responsibility of doctors and hospitals to save the life of the patient as long as possible irrespective of the quality of life?"
After that, we headed towards our respective rooms for the personal interviews. My interview went as follows:
Interviewer 1 (I1): Good afternoon, Krishna! Please have a seat.
(I thanked them and greeted them afternoon)
I1: Who is Krishna in Mahabharata?
Me: Krishna is 8th incarnation of Lord Vishnu, and in Mahabharata he was the charioteer of Arjuna, advising him in the cart on the battlefield. Also …
The Interviewer interrupted me and asked, "Who is Vishnu?"
(To be truthful I had no clue, just as I was about to tell something he asked me to complete the answer to the previous question first.)
(With a big smile on my face and thanking Lord Vishnu for saving me)
I continued,
Apart from this, even Panchali is known as Krishna, and hence the name Krishna is used for females as well.
(I think the interviewer was expecting this answer because he gave me a very affirmative nod and a smile when I mentioned this.)
(Hoping the Lord Vishnu question doesn't come back)
I1: Who do you think is better Ram or Krishna?
Me: Both are incarnations of Lord Vishnu, so they are same. Moreover, both are legends. So, I don't think I am in a position to compare them.
I2: Don't be diplomatic, give us your opinion.
Me: Both Ram and Krishna incarnated as humans to save the people on Earth, to restore the balance in the cosmos. Since you are insisting, the feminist in me would choose Krishna over Rama as Lord Ram asked his wife Sita to give the purity test.
I1: Tell us something about yourself.
Me: I am from Nanded which is a holy city of the Sikhs. I have done my schooling from there itself. I completed my BE in Computer Science from RCOEM, Nagpur. Currently, I am working with my father in our family business which is a departmental store.
I1: What are the four sects in which Indian society is divided?
Me: Brahmins, Kshatriyas, Shudras, and (pause)
(I started smiling because I couldn't recollect the name of sect I apparently belong to…)
Then I used my presence of mind and said Baniyas with a grin.
The interviewers laughed, and I1 corrected me and said, "Vaishyas."
I1: You are a Baniya, Kshatriya is a lower sect than Baniyas (vaishyas) so why do you want to go from being a Baniya to Kshatriya?
Me: Sir, I think no sect is lower or higher. All are equal. Moreover, all these division of sects and comparison is a thing of the past.
I1: You are from a business family, you are a Baniya, you managed to earn via the android app (saw in my file) without any business experience, business is in your blood, and you don't need MBA.
Me: Sir, while working at the departmental store I realised I lack knowledge and skills required for doing business effectively. Also, I don't want to continue working in the family business and start something of my own or get a management related job, and so I believe MBA would be a perfect course for me.
I1: What will be the difference in teachings of your father and that in a b-school? Won't he teach you better business?
Me: No doubt, my father is an excellent businessman, and I have been learning a lot working with him for the past eight months. But I am more interested in learning the managerial business.
I want to learn the professional way of doing business. (I seriously don't know if this makes sense, but I1 nodded, so I guess it was alright)
I1: What are the fundamentals of business?
Me: Firstly, Ethics!
A Businessman should follow ethics because..(Interrupted..)
I1: So, your father hasn't taught you ethics?
Me: He has been teaching me ethics and its importance right from my childhood, Sir.
I1: Is the market of your departmental store dynamic?
Me: Yes, it's very dynamic. Recently DMart was opened in Nanded. So, customers started comparing the cost and complaining that they get better deals at DMart.
So, we had to explain to them how you will save your time in our shop since DMart is far away from the city. We assured them that cost difference is because there is the difference in quality. Moreover, we have customers coming to our shop from many years we told them; we know what you need. Same won't be the case there in DMart.
I2: What are your career goals?
Me: (I don't know what happened, but I was blank)
Ma'am, as of now I have no long-term career goals.
(Face-palm, I knew I had landed myself in soup)
I2.What other extracurricular activities you participated in?
Me: I was the literary coordinator of my branch in 3rd year. I worked as Publication Head of CSE branch in the final year. I worked as editor of branch magazine and received a letter of appreciation for the same. Also, I was the hostel prefect in my final year. I was responsible for organising all the events in the hostel and also was chief coordinators for hostel related issues between girls and management.
I2: Were you not placed in college?
Me: I opted out of recruitment process in college as I was sure that I want a career in business management. And hence I decided to join my family business to get a direct experience of business. However, I showed them the pre-placement offer I received from the company I interned in summers after the end of my 3rd year.
Overall it was an amicable discussion. I1 told me in the end that he loves to debate.
PS: I was smiling during the entire interview, I think that helped the most.