When my teammates (Shreya Gupta and Baruni Goel) and I decided to team up for this competition, we definitely had the desire to win this competition globally, but little did we know that we'd actually get an opportunity to do that!
L'Oréal Brandstorm is a one of its kind competition, very unlike all the other corporate competitions out there. Every year, L'Oréal partners with one of its four divisions (Consumer products, Professional products, Luxe, Active Skincare) and gives a problem statement – more like an actual business challenge/opportunity. The 2019 edition of Brandstorm saw L'Oréal partner with Active Cosmetics Division (ACD) and the mission was to "Invent the future of skincare for health-conscious consumers".
Becoming one of the campus finalists
We made our first submission for the campus round on the New Year's Eve. Multiple days of research and brainstorming had led us to finally zero down on our idea. Thankfully we were one of the 2 teams from MDI Gurgaon to make it to the regional finals. In order to refine our idea and be better, we took the help of our faculty guide Prof. Avinash Kapoor. He's been quite instrumental throughout the journey and has been a constant support to us.
L'Oréal India tweaked the regional finals round in 2019. Since ACD as a division did not exist in India, L'Oréal conducted a 1-day hackathon in Mumbai, where all the 13 teams were invited. The purpose of the event was two pronged – to give us an understanding of ACD, the brands, the products and the business models and to review and critique our idea. It was at this event that we got to interact with some of the senior managers at L'Oréal, understand their perspective and receive extensive feedback on our idea. As a team we ensured to ask relevant questions and validate our ideas.
The next 3 days have been the one of the toughest for us so far. Basis the feedback we received, we had to improve our idea, which required extensive research and brainstorming yet again. The second round of submissions required us to make another presentation along with a 5-minute video pitch. 3 sleepless nights later, we were finally able to turn in our submission.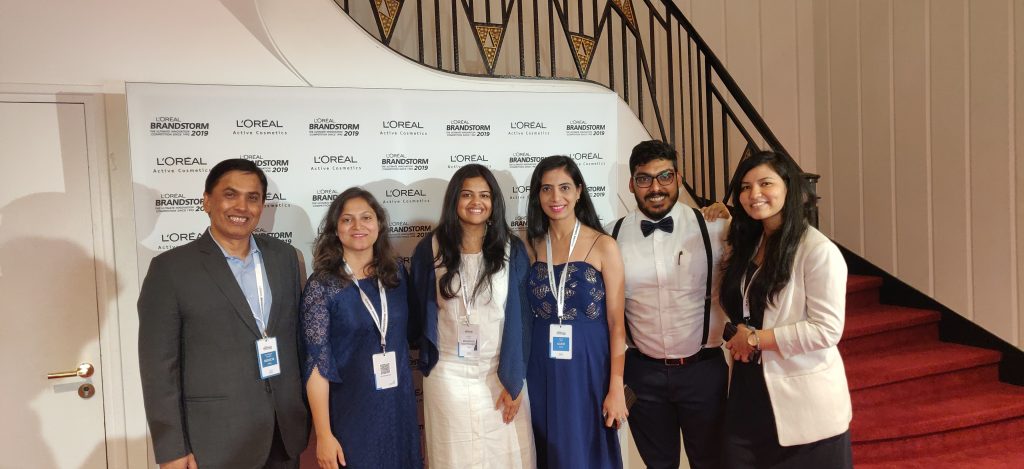 The journey to National Finals
I still recall the instance when we received the email saying that we've been selected as one of the four teams for National Finals. We were in our classroom and a lecture was about to commence. We were all sorts of excited but we just couldn't express it at the moment. To add to our excitement, two of our alums from the 2011 batch reached out to us and offered to help us. They were also national finalists of Brandstorm and were glad to see MDI qualify for the finals of Brandstorm. They reviewed our idea, gave us inputs and shared resources with us as well. Prof. Avinash Kapoor also helped us prepare for the finals extensively. In order to differentiate ourselves from others, we got a prototype of our idea 3D printed, reworked our slides to ensure a smooth transition and extensively prepared for QnA.
The quest for the International Finals
On 20th March 2019, we were at L'Oréal India's headquarters in Mumbai for the event. We were the last of the 4 teams to present. While we were nervous, we were pretty excited to present in front of an amazing jury – Mr. Amit Jain (MD L'Oréal India), Ms. Roshni Wadhwa (HR Director, L'Oréal India), Mr. Yogesh Suradkar (Head of India, R&D Hub, L'Oréal India) and Mr. Vikas Agnihotri (Country Director Sales, Google India). It was one of those moments for us which we'll cherish for a long time. And a moment which we'll cherish even more fondly was when we were adjudged the winners. Making It To The International Finals Of L'Oréal Brandstorm - An Experience In Itself!What started out as a desire, had now come true. We were set to travel to Paris to represent India at the L'Oréal Brandstorm 2019 International Finals.
The road to the International Finals was even tougher. One, the preparation period completely overlapped with our summer internships. Two, the three of us were in different cities and hence did not have the chance to meet. During this one and half month of preparation time, we received quite a lot of help from the team at L'Oréal India – sessions with the R&D head, head of digital marketing and the General Manager of ACD (Regional head), a design team to make our slides along with other logistical support. It was upon the three of us to capitalize on these resources and make the most of it, even though we had to work virtually from our respective cities. We spent days and nights on research and brainstorming to sharpen our idea further and become the best version of ourselves, while also ensuring that our summer internship projects were on track. And finally the day came when we reached Paris.
The city of love is indeed a beautiful city. We were amazed by the grandeur of the monuments and the beauty of the city. For the competition we were accompanied by the Brandstorm team at L'Oréal India along with our faculty mentor, Prof. Avinash Kapoor. The first day of the event was at the global headquarters of L'Oréal, where we had immersion sessions on beauty tech and public speaking, followed by a cocktail party. It was here that we realised the responsibility we were carrying as Team India. The year before, one of the Indian teams were among the 3 teams which won the International Finals. All the 53 delegations which had flown in to Paris from their respective countries knew this and were expecting us to match the standards. While it was exciting, it was a little nerve-wrecking as well.
The second day, the D-day was here. The event was held at Salle Pleyel, a concert hall in the heart of Paris. The competition was conducted in 2 rounds. In the first round, all the 53 teams were supposed to present thrice to 3 different panels of 5-6 jury members. Based on the presentation and the QnA the jury would score us and the cumulative scores of all the teams were recorded. The top 6 teams based on this scoring would present in round 2 in front of the elite jury – global brand managers and vice presidents of the brands of ACD.
Before we started with the presentations, L'Oréal had organised a small fair of equipment and products in beautytech that they had developed and were using. From a VR tour of their production facility to 3D printing of containers to a demo of Skinceuticals Custom DOSE, it was an experience worth remembering.
Round 1 went smoothly for us. We were very nervous going into our first presentation, but once that went smoothly, we were pretty confident. Judging by the reactions of the panellists, we thought that we might have a chance to be in top 6. We also got a chance to visit other corners and look at the ideas of the other teams. It was amazing to see the kind of innovation and thought that had been put in by all the other teams. It was a long wait for us, but eventually it ended.
We went into the auditorium for the final round. The top 6 teams from among the 65 participating countries were supposed to be announced. While we were expecting them to announce all the 6 teams first, there was a twist in the game. They would announce one team at a time and that team would instantly have to present on stage. After a lot of suspense, they were finally ready to announce the first team.
"The first team to make it to the final of Brandtsorm 2019 is ……… Mandevian Stromtroopers from India". We made it to the Finals!!! We were the first of the 6 to present and we were in a state of ecstasy. We hardly had any time to emote as within the next 30 seconds we were up on the stage in front of a huge audience, pitching our "Big Idea". The countless number of rehearsals and dry runs we had done coming into the finals finally paid off. We were confident and we spoke with intent. We couldn't have been happier with our performance.
After all the teams had presented and we were up on the stage again for the results, our fingers were crossed. But unfortunately, it was Indonesia who won the competition. We were disappointed and disheartened. We really thought that we had made it through, but unfortunately, we didn't. Even though we were dejected our professor cheered us and gave us so much confidence. It was really heart-warming. Even more heart-warming was all the love and appreciation we received from all the delegates post the event. All the contestants, professors, L'Oréal managers from across the countries and the organizing team came up to us and praised us. For me, even though we didn't the competition, seeing such love I was overwhelmed. We ended this entire journey with an amazing party, where we enjoyed ourselves to the fullest.
What started out as just a participation in a competition became the highlight of my MBA journey. What was just a team of 3 became a close-knit group of 3 colleagues and friends. What started out as an exercise, became an experience!