MDI versus JBIMS: Which one should you opt for?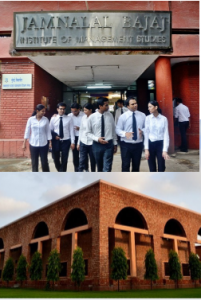 B-School selection is a very crucial choice for an MBA aspirant. It is that choice which is going decide the career path on which one would be treading on in future. Though this choice is extremely subjective, yet, we decided to present you with certain facts relevant to some yardsticks which would surely go a long way in helping you to make an informed decision.
In this quest to bring at your forefront the comparisons of various top b-schools, today we take MDI and JBIMS. So let's move ahead and explore these two b-schools with respect to some important parameters -
About the Institutes

:
MDI-
Established in 1973 in collaboration with several institutes like UNDP, World Bank etc. together with the active participation of Industrial Finance Corporation of India, MDI is one of the top management institutes in the country. With various notable alumni, MDI is sure to boost to anyone who wants to make a mark in management field.
JBIMS -
It was established in 1965 by Mumbai University in collaboration with Stanford University. It has been named after notable industrialist Jamnalal Bajaj, and this college is unique for its relatively low fees structure and one of the best ROI (Return On Investment) in this sector. It is also called "CEO factory of the country" for its most notable alumni network.
Rankings:
Rankings of b-schools has a critical impact on the candidates' minds, which may further influence the end choice of the college they opt for. Having said that, the choice of an Institute cannot depend solely on its ranking, as these will differ from platform to platform, and can be confusing. One must consider the other (more important) parameters illustrated in this report.
Rankings of the two b-schools under the current radar are:
| | | |
| --- | --- | --- |
| 2018 | InsideIIM | MHRD - NIRF |
| MDI Gurgaon | 13th | 12th |
| JBIMS | 12th | NA |
Since InsideIIM's user rankings were based purely on brand perception, it is clear that aspirants think very highly of both JBIMS and MDI. MHRD's rankings do not include JBIMS, but MDI is ranked quite high on the list.
Overall in terms of rankings, both these Institutes are at par.
Courses Offered:
MDI -
Being a top private college in the Management field, MDI offers 3 courses in Post Graduate management education, namely: PGP in Management, Human Resources, and International Management. Apart from this, there are several other Executive and Doctoral programs in Management.
JBIMS -
Affiliated to Mumbai University, JBIMS has a unique post-graduate program called Masters in Management Studies (MMS), which is equivalent to an MBA degree. Apart from this, there are several other specific courses in Finance, Marketing etc. which the institute offers.
Selection Process:
MDI -
Candidates who want to seek admission in MDI have to appear for CAT and then based on their CAT percentiles, they are being shortlisted. This is further followed by Group Discussion, Writing Ability Test and Personal Interview, all if which comprise 30% weightage. 15% weightage is given to Gender Diversity, Work-ex, and to a candidate's 10th, 12th and Graduation marks. The rest of 55 % weight is given to CAT score. MDI also accepts GMAT score for admission.
JBIMS -
Admission is offered through CAT and MH-CET, though this is not every time that CAT scores are taken into consideration, hence only CET scores may be used for shortlisting. Apart from this, diversity and academic percentages are also considered in final selection. Following this, the candidates are called for interview and some other group exercises which have a net 40% weightage to the final selection scores.
Batch Size:
MDI -
The batch size of MDI is large with a total intake of students being around 335 (240 of these are for PGPM). This large batch size sometimes offers difficulty for students to cope up with high competition.
JBIMS -
The batch size of the MMS program is 120 while its 2-year course is spread over 4 semesters, making it somewhat less hectic than the conventional 6-semester program.
Fees:
MDI -
The fees for general management program hovers close to Rs. 20 lakh for 2-year course, with a specialized program in International Management costing over Rs. 23 lakhs
JBIMS -
Fees in JBIMS is way too low as compared to other top B- schools with fees for 2-year course hovering around Rs. 6 Lakhs.

Placements:
MDI -
Over 100 companies participate in the placement process with the highest salary offered being around 30 LPA, while average being around 20 LPA.2.
JBIMS -
JBIMS is well known for its great ROI with the average salary being around 18 LPA and highest salary around 35 LPA.
Placement reports:
MDI 2018
JBIMS 2018
So with above parameters, one would be in a better position to make an informed decision. On one hand, with JBIMS, you are getting an awesome ROI, low fees, enriched Alumni Network etc. while on the other hand with MDI, you are getting a great campus life, no reservation and extremely good placements.
(This report is based solely on secondary research. For any suggestions or opinions, let me know in the comments below.)