The JSW Challenge, in its inaugural year, saw a massive response from B-schools across the country. Students from varied institutes joined in teams of 3 from their campuses and took part in this B-school case study competition where they had to solve a real-life business problem for JSW. And entries poured in, in huge numbers. More than 900 teams from different B-schools across the country took part in the competition with 130+ moving to the second round. After a rigorous evaluation process by JSW, the final 10 teams were picked for the Grand Finale that took place on August 30 and 31st, 2021.
After hours of hardwork and putting together creative and calculated solutions on the table the winner is finally out.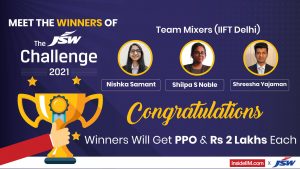 We congratulate Team Mixers from IIFT Delhi who have won the competition this year thanks to their innovative idea and approach of putting it together. All the team members of Team Mixers will get Rs. 2 lakh each and a PPO from JSW.
Take Your Career To The Next Level. Ask Our Experts Anything. We Will Respond Within 48 Hours.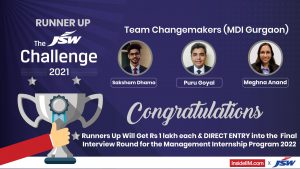 Team Changemakers from MDI Gurgaon came a close second with their equally powerful submission. Each of the team members will receive Rs. 1 lakh and a direct entry into the final interview round for JSW Management Internship Program 2022.
And this is not it. Team JSW has decided to provide a DIRECT ENTRY to the final interview round for the Management Internship Program 2022 for team members of all the teams who qualified for the Grand Finale.
The Finale took place online, spread over two days, with 5 teams presenting on each of the days.
The Final teams were as follows:
1. Of Aces - MDI Gurgaon
2. Changemakers - MDI Gurgaon
3. Prism - MDI Gurgaon
4. Team XLRI - XLRI Jamshedpur
5. Deal Crackers - JBIMS
6. IronMongers - IIFT Delhi
7. Dattebayo - IIFT Delhi
8. Silver Eagles - JBIMS
9. Lohaar - IIFT Delhi
10. Mixers - IIFT Delhi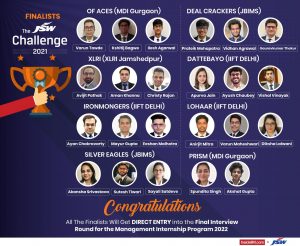 The teams presented their ideas to these panelists who then asked them questions and provided valuable feedback:
1. Sanjay Jayram- Who joined JSW Steel Ltd in 2006 and is presently the Executive Vice President – Sales & Business Development with additional responsibility of overseeing the Collaboration Agreements with JFE Steel ( Japan ) & Service Centre Joint Ventures with Marubeni Itochu ( Japan ).
2. Praveen Dixit - Senior Vice President, Business Strategy (Coated Steel) | JSW Steel Ltd.
3. Sanjay Goel - Senior Vice President - Supply Chain, Projects & Services JSW Steel | Head - Retail Sales JSW Coated Ltd.
The JSW Challenge 2021 was a step towards building more such connections with B-school students in the upcoming years, providing them with real life challenges and finding the best minds in the future.
We would like to thank all the participants who made this a successful event and congratulate the winners of the inaugural JSW Challenge 2021.
For more such exciting competitions, keep an eye on the Kampus App.