What prompted me to write on this issue though was the recent debate in the Parliament around students from North-East feeling marginalized. It's unfortunate that a few students had to die for us to become aware of this. The subject of this post is not the North-East alone but the larger question about our regional mindset. And when I say 'our' it includes my friends, my family and me.
Somehow the state allegiance is so strong that at times it seems as if we are at war with our own colleagues at work or our own batch mates on campus. I understand that it's natural that one is more comfortable with people from one's own state or someone who speaks the same language. But healthy camaraderie is very different from clear in-your-face groupism.
There is a separate mail chain of people from one state where the well-being of all 'brothers' is to be ensured. There are drinking parties of people from another state every month where you are invited only if you are from that state. Harmless you would say. But it doesn't end there. Club, Committee and Society elections is when the regional flavour is at its zenith. "Are we getting enough representation?" "Do we have someone of our 'own' in the committee?" People even beg for votes promising well-being of 'our' people. I have always wondered who these 'our' and 'your' people are. For a long time in my life, I thought we are all in the same country. I do not make this mistake anymore. We are different provinces in the same country happy to be in India as long as it suits us.
A little more digging led me to multiple state-based Facebook groups that span across top business schools of India. So Bengalis have their own private group and so do people from Andhra and so do Punjabis and it goes on and on.
I recently came across a closed group on Facebook for people from the same religious community studying in a top business school of India. Clearly, this is not direction we should be heading.
The problem is that it is so ingrained in us to divide each other based on states and languages that you shall see it in the most sophisticated and hitherto assumed as 'evolved' and 'progressive' places. There is a classic firsthand account of a top consulting firm that recruits from most IIMs. The partner interviewing the candidates had made up his mind before visiting that he will shortlist all people from his state as he wanted to increase the representation of people from his state in his practise. Not only did he shortlist people but also made an offer to a candidate in the 2nd round itself while others went through multiple rounds. This is a true story.
A friend of mine studying in a top school in India told me this incident of a professor who called her in his cabin giving suggestions how to do well at the course and some other general pointers regarding discipline. "The only reason I'm taking so much interest in your well-being is because you're from my state" – exact words told to her.
Recently, someone pinged me on Facebook. After the exchange of pleasantries the gentleman came down straight to the point. I should recommend him for a job in my company since we both share the same mother tongue.
One would argue that these are sporadic incidents and should not be given too much weight. I don't believe that any more. It's out there. It is in your face occurring all the time.
What worries me is that I don't see it getting any better. I only see it getting worse. In an insecure job environment with burgeoning batch sizes and quotas of various kinds, the incentive to be a 'protectionist', 'regionalist', 'elitist' is only fuelled further. It's fairly easy these days for anyone to polarize people from a particular state or community by typing a 140 character tweet. People make passionate appeals for the 'cause of their state' on facebook with the help of concocted facts attached to a misleading photo. Not surprisingly, they go viral with people believing anything they see or read on such forums.
I have begun to believe that as human beings our basic instinct is to divide. This egoistic craving for one's identity is what forces us to cling on to concepts like state, race, language and then to claim its superiority over others. I don't know. May be I'm wrong. But the above incidents deflate one's spirits. (And just for the record, all the incidents quoted above are from 3 different Top business schools of India. And my belief is that people in other business schools behave the same way. Just that I need to put those incidents which I know have actually taken place.)
Regionalism bothers me. It is one of the many problems that plague our education system. Leading institutions in the country need to be examples of meritocracy and unity. Currently, certain people in these very institutes seem to be taking us in the opposite direction.
- Ankit Doshi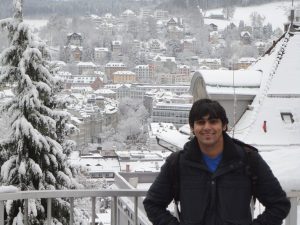 (The author is an alumnus of IIM Indore – Class of 2011 and Narsee Monjee College of Commerce and Economics,Mumbai – Class of 2007. He currently works with Bank of America Merrill Lynch and has worked with TATA Capital and WhatsonIndia.com in the past. He still believes that 'Umang' NM College's festival was the best thing to have happened to him where he led a team of 500 students)
Other articles by this Author
50 things you should know about IIM
6 Traps to be wary of in a business school in India
5 reasons why student-run Placement committees should give way to CDC at IIMs
Final Placements 2012 – The big test for the IIMs
Knowledge Cafe on InsideIIM : Understanding the Sports Broadcasting business in India
Football Clubs Finances : The Business of Football
Student Exchange - The Most definitive Student Exchange Programme Report – 2011 (One of its kind report for top business schools in India)