Sales and Marketing has been one of the most sought-after domains for MBA students in recent years. This can be seen in the results of the InsideIIM recruitment survey of 2020-2021, where MBA students have chosen Sales and Marketing amongst their top three most desirable domains. This can also be seen in the latest placement reports of top business schools like IIMs ACIK, FMS, and XLRI where at least 15 percent and up to 24 percent of the Class of 2020 opted for Sales & Marketing roles. Even at b-schools like the Harvard Business School, Stanford GSB, Yale SOM, etc., a significant chunk of recent graduates have opted for these roles. So which Sales and Marketing recruiters do MBA students want to work with the most? Here's what our latest survey found.
---
HUL Ranks Ahead of Google, Microsoft To Emerge As Most Desirable Company To Join To Start A Career In Sales & Marketing
Take Your Career To The Next Level. Ask Our Experts Anything. We Will Respond Within 48 Hours.
In 2020, MBA students across India's top business schools have chosen PepsiCo and ITC amongst their top three most desirable companies to join to start a career in Sales & Marketing. These two industry giants have been a regular feature in the top-10 in the past few years of the InsideIIM recruitment rankings, and have been ranked ahead of companies like Google, Microsoft, Amazon, and Facebook.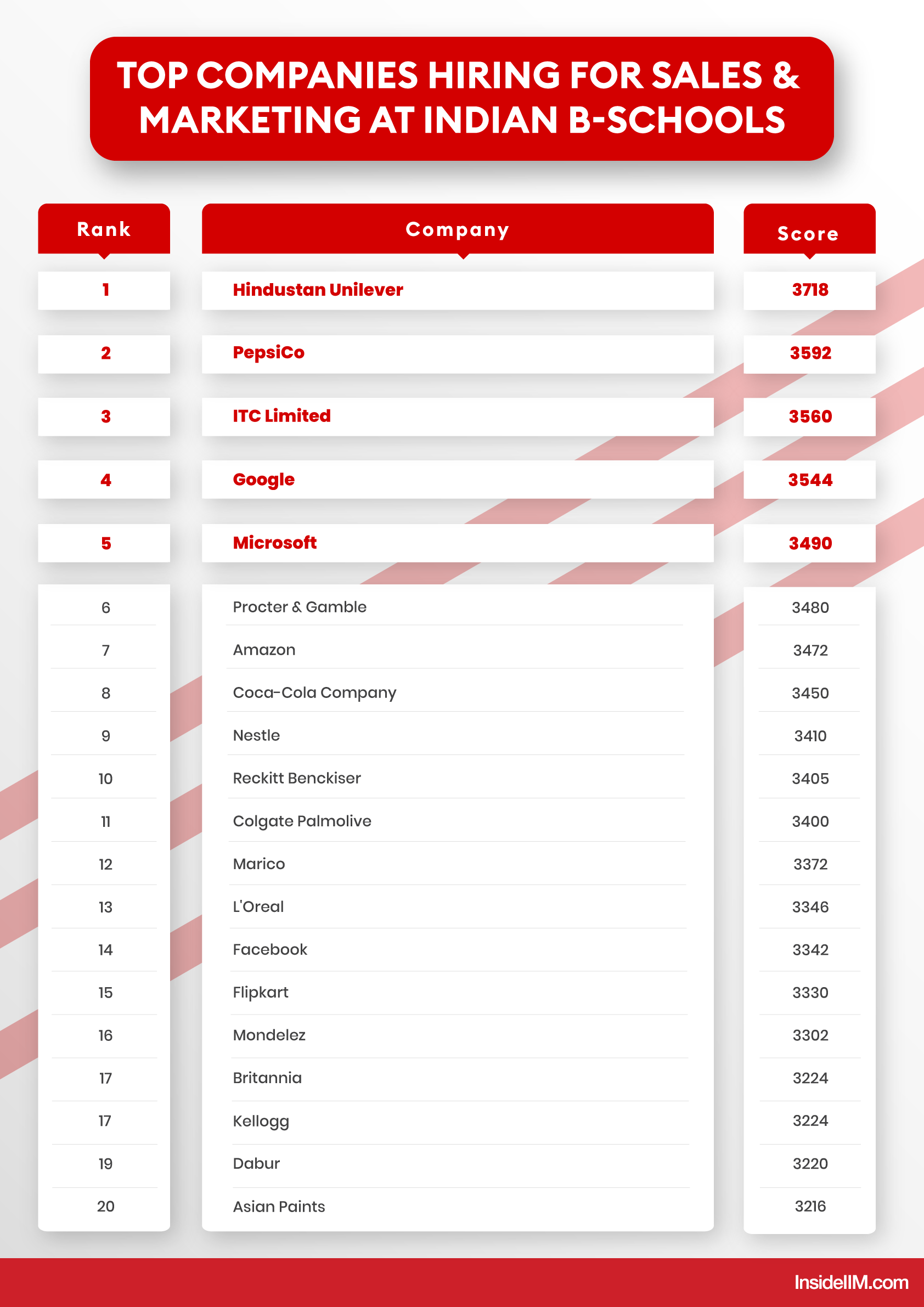 It is no surprise that Google features amongst the top five companies to work with to begin a career in Sales & Marketing, especially considering that it is, indubitably, India's number one dream company to work with. An interesting statistic about Google is that 97% of the company's staff say that it is a great place to work. To compare, only 59% of employees at a typical US-based company wax eloquent about their company's work culture. So what does an MBA graduate do at a company like Google? Find out in this discussion with an XLRI alumna.
In 2020-2021, six of the top 20 most desirable Sales & Marketing recruiters are of Indian-origin. These include ITC, Marico, Flipkart, Britannia, Dabur and Asian Paints. Further, only five of the top 20 companies listed here are from the technology or e-commerce industries; 75% of the top 20 is dominated by companies belonging to the Consumer Goods/Durables industry.
---
ITC, Marico, Flipkart Emerge As The Top Three Indian Companies To Join To Start A Career In Sales & Marketing
Amongst Indian companies that hire for Sales & Marketing positions at Indian business schools, ITC, Marico and Flipkart have emerged as the top three most desirable. Marico, responsible for bringing to us brands like Parachute and Saffola, features amongst India's top companies to work with, as ranked by Great Place To Work. Flipkart is also right at the top of LinkedIn's rankings of India's most desirable companies to work with, shooting up to pole position after 77% of the company was acquired by Walmart.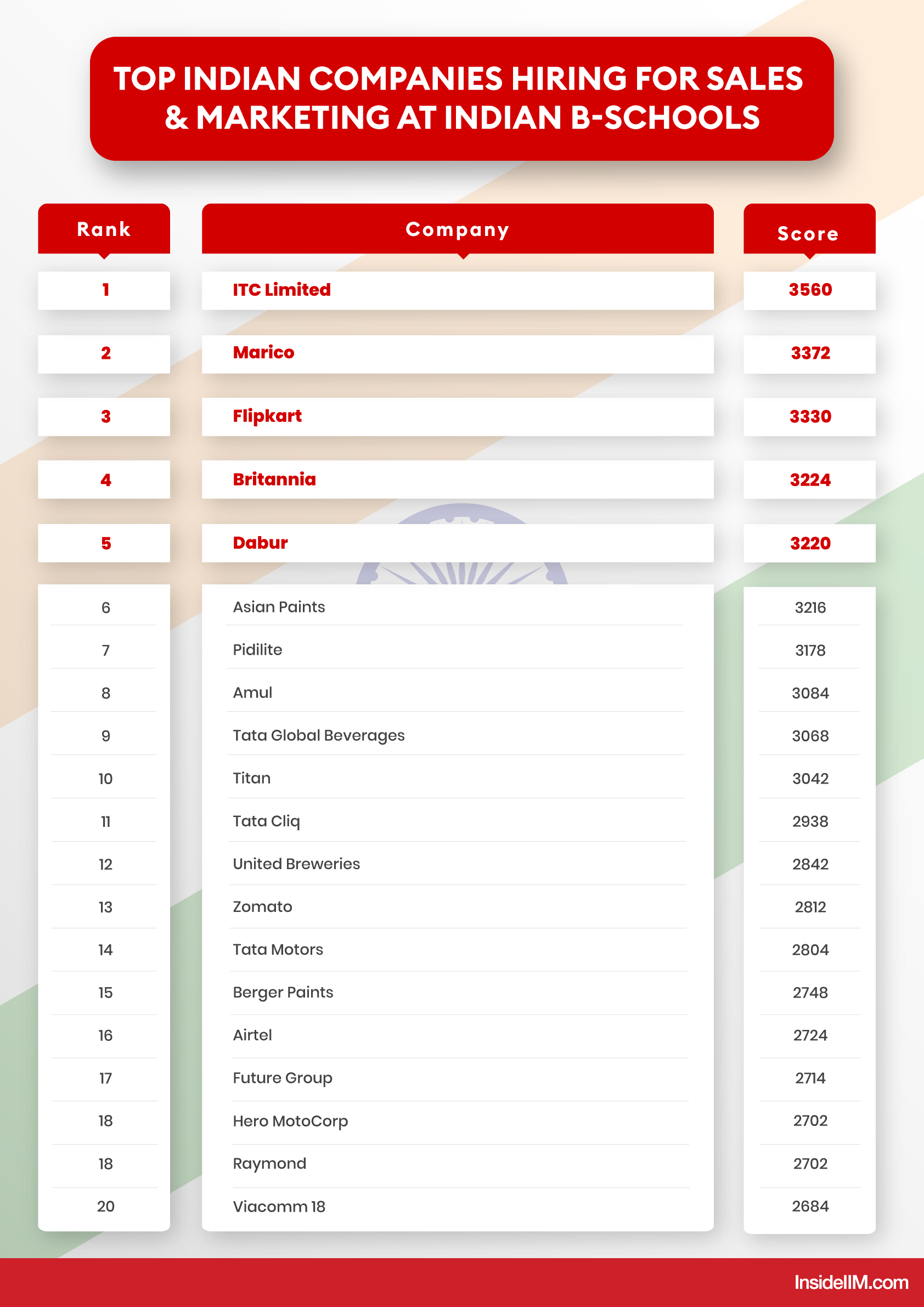 The top 20 most desirable Indian Sales & Marketing recruiters come from a variety of industries, including Telecommunications, Media & Television, Auto, E-commerce, and Consumer Goods/Durables. An interesting observation is that four of the twenty companies listed above belong to the Tata group. This is similar to an observation made in our list of India's top 25 dream companies, where a total of six Tata companies featured amongst the top dream companies on Indian b-school campuses.
---
How We Created This Report - Methodology
In August 2020, we reached out to first and second year MBA students across India's top business schools to tell us about their thoughts on the b-school recruitment process. As a part of the survey, MBA students were asked to rate companies that belonged to their most desirable sector or domain. Based on the responses received, a weighted score was calculated to finally arrive at the rankings of the most desirable companies to join for sales and marketing roles.
Students responding to the InsideIIM Recruitment Survey belong to business schools like IIMs Ahmedabad, Bangalore, Calcutta, Lucknow, Indore, Kozhikode, as well as second and third generation IIMs. Respondents also belong to campuses such as FMS Delhi, XLRI Jamshedpur, SPJIMR Mumbai, ISB, MDI Gurgaon, SIBM Pune, IIFT, and NMIMS Mumbai amongst others. Other campuses include IMT Ghaziabad, SCMHRD, Welingkar, KJSIMSR, XIMB, IMI New Delhi, and the IITs.