"Shola hai ya hai bijuriya,
Dil ki bajariya, Bambai nagariyaa…"
When I say Mumbai, what's the first thing that you see in your head? Most of us see the Mumbai of Gully Boy, Wake Up Sid, Agneepath, Dil Chahta Hai and so many more Bollywood flicks, right?!
Now close your eyes and imagine Mumbai. What does it feel like? Do you smell the seaside breeze and listen to the waves crashing on the rocky shores? Do the city lights after hours remind you of a dream you had when you were younger? Or is Bambai Nagariya on loop in your mind? Do you feel the hope, the freedom to do whatever you want? Do you feel the inexorable speed that is Mumbai?

If you ask a Mumbaikar the same question, it will start with the pestering heat, the crowded locals, long traffic jams and population, but it will always end with a "but there is no city like Mumbai."
And how could there be? Mumbai is the land of dreamers, believers and work-a-holics of the country. This Uber advertisement sums up the feeling and hits you at the right spot.

If you're reading this kit, it means you're new to the city. And who better to take you around than someone who was born and brought up in it?

So this is us. Most of us were raised in what is called middle-class families in suburban neighborhoods of Mumbai. We finished schooling in the private schools of the city and most of us love travelling in the local train and BEST buses across the city. We heart dogs, cats, rats, snakes, crocodiles and every other animal, and as of now, we work as photographers and writers. And of course, we love vada pav and every other thing that's Bombay, d'uh!

In this short time that we spend together, we'll take you around the city, and help you figure out the lifestyle, food, recreation, shopping, and transport. We will also supply you with (whenever possible) apps, hacks, tips and tricks to make your life here smooth, but before we get on with it, let's get to know the city a little better. Strap-on and while you're at it, listen to this song.
Want to get updates when a new part of the Mumbai Starter Kit is launched? Subscribe here:
Some Local History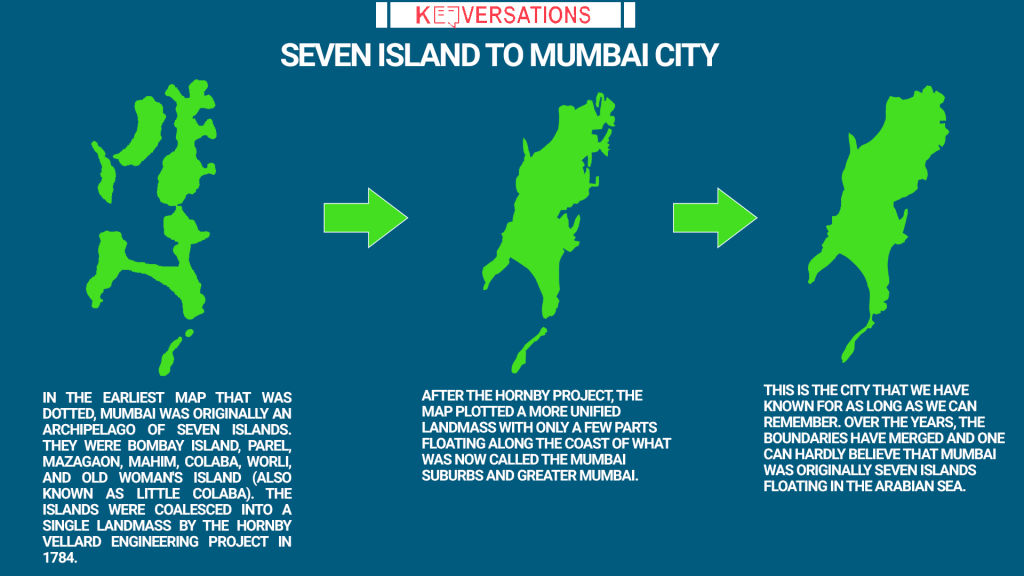 *Click image to view high resolution
What was before an archipelago of seven islands in the Arabian Sea is today India's financial capital and one of the most expensive cities in the world.
The seven islands, namely Isle of Bombay, Colaba, Old Woman's Island (Little Colaba), Mahim, Mazagaon, Parel and Worli. In the 16th century these islands were part of the Portuguese territory and were later given to England as a part of dowry for Catherine of Braganza when she was to marry Charles II in 1661. It was after this that reclamation projects were worked on to make the seven islands into a union and finally in 1782 the Hornby Vellard project was initiated to engineer the seven islands into a single landmass. The project was undertaken by William Hornby, then Governor of Mumbai and saw its completion in 1784. However, further reclamations and mergers with the main landmass has made the city what it is today.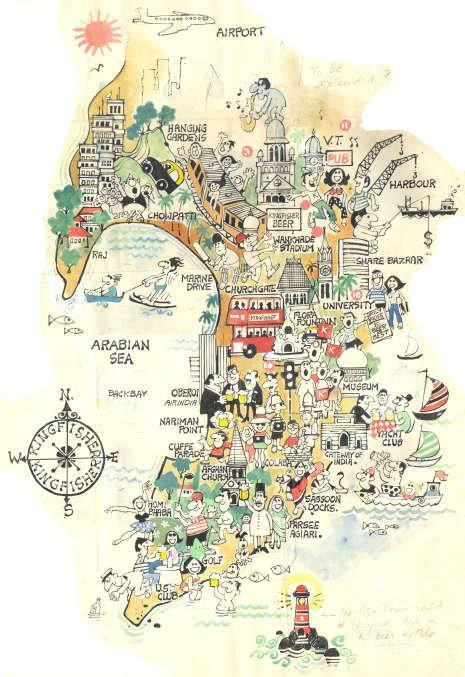 *Caricature by Mario Miranda
Today Mumbai is bustling with an intricate transport system. With the local trains monikered as Mumbai's lifeline, metro trains, rickshaws (that run on digital meters only, unless in sharing), BEST buses, A/C buses and of course our very own fleet of Ola, Uber and Kaali-Peeli cabs, you'll always find a way home. We'll cover all of these in Chalti Ka Naam Zindagi.

You'll be surrounded by concrete jungle most of the time but the city is also rich with hills, lakes, rivers, creeks, islands and beaches. Now, fair warning, like other touristy spots, you'll surely find a swarming crowd of people, crammed souvenir shops and littered garbage, but that is a national issue altogether. The original islands of Mumbai had 22 hills but most of them were razed to fill in the shallow gaps and connect the islands.
Some Local Geography
Some of the hills still present around us are Malabar Hill (it is the highest point in the city area and is also one of the most expensive areas to live in), Cumbala Hill, Antop Hill, Sewri Hill, Gilbert Hill, Worli Hill, Pali Hill (you'll hardly even believe it), Mazgaon Hill and Sion Hill. There are three lakes in Mumbai, The Aryan and Tulsi Lake are found inside the Borivali National Park while the Powai Lake (infamous for their mysterious crocodiles) is on the south of the former two.
The city has 4 bays which turn into perfect sunset spots for its inhabitants. The Back Bay, popularly known as Marine Drive is the favourite of them all, followed by Worli Bay, Mahim Bay and ending with Bandra in the north. There are 5 main rivers that flow around the city, which later break into tiny rivulets. These are the Dahisar River, Poisar River, Mithi River, Oshiwara River and Ulhas River. We'll tell you the best spots in the city for weekend getaways, everyday redemption and just for some chai-sutta in Recreation section.

Some Bambaiyaa Slangs...
Okay, enough with the geography. You know how when you first learn a new language, you look up the swear words first? Everybody does it. Here's your cheat list for local slang words used in everyday Mumbai chatter and where to use it.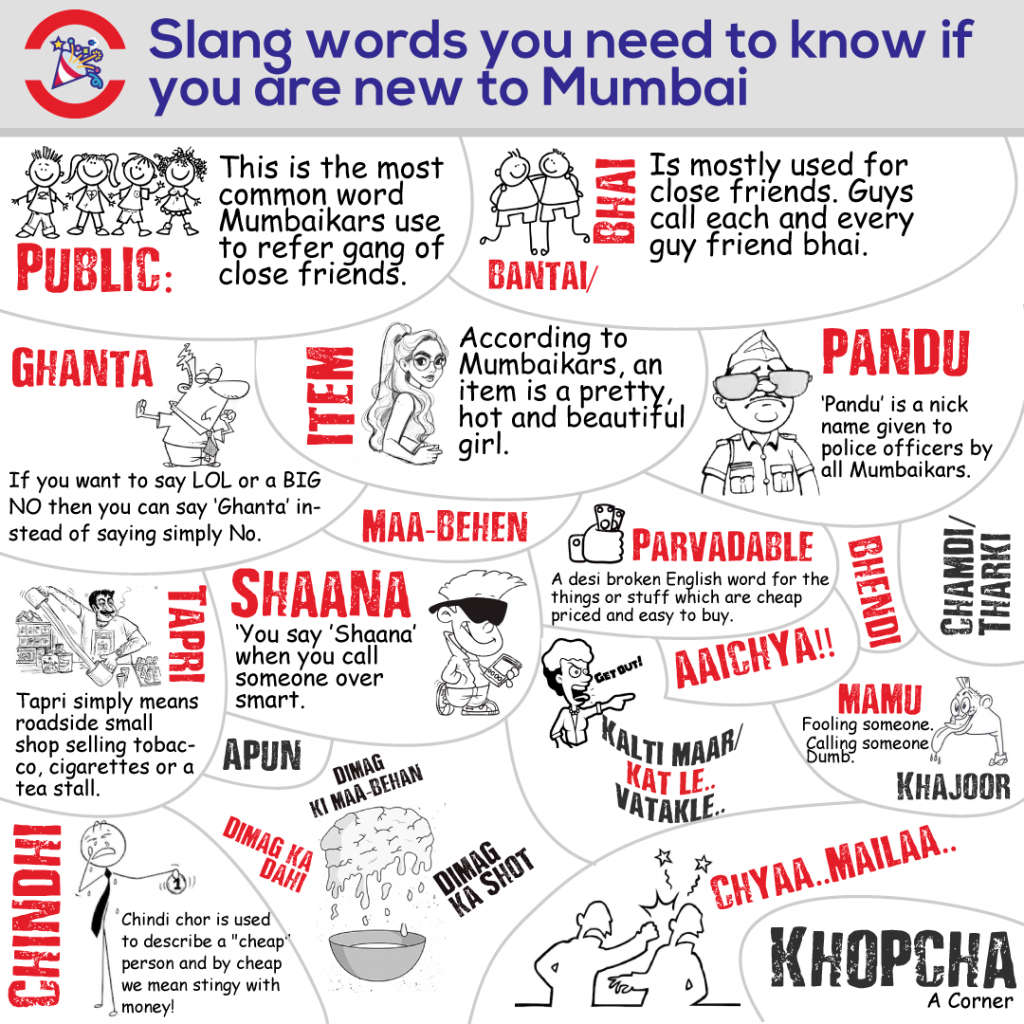 So bantai, now that you know a little more about Mumbai and you're familiar with the slang words, let's get into more important matters like the lifestyle, food, cost of living and how to survive in apun ka mumbai. But in the next part...
Here's what you get in this kit:
Introduction To Mumbai Starter Kit
How To Find Accommodation In Mumbai
How to Feed Yourself When Living Away From Home
Dressing To Impress - Mumbai Style
Shopping Destinations in Mumbai
How To Train Travel In Mumbai
Don't Drink & Drive - Local Travel In Mumbai
How To Have Fun In Mumbai - I
How To Have Fun In Mumbai - II
How To Beat The Rains In Bombay
Festival Time In Mumbai