As the various emails on gown rentals for the commencement ceremony pour into my inbox, I can't help but feel a pang of pain that the MBA journey is over. I clearly remember how I had pestered dozens of strangers asking them for their opinions on NUS (National University of Singapore) before deciding to pursue my MBA there. However, I have never had any reason to doubt my choice.
Asia is the undisputed economic future. Any MBA aspirant wishing to gain exposure to the rising South Asian tide has a lot of good B- schools to choose from in China, Hong Kong and Singapore. Asian B-schools are on the rise and this can be seen by the increasing diversity within the cohort in the last few years, both in terms of profile and nationality. This, in turn, has led to a great improvement in the quality of the program and cohort experience. On the flip side, however, it has also made the programs far more competitive to get into.
Since I am not in a position to comment on other Asian schools due to lack of adequate insight, I will use this space to focus on some lesser known facts of the NUS MBA to help applicants gain an insider's perspective on the program.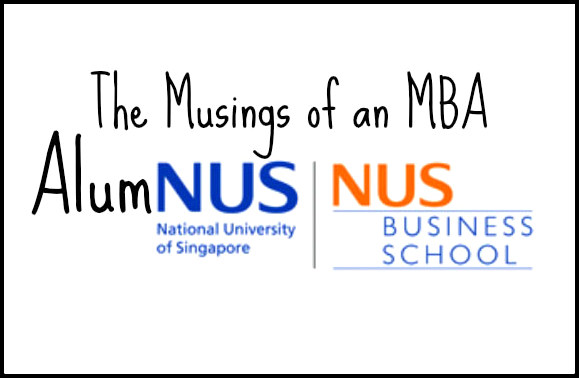 1. Flexibility:
One of the key distinguishing factors of the NUS MBA program is the flexibility it provides students with. Students wishing to complete early can take up more courses than the stipulated requirement and finish the program within a year. On the other hand, students returning to school after a decade of hard-nosed corporate life can structure their program into one with a longer duration and enjoy the vacation from work. Similarly, students who get full time job offers before the end of the program (and are pressurized to join immediately) can convert their program into a part time one by opting for evening classes.
The NUS MBA program also gives students the advantage of calibrating the rigor and pace of the academics and extra-curricular activities. Students who wish to take it easy can take up modules at their pace, whereas those who want to pursue student council positions, participate in international case competitions or take up part time internships can do these in addition to their academic workload. I would like to add here that since NUS is very well connected on the global MBA circuit, there are many opportunities for students to participate in global competitions and leadership forums.
2. The Asian experience:
There is tremendous merit in choosing the program for its strong Asian focus. Besides a wide variety of Asia-focused modules to choose from, the cohort comprises students from China, India, South Korea, Philippines, Taiwan, Vietnam, Myanmar, Sri Lanka, Japan, Pakistan, Malaysia and Indonesia. Working together with these students day in and day out gives unparalleled exposure to their working style and thought process as also a personal insight into these nations which could never be gained by cursory interactions or even extensive reading.
The MBA office also organizes study trips to various Asian countries. The agenda of these trips typically include cultural events, company visits, alumni interactions, and networking opportunities with local B-school students, thus providing some perspective to students who want to work in these countries later.
Another unique feature is the opportunity to take up practical courses that require the students to work with Singaporean (or Asian) companies such as Lenovo, Yamoto and Sembcorp and advise them on dimensions such as strategy, marketing and operations.
The various departments of the school also organize events such as the Leadership Dialogue Series, expert talks and networking sessions where very high profile speakers of the South East Asian community address students and talk about various facets of their industries.
3. The S3 Program:
The S3 Program is a variation of the typical MBA Program and is aimed at students who wish to leverage more on the "Asian experience". While the typical MBA Program is conducted for three semesters on the NUS Singapore campus, the S3 Program is conducted over three campuses (one each in Shanghai, Seoul and Singapore), thus giving students a very intensive exposure to three countries, teaching styles and student networks. The application procedure for this program is the same as that of the full time program.
4. Job opportunities:
The biggest question on the mind of most MBA aspirants (and rightly so, given the tremendous investment and opportunity cost of an MBA degree) is the job market and job prospects post MBA. In my experience, the Singapore job market isn't one that favors students who want to make a radical career switch post MBA. However, it is easier to make the switch by speaking to alumni and mentors in one's desired profession from the early stages (may be even before reaching Singapore) and get advice from them, learn extensively about the profession and take up part time internships having job profiles in smaller (non brand) firms. The importance of relevant work experience for securing a job in Singapore cannot be overemphasized. Thus, career switchers would be in an advantageous position by actively searching and pursuing part time internships and summer internships in their dream profession, thus demonstrating a strong case while applying for full time jobs.
5.The benefits of being in a University vis-à-vis a School:
The NUS Business School is one of the several schools within the NUS campus. There are various other faculties as well, including, inter alia, the schools of Engineering, Arts and Public Policy. This not only provides students a chance to know and befriend students from other faculties, but also gives them an opportunity to take up cross faculty modules in other schools. There are some really good courses in Public Policy, Financial Engineering and even Healthcare for students with an inclination towards these streams. The credits get counted towards the MBA degree.
6. Exchange opportunities:
NUS is a host to exchange students from all over the world and also partners with some of the best universities worldwide, including Kellogg, Duke, IE Spain, NYU, HEC and HKUST. Those looking for a good exchange opportunity at low cost could explore this option as well.
On a related note, the NUS MBA also has double degree programs with HEC Paris and Peking University which would give students the opportunity to spend some time on both campuses and secure degrees from both institutions.
In conclusion, I think the sheer beauty of the program is the plethora of choices one is offered. I have classmates who have packed their MBAs with top grades, exchange programs, student council roles and participation in global events. I also have classmates who have used the MBA as a ticket to travel every inch of South Asia and take a break from a hectic corporate life. The opportunities are all out there...It depends on what the student wants to make of them.
- Shaili Pandia

A CA-MBA by education, a corporate finance professional by occupation and a day dreamer by habit, Shaili will be graduating from NUS in July 2013. She is currently working in the healthcare industry in Singapore. She bothered tons of people during her MBA application process and would be glad to help any applicants and keep the virtuous circle intact.
You may also like to read :
IIM L vs Copenhagen Business School - Academic culture comparison