On June 12, 1942, on her 13th birthday, Anne Frank received a present. It was a diary, and the entries she would go on to make in it would make her short life inspirational and influential to millions. With the vision on dated June 12, 2018, I entered Joka to be the next inspiration for millions of managers of tomorrow; to be confident, productive and helpful for my company, society, family and for myself; to be an effective management and strategy ideal of tomorrow.
The roller coasters journey began with ups and downs; Summer Placements process began from CV making to Company Presentation and talks. Finally, the Summer Placements came. It was very strange that I didn't get any call from my dream companies, including PepsiCo, Coca-Cola, Samsung, Apple, Google, Gartner, Johnson and Johnson, Disney, MG Hector India (most preferably USA, European, Nordic, South Korea and Japanese companies, because of their transparency and team-building work culture) but owing to the 100% placement, I also got placed with relatively good brand.
Similar to the way companies have expectations from candidates, I also had some expectations from a company, which can be split into three key questions:
Is the company growing?
Will I have an opportunity to learn?
Will I have an opportunity for growth in the organisation?
In February 2019, I got my assignment from the company and discovered that it's not what we had negotiated during the Internship duration. Also, after HR informed that they can't roll out other assignments at that point in time, I informed the same to Placement Representative and said goodbye, because I wanted to be a dream employee for my dream company; an opportunity that I would have missed during the summer internship.
On February 9 2019, i.e., on National Pizza Day of USA, while having a Pizza at around 9 PM in the Ramanujan (OH) hostel of IIM Calcutta, a journey to explore the unexplored world "NITI Aayog" began as I applied for an Internship under the vertical of "Industry". A journey that began with a very simple online application process took around 45 days with no response then called to the reception and took the communication details of the concerned authority and put a mail for fast track review of application and the next day, in the morning, I got the call and completed the selection process industry interest, knowledge & motivation test and finally on March 30, 2019, I received a confirmation mail with letter of joining instructions. Finally, then, in reality, the journey to test the untested world began.
Opportunity is the first step and situation is the first opportunity. I realised this on my first entry on April 1, 2019 in the "Powerhouse of the Nation" at 9 AM in the morning, as I collected my entry pass from reception and met from my mentor/guide Advisor Sudhir Kumar sir. It was the beginning of a journey to visualise the Industrial growth in India, especially covering the emerging and most dynamic electronics industry but also including other undefined jobs and broader view of different industries from the lens of Government Policies and Planning to achieve the long terms desired goals.
The first part of my journey was to understand the Vision of the Nation toward Industry Planning for the country and identifying the more attention-seeking sectors as a growth engine for the sustainable growth by optimally utilising the available resource, demographic dividend (the largest pool of young and skilled workforce) and continuous growth in most dynamic and emerging internationally traded electronic manufacturing sector and it's applications in India including software domain and complementary industries like – Online Shopping, FinTech, Online Food Delivery, Online Cab services, Online Entertainment & SVOD (like - Hotstar, Voot), Online media and news, Online money transfers and E-wallet, Gaming, Apps Development, Online content creation, and much more and the most important is capital flow by simplifying the investment opportunities for Government as well as Foreign companies to boost the preferential sector and creating a large pool of direct or indirect formal employment.
The most important second part of my journey covered the Government Policy Perspective and the challenges faced by Policy Planner in the Powerhouse of Nation to establish, expand and make relevant changes for the preferential industry, i.e.,
Smooth capital flows and fair business environment includes ease of financial access for domestic players, simple process for FDI, induce the capital investment in the right set of policies, no discouraging tariff, Ease of Doing Business, fair policies for labour-related regulations, Social infrastructure, quick and environment
Optimal utilization of their Demographic dividend and developed nations like – USA, Japan, China, Taiwan, Germany established themselves during the period of highest percentage of young, healthy and skilled workforce and, Now India is in the Phase of Youngistan that clearly indicates positive signs to sustain our growth potential for longer-term if we can optimally utilize our demographic dividends by proving enabling environment for job creation, modern education & skilling or up-skilling opportunities, Physical & virtual infrastructure support to link all component in a complex Government Policy structure to develop the nation as a whole.
To understand the globally traded and highly competitive emerging and adversely traded industry in India, I deep dived in the river of globally competitive benchmark setter Chinese Industry and Manufacturing Evolution of Mobile manufacturing, optimally utilized time machine (Books, Available Researches, NITI Aayog Library Resources, Internet and expert discussions) to explore the journey of last 300 years of China's evolution to be the innovative hypercompetitive market and trendsetter for the globe. (For in-depth analysis of last 300 years).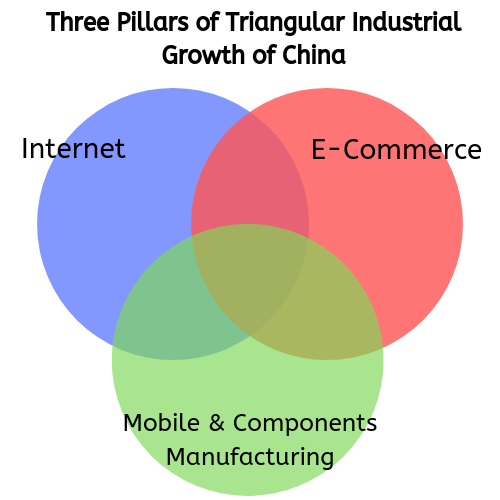 The economic shift from agrarian to a closed economy to an open economy with closed a political environment shifted the market competition into innovative hyper-competition because of the holistic support in terms of technology, financial access and motivational support to the entrepreneurs.
I developed an industry opportunity identification triangular model and applied it in the context of China, where the Chinese triangular 3 pillars growth model - Internet, E-Commerce and Mobile & Components Manufacturing industries evolved, established and expand in parallel. NITI Aayog CEO Amitabh Kant said (tweeted), "Amazing! With 150 crore gigabytes per month of mobile data consumption, India is now the world's number one mobile data consuming country. Its mobile data consumption is higher than that of the USA and China put together," and we have become the global leader of the internet industry and in parallel National Policy on Electronics 2019 (NPE 2019) and National Policy on Software Products 2019 provide a framework for the development of E-Commerce and Mobile & Components Manufacturing industries in India.
After visiting, Meity critically analysed and understood the Government vision and up to the mark performance under NPE 2012 PMP scheme the production of mobile phone industry growth. After successful implementation, Meity revised their policy in 2019 and "National Policy on Software Products 2019" adequately bridge the challenges and future market changes in demand-side and application of and focused on the development of an ecosystem. After observing all components of the policy, I observed a lack of clarity on how this policy will affect the emerging complementary sectors in India market.
Now, it's clear that China has learnt the art of high global standards of novel manufacturing and bridging the gap between service sector to serve the globe, and becoming the trendsetter like TikTok (Bytedance), Pico Interactive, Tujia (Chinese AirBnB), Cloudwalk, Meituan-Dianping, Didi Chuxing (Uber of China), Alibaba's Single Day online shopping innovation (Indian company Flipkart also launch The Big Billion Day concept in India, Alibaba's coupon distribution concept used by Swiggy India during IPL 2019 and much more. Today, it's important for Indian businesses, policymakers and Government of India to understand the global change and the strength of Chinese manufacturing to restructure the Indian manufacturing standards where R&D should be the centre of exploration,
Other than the above, the parallel project that I critically examined was the Circular Economy - a $500 Billion opportunity by 2030 (PepsiCo also working on it.), Sustainable Plastic waste project, partnership of HCCB (Coca-Cola) and United Nation Development Programme and implementation of Swachhta Kendra, Electronics medical devices and Government policies to make it more standardised and pocket friendly and accessible for Indian lower middle and middle class in India, electronics vehicles and policies to develop infrastructures and conducive environment for e-vehicles in India.
One morning, I observed a meeting on the serious global issue "Waste Management" as a priority of Government of India, Industries, municipal bodies and society including the stakeholders CEO NITI Aayog Amitabh Kant, top-ranked Senior Advisors NITI Aayog, Advisors NITI Aayog, Senior official from SHELL, NTPC and ONGC as a technology support providers, Senior officials from Municipal bodies of Delhi, and understood the linkage between social cause and policy implementation using the advanced level technology as a mutual linkage between industry and society.
I also attended the waste to wealth programme of United Nation Development Programme (UNDP) with UNDP representatives at NITI Aayog and understood the linkage between industries like HUL, HCCB and their contribution to solve the global waste management issues and helping UNDP to identifying the opportunities of recycling, reusing, reducing and repairing to reduce waste creation
The wonderful journey ended well on May 31, 2019, on the Day of Neighbours of France, while having a cup of coffee with my neighbours around 10 PM. The internship helped me to critically understand the broader view of Government Policies to enable the preferential sector of the nation to be financially viable and cost-competitive, creating a conducive environment to ease the entry and exit in an industry, fair trade practices to benefits the society, individuals, industry and nation as a whole, enabling a 360 degree support from all available resources including Corporates (International/ MNC/ Domestic), ministries, experts, academia, research institution and third party support to achieve the desired position or change in an emerging industry to serve the domestic and global changing market demand and industry structure.
The most important and unique skill set that I acquired is to be an optimal performer in an undefined, unstructured, unmeasurable and unpredictable environment and take the quickest action, deep drilling the problem and identifying unidentified hidden opportunities for the overall benefit of public, industry, society, environment, i.e., the nation as a whole.