B-Schools all over the world, including India, are racing to adapt their program and admission processes amidst the CoVID 19 pandemic. While some business schools have shut their doors, for now, others are planning to switch to online alternatives. IIM Calcutta, IIM Lucknow, and NITIE Mumbai have already started communicating to their candidates about their WAT-GD-PI process which will happen through video conferencing. However, switching into an online admission process comes with its own set of challenges, adding to your anxiety and stress. In this article, we will discuss all the problems and doubts surrounding online interviews. And find ways to make the interview experience better for you, especially if you're the student-facing such an interview.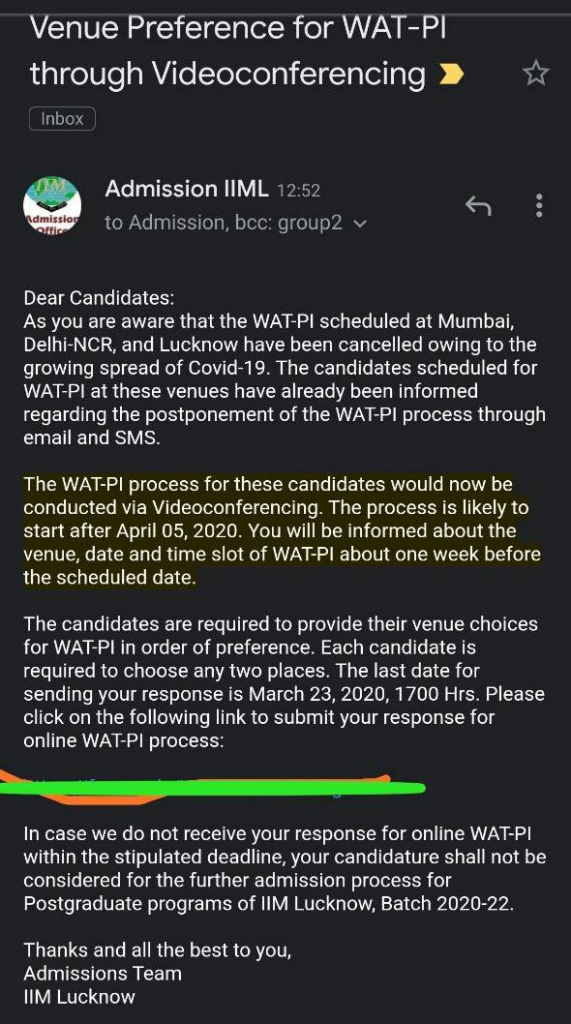 IIM L admission team's communication with its candidates
Online Interview: The Challenges
Uncertainty And Mental Adaptability To A New Format Of Interviewing: Video Interview
Interviews as a format only can be really stressful and intimidating. The interviewee is always unsure if he/she has been able to put his/her point across or not. So, imagine the anxiety when candidates hear the news that the WAT-PI might go online, via video conferencing. Here are a few mental challenges that candidates will face while giving an online interview:
One of the key aspects of any interview includes non-verbal communication that takes place. In fact, most interviewers don't just ask questions to figure out if you fit into their institutions, they also observe your body language. Your sincerity, honesty, and passion can come across simply by looking at you during a conversation.

Also, you too can observe the interviewers' reactions. While these are not going to help you figure out if you have converted the call, they will help you understand where to drive the conversation. But, in a digital interview, this non-verbal communication becomes a challenge.
There might be technical glitches, the panel may not be able to observe you well and so may rely solely on your answers to pass a verdict. This means you will have to sharpen your answers and make sure that you understand the questions asked as well as their purpose very well.

There are endless tips and tricks to crack GD-PI-WAT by seniors and alums of your favorite b-school. It is because face-to-face interviews have been the norm of selection for the longest time in Indian b-schools. However, with the rise of this pandemic, there's a shift to doing everything virtual, even PIs. Virtual b-school interviews have never been done before, so there's not much to refer to. No tips! No tricks! How does one ace something when they have no idea how to ace it?

Then there is the newness of the platform. Many of you may not have work experience and have no idea how a video interview takes place. You have no clue about the video interview etiquette and fear that something may go wrong be it technical or environmental. That tension may also add on to your interview jitters and make you more anxious. Read on and we'll help you figure out how you can do your best in such a scenario!
---
Problem With Venue Based Online Interviewing
If you have gone through the IIM Lucknow email above, then you probably realize that there is an emphasis on "venue, date, and slot". This means candidates will have to travel to a certain venue in order to give their written ability test and personal interview. Yes, giving WAT-PI on a b-school selected and controlled venue is great, as the candidates won't have to worry about internet speed or other tech issues. But, India is currently under a 21-day lockdown (from 25th March to mid-April) and there is a total ban on stepping out of homes, let alone being able to travel. Even if IIM L (and other colleges for that matter) say that they will start their interview process post 5th April, there is no certainty that the ban on mobility will be lifted by then.
Before the ban, the number of people infected with coronavirus was around 500. Within a few days, the number of cases has increased to 624 with over 13 deaths. Amidst rising cases, the government may extend the lockdown to a few more days or even weeks or months. In that case, video conferencing from a venue may also be postponed.
---
Problem With Video Interview At Home (via Skype or Zoom or any other services)
Due to the possibility of an extended ban on mobility, many management schools are looking at Skype or Zoom for an alternative to personal, face-to-face interviews. The good thing about this is that candidates will be able to give the interview from the comfort of their homes.
However, comfortable it may be though, the home may not be the best place for an interview. Here is why:
When you are interviewing from home, your background needs to be squeaky clean. If you have things like posters and photos, etc in your background, the interviewer may get a glimpse of your personal life. And you don't want that factor to add to the interviewer's perception of you.

Another problem with the virtual interview setting is the inability to read your interviewer's body language. This may affect your response, as a large part of any interview process is the non-verbal cues that help one get a psychological perception of their answers.

Home is not always an epitome of comfort but an epicenter of distractions. Even when you find a quiet place for an interview, there can be interruptions and distractions that are beyond your control. Such small things can be disturbing for you and the interviewer. It may also play into the bigger picture of your selection into a b-school.
---
Connectivity Issues and Technical Glitches
Software Advice in 2015 conducted a survey on the effectiveness of video as a tool for interviewing. One of the findings of the research was, "27 percent of respondents were worried about potential connectivity issues when video interviewing". Internet connectivity is a big problem in India. Even though India has one of the lowest data communication tariffs, it's still not the most connected society in the world. The availability of the internet is sporadic in urban cities, so we can forget about small towns and villages. So, no matter which part of the country you are in, the internet may cause problems in your interview.
Then there are technical glitches that often occur in the medium/sites that are being used for interviews such as - frozen screens, video lag, and sound issues. Most of the time these problems are beyond our control. Such issues can make the candidate more nervous and anxious. And can easily become one of the bitter experiences in an MBA aspirant's life.
Currently, 20% of the Indian population is below the poverty line. This also includes a big percentage of ST, SC, EWC, OBC, and DA (PWD) category people, for whom all top b-schools reserve seats. They can hardly generate enough disposable cash to afford laptops, smart devices, and internet (or data packs). For them, online interviews can become a big hurdle, which they might not be able to pass.
And if that happens, The class of 2020-22 will become homogeneous with no diversity.
---
Technical Challenges From The Interviewer's End
There is a chance that the nationwide lockdown may get extended. If that happens, not just the interviewees (candidates), but even the interviewers (professors, alumni and admission commission reps) will be forced to do interviews at home. This may pose the following issues:
Poor connectivity:

Bad internet connection from both interviewer and interviewee end.

Laptop or PC issues:

The device that the interviewer may use for conducting interviews is not updated. Hardware-wise, there might be no webcam or a bad quality webcam. Software-wise,

it might be possible that the sound/webcam drivers in the system, the interviewer is using, are outdated and that is why are not supported by the software that is being used by the interviewer.

Non-tech savvy interviewer

: There may be professors or interviewers who are not very tech-savvy and may not be comfortable with the tech used for video interviews. With nobody to help them, this may lead to a bad experience on both sides.
***
So how do you prepare in the face of such challenges? Here are some tips for you:
Online Interview Guide: Tips to Help You Have A Successful Interview
Find a quiet, private, well-lit place, free from possible interruptions.

Make sure your background is plain and does not have any posters or photos.

Ensure your internet connection is good and stable if possible.

Check your computer's audio.

Test your computer's webcam at least twice before the interview.

Close any unnecessary web browser tabs and applications.

If you're using a mobile phone to participate in the interview, make sure it's well mounted so that the front camera is at eye level. Again make sure to check audio and video well before the interview begins.

Dress professionally and avoid bright colors.

Have a pen, notepad, and copy of your application copy, CV, profile, SOP, etc., on your desk.

When listening, nod and smile to show you are engaged.

Look at the webcam to maintain eye contact with the interviewer. Don't look at the computer/ mobile screen.

Use hand gestures when appropriate.

Place your phone in silent mode during the interview.

Make sure that you pay extra attention and listen to the questions well.

In case there's a lag or an internet glitch, and you miss out on hearing the interviewers' questions/comments clearly, make sure to ask them to repeat while informing them of the technical error.

If you feel there's a technical glitch on your end during the interview, or the call gets disconnected midway, immediately shoot an email to the relevant authorities so that remedial action can be taken. In this scenario, don't lose your cool and get worked up because that won't help.

Finally, if technical issues persist, you can always inform the interview panel, shoot out an email to the admissions committee or even reach out on a landline number provided.

Above all, stay mentally calm. If you're well prepared for the interview, despite any technical difficulties, you'll be able to perform your best and that's what matters!
Now that you are aware of the challenges and solutions of interviewing online, we hope you do the needful changes and ace your personal interviews.
Meanwhile, here's how you can prepare for personal interviews: