It is a known fact that IIT Kanpur is renowned for its humongous fests like Antaragni, Techkriti, and Udghosh. Still, among all these classics, there is a relatively new but a fantastic fest that is coordinated by the MBA students of IIT Kanpur. The event focuses on raising the sense of business among us and create a Prabandhan for intellectual minds to recognize the real profundity of their ideas, which can potentially be a successful venture.
What is so special about Prabandhan?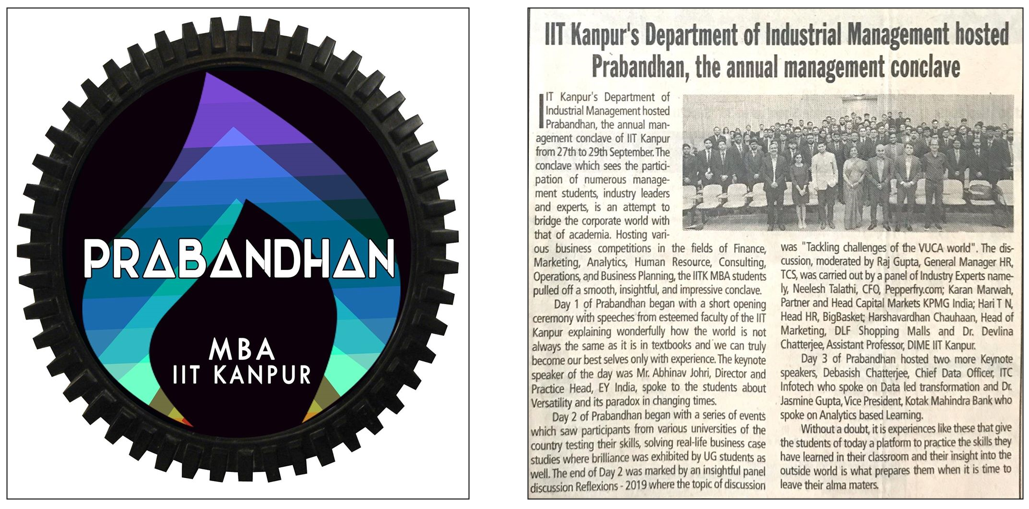 Take Your Career To The Next Level. Ask Our Experts Anything. We Will Respond Within 48 Hours.
Involvement
From arranging sponsors to managing events, every student of MBA IIT Kanpur invests their ideas and efforts to help the game grow. There is a culture of involving everyone to fulfill the real intention of organizing this fest, i.e., to help everyone understand what a management conference looks like and how managers work.
From a guy with industry experience of 4+ years to an energetic fresher, every year, Prabandhan comes out as a child of varied experiences and interests blended with a common goal, i.e., making this year's event more engaging than the previous one.
Prabandhan 2019 - An experience worth remembering

Reflexions - A Panel Discussion
Prabandhan 2019 got blessed with an insightful discussion with Mr. Karan Marwah, Partner- CFO Advisory Services KPMG, Mr. Harshvardhan Chauhan Head-Marketing & Digital transformation DLF, Mr. Neelesh Talathi, CFO Pepperfry, Mr. Hari T.N, CHRO BigBasket, Mr. Raj Gupta General Manager, HR TCS and Dr. Devlina Chatterjee, Asst. Professor DIME, Indian Institute of Technology, Kanpur.
On an individual level, it was a treat to watch all these inspiring minds discussing the future and current challenges of the business world and allowing us to clear our doubts and questions at every stage of the debate.
Mr. Abhinav Johri, Director & Practice, EY India, Mr. Debashish Chaterjee, CDO, ITC Infotech & Dr. Jasmine Gupta, VP Kotak Mahindra Bank. After mentioning all these names, there is no need to specify the impact the keynote speeches had on all of us. From AI to Chatbot to the future of business management, we got to know every single iota of knowledge we could have imagined before entering the college, in just three days of the event.
The most appealing part of Prabandhan 2019 was to manage and participate in the activities that covered every aspect of the skills required to become an impactful leader.
Karobaar: Business Event, that encouraged to raise the entrepreneurship power in us.
ACCS: Analytics Event, that encouraged to gain some insights on how data should be used to figure out the future roadmap for any organization.
Consulere: Consulting Event, which helped in gaining insights into how real consultants think.
Markovista: Marketing Event, a perfect opportunity to develop a foundation for becoming a successful marketer.
Sanchalan: Operation Event to develop an understanding of the heart of the organization.
Vittraj: A management fest without a finance-based event - how can it even be possible, right?
Regnant Populi: A manager is nothing if he does not have the skills to manage his human resources. That's what this event was all about.
Prabandhan 2019 was not just a fest but a journey of the whole batch of first-year and second-year students. An event that felt like an organization heavily involved in marketing activities, financial & budget calculations, analyzing and setting short-term & long-term goals along with the fun of developing a professional but friendly relationship with each other, respected faculty members and participants from reputed colleges. It was an event that allowed an average coder like me to give wings to his communication skills and get a taste of real-life MBA.
A trip admittedly worth remembering and (for me) the most crucial part of my first year in I.I.T Kanpur!