Meet Unilever at Konversations Cafe on Friday in Mumbai
For the first time ever in India, InsideIIM offers candidates with confirmed offer letters from India's top business schools an opportunity to interact with some of India's dream recruiters.
(This event has concluded. Read the event report here)
Hindustan Unilever – 5 time Dream Company Rankings Topper at InsideIIM's Recruitment Survey and most other surveys in the country will meet you if you have an admit from a Top school. While most of your peers may never get to even sit for a placement talk for HUL, you get a chance to interact with the campus manager and senior management at InsideIIM's Konversations Cafe in Mumbai on 26th May 2017. Read the details below to know how you can register. Registrations close at 4 pm on 25th May 2017.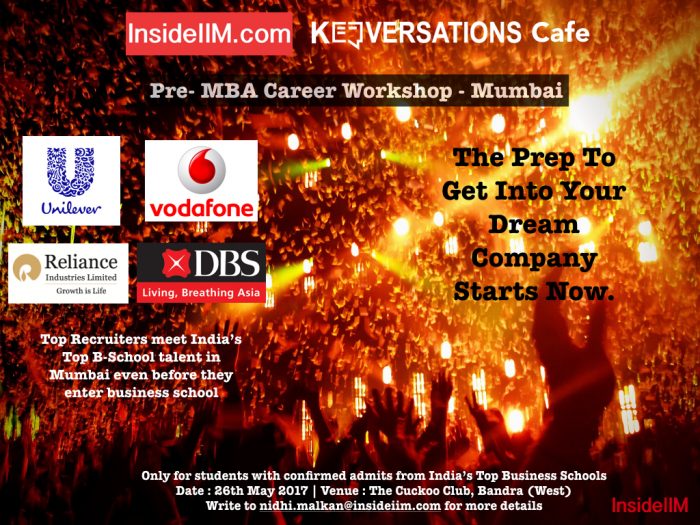 Vodafone – One of the world's top telecom players will also be there. Did you know Vodafone has over 400 Million subscribers across the world?
Reliance – A visionary petrol pump attendant built India's most celebrated company in one life-time. This company's recent telecom foray has taken the country by storm. Konversations With India's Most Valuable Company – Reliance Industries
DBS – Did you know DBS is the largest bank in South East Asia by assets? Did you know DBS has created the world's first mobile only bank? Meet DBS at the Konversations Cafe to know more.
Students attending this workshop will hit the ground running from day one in Business School. Your summer placement preparation will start on 26th May 2017 itself!
The event is absolutely free for candidates. Breakfast and Lunch will be served. A certificate will be issued at the end of the workshop.
Some of the other perks are networking with students entering other business schools along with you who will be part of the same batch. Check with any alumnus and he will tell you how valuable it is!
When is it?
26th May 2017 – 8.45 am to 5 pm
Where is it?
Cuckoo Club, Bandra (West), Mumbai
How do you register?
Two simple steps
1) Send your confirmed offer letter from any one of the following schools mentioned below to ayana@insideiim.com :
IIMs – Only ABCLIKS
FMS
XLRI
SPJIMR
NITIE
IIFT
NMIMS Mumbai
SIBM Pune
SJMSOM – IIT Bombay
JBIMS
TISS Mumbai
SCMHRD
2) Send your latest resume to ayana@insideiim.com and don't forget to mention your Phone Number.
For now, this event is happening only in Mumbai.
If you have already filled the form previously and done steps 1) and 2) above then you need not do anything else. Just make sure you report at the venue at 8.45 am.
In case of any queries, please write to nidhi.malkan@insideiim.com