Did you know in 2007 you could do an MBA from an IIM for just Rs 2 Lakhs? Do you know the fees for IIM Ahmedabad in 2018 is close to Rs 21 Lakhs? That's around 950% increase in fees in just 10 years! There has been a steady rise in the fees post-2008, with IIMs and other MBA colleges gaining more autonomy. A decade ago, the question to join a b-school, if you got in, would be a no-brainer. But that's the actual cost. What do aspirants think is the reasonable all-inclusive cost of doing an MBA? How much are aspirants willing to invest for a degree? It's time to reveal our findings for this year.
Every year at InsideIIM, we conduct surveys, rankings, and ask questions that really matter and what our users think about the same. This year, we are in the sixth season of our annual survey on Recruitment and other related factors. We asked over 900 InsideIIM Users, what they think is the reasonable cost of doing an MBA. And here's what we found...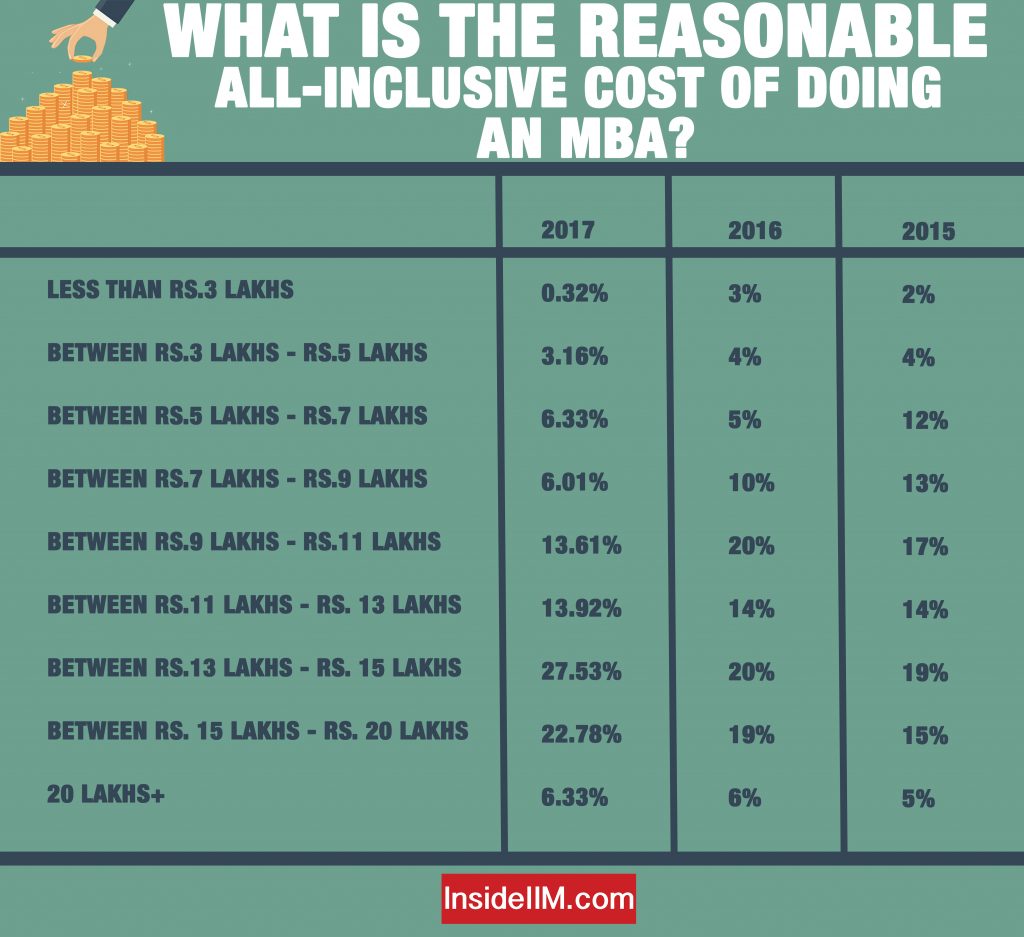 And here's what we think about it...
Remember when an MBA degree cost only Rs 2 Lakh? Well, less than 0.50% of the users think that is reasonable. You can check the fees of almost 50 b-schools in our report How Much Does It Cost To Do An MBA In 2018?, where you will find that the average cost of doing an MBA in 2018 is around Rs 13.9 Lakhs and the reasonable cost ranges from between Rs 13-15 Lakhs for an MBA degree, which seems to be the new norm! This has a lot to do with how people perceive and value MBA as a degree and how quickly people are adapting to the increase in fees for an MBA. Earlier, it was possible to self-finance your MBA degree but with costs like these, Education Loans would be necessary and on the rise. With a steady rise in fees each year without any real changes in the outcome (read: placements), the cost of pursuing an MBA seems a little too high with added education loans to repay in the next 5-10 years.
Close to 23% of the users think that costs between Rs 15-20 Lakhs are acceptable. This is quite a shift from just 2 years ago when only 15% of the users found this amount reasonable. With the growing value of the degree, aspirants have made the mental adjustment to the increased cost.
Did you know that FMS Delhi charges only Rs 60,000? And there are b-schools like JBIMS Mumbai, TISS Mumbai and the likes that also charge a nominal fee with almost extra-ordinary returns post-MBA.
Reasonable costs have quickly changed. What was considered acceptable 2 years ago now has become a norm and reasonable.
But here are a few things to think about! Have the aspirants adjusted to the new reality of the increased costs of doing an MBA? Are the actual costs of an MBA degree affecting the reasonability? Are aspirants even considering the opportunity cost that comes with taking up a full-time 2-year course? Is the reasonability increased due to the increased ease with which education loans are sanctioned? Is it worth the cost?
P.S: Fees and ROI are not the only two factors to be considered while taking admission in a b-school.