Here's what the CAT 2023 Convenor has to say about this massive surge!
Prof. Sanjeet Singh, the convener of CAT 2023 from IIM-Lucknow, noted, "The registrations are highest in history of CAT, ever since it was started in 1977. In absolute numbers, an increase of 75,000 applications, year-on-year, is a record."
CAT Registration Trends Over the Years
The CAT exam has come a long way since its inception in 1977 when it was conducted as a pen-and-paper test. Since then, the number of applicants has fluctuated. The previous record for registrations was in 2008, when 2.9 lakh candidates registered for the exam. In 2009, the first computer-based CAT test was introduced. Here is a look at the number of CAT registrations since 2008.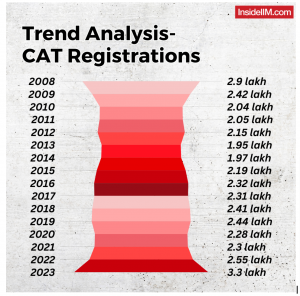 ---
---
Why is there a sudden increase in the number of registrations?
Social Media and Accessibility:

The surge in CAT 2023 registrations, experts believe, reflects the enduring interest that students have in pursuing management education and gaining admission to prestigious institutions like the IIMs. Professor Sanjeet Singh, the CAT 2023 convener, attributes this surge to increased publicity about the CAT exam on social media platforms. Additionally, the expansion of test centers, especially in tier-II cities, has made the CAT exam more accessible, drawing in a more diverse group of candidates.

Economic Uncertainty and Job Market Concerns:

There might be another reason that explains the surge. The unstable economy and the continuing uncertainty about job opportunities have led to more people registering for the CAT 2023 exam. In recent years, the COVID-19 pandemic caused many people to lose their jobs, get lower pay, or see their businesses shut down. With worries about job security and the unpredictable job market, many professionals are choosing to pursue higher education, especially an MBA from prestigious institutions like the IIMs. They see an MBA as a path to improve their job prospects, gain new skills, and deal with the uncertain economic situation.
---
---
Implications for Aspirants Due to Increased Registrations:
Heightened Competition:
There are a lot of people applying for CAT 2023, which means the competition will be very tough. Those who want to do well need to prepare really carefully and work hard in their CAT exam prep. Additionally, because there are so many applicants, candidates might have to be smarter in choosing which business schools they want to apply to and be realistic about their expectations.
A refined Preparation Strategy
The high number of people registering for CAT 2023 is likely to lead to fresh ways of getting ready for the test. Since there's a bigger group of students competing for limited spots, test-takers may explore different, customized methods to do well in the exam. This could mean using advanced online learning tools, creating study plans tailored to their needs, and improving their strategies for taking the test.
For example, you can check out InsideIIM's CAT MasterKlass, which has these features: Learn from CAT toppers, get a 99+ percentile assurance, comprehensive section coverage, lifetime access to session recordings, and develop winning mock exam strategies.
3. Calm Your Nerves
As the competition gets tougher, candidates might feel more stressed. Trying to get into a top B-school can be emotionally draining. So, it's important for candidates to take care of their mental and emotional health while preparing. Using good stress management techniques and balancing work and personal life become very important to handle the added pressure.
In summary, CAT 2023's significant rise in registrations to a staggering 3.3 Lacs shows the sustained interest in Management Education in India. This substantial rise is a testament to the resilience and determination of aspiring management professionals even in the face of global adversity.
As a result, this year's CAT exam is expected to be highly competitive. As you prepare for this challenging journey, remember to plan carefully and prioritize your well-being. By doing so, you can maximize this opportunity for your education and future career. May the odds be in your favour on 26 November 2023.
Source: Times of India