I was attending one of the boring MBA academic lectures, when I received a mail notification on my cell from Placement Committee saying applications for 'RPG Blizzard 2018' are now open. Having experienced it as audience last year (during the campus round here at MDI), I knew how big a corporate competition this is and how important this could be for a corporate case study competition enthusiast like me! I visited RPG Blizzard website &the first thing that pops on the page is a video clip (an after-movie) of last year's edition which was based on Game of Thrones theme. Eager to apply ASAP, I messaged my friends Sourav & Arpit asking them to participate with me in this, and fortunately, both of them were available and joined in. We then came up with the team name ArChiSo – 'Ar' for Arpit, 'Chi' for Chinmay & 'So' for Sourav. Catchy name, isn't it? Ok, let's move on.
At the very first step, we had to choose a case out of numerous ones given on the website. We chose Raychem's – 'Product Launch Strategy for Electrical Insulation Gloves' for our campus round. We chose this case because it seemed a little challenging (since we weren't well versed with the PPE industry then), but sometimes the road less travelled takes you to places others can't reach! The experience of preparing the presentation for campus round was a memorable one in itself – going through lengthy reports, visiting safety equipment dealers and brainstorming together. Meanwhile, Arpit had to leave for Europe for his exchange stint. When we made the submission, we were sure of making it to the campus round, and fortunately, that's what happened.
In the campus round, I and Sourav had to present in front of the judges from RPG who were visiting us. We were told that we are going first to present. I was a bit nervous at first, but I knew if everything was to go as planned, we were going to win it that evening. After the presentation, judges told us that they liked our presentation and found it to be quite comprehensive. This was followed by a smooth Q&A. When the results were announced, I was in the state of euphoria! I was rewarded for something I worked hard for. I, of course, went out with my friends later that evening to have a couple of beers and celebrate! 'The First Snowfall' occurred, but ArChiSo survived! Chapter 1: Closed!
Take Your Career To The Next Level. Ask Our Experts Anything. We Will Respond Within 48 Hours.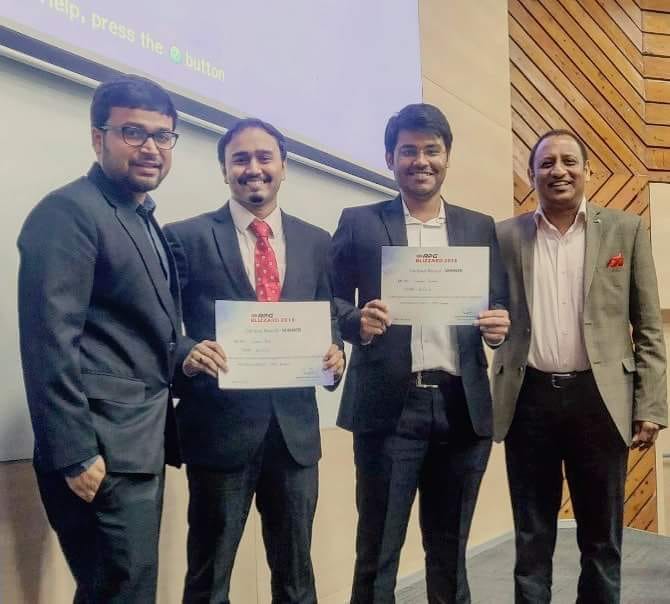 After a couple of months, the moment I was waiting for long, finally arrived – 'The Calm before the Storm'. It was time to pull up my socks again. We received the 'Project Outperformance' case on our mails, and this time, we had to choose different companies (other than Raychem - since we worked on it in the campus round) from RPG group. We chose CEAT and RPG Life Sciences. This round was an elimination round, where all 15 campus winners had to submit a one-pager approach note for the case. Amidst mid-term exams and sleepless nights, we came up with strategies for Project Outperformance and jotted them down on the one-pager document, which worked as our gate pass to top 9 across the nation and the RPG Blizzard Grand Finale! 'The Calm before the Storm' took away 6 teams out of the picture, but ArChiSo stood strong and held its place! Chapter 2: Closed!
We received a mail from Vinayak (Campus Lead RPG), saying we made it to the National Finals scheduled on 29th November, 2018 and we were invited to the RPG House in Mumbai to present our ideas. The final chapter was finally here. It was time for the warriors within us to come out and show the potential our ideas carried. It was told to us in the mail that Blizzard 2018 will be based on Marvel Universe theme. Sounds so enticing, doesn't it? Wait, it doesn't end there. Let me come to the best part. So, all teams had to represent separate houses basis Marvel characters allotted to them. For us, the mail said that the house we had to represent was House Deadpool! Our PPT theme was to be based on Deadpool, and amazingly there was a 10% weightage in evaluation for the adoption of 'Marvel Universe' theme. We weren't able to include a lot of quotes of course (as you know Deadpool quotes don't carry lots of sanctity), but we included many Deadpool pictures and GIFs which made our presentation look really cool! Sourav and I packed our bags (Arpit was still on an exchange, helping us in all possible ways he could from there), and we were now ready to leave for battleground –RPG House in Mumbai!
We landed in Mumbai late night on 28th. After a tiresome day (I attended 4 classes the same day), all I needed was a sound sleep at the hotel RPG booked for us. The next morning, I woke up, had my breakfast at the hotel and boarded the bus that was sent to pick us up. Travelling through the roads of gorgeous South Bombay, all of us finally reached the RPG house - a beautiful building located at one of the prime locations. They had a lot of paintings on the walls and art on exhibition inside the premises. One could almost get the feel of the vibrant culture of the company.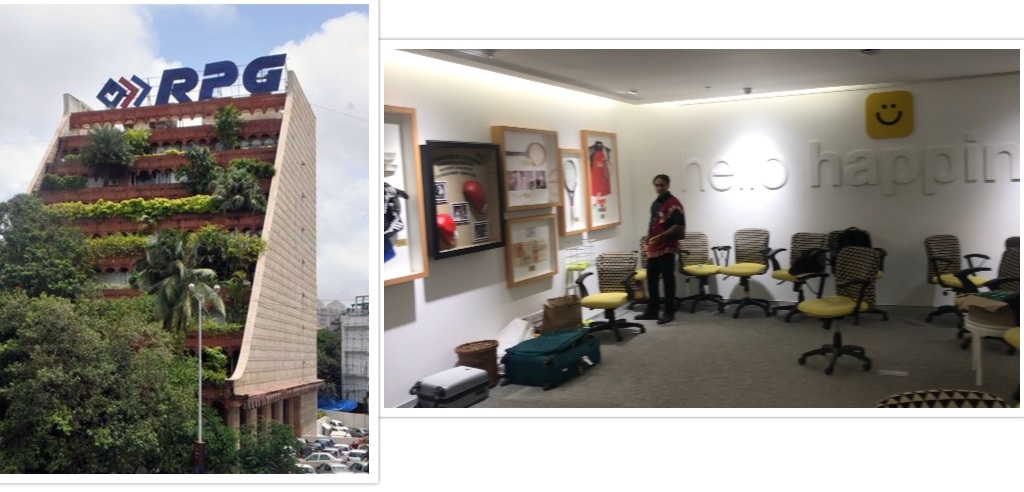 We were told to wait in 'The Locker Room' in the basement, which again was one of the coolest rooms I have come across in corporate offices (I'll leave rest of the description to pictures attached here). While we were there, we all could hear lots of Avengers & Marvel Universe music playing in the hall near our waiting room. Well, the feeling of 'This is going to be something epic!' just kept on the building. After lunch, we were given costumes to dress up for Deadpool house – 'Wakanda Forever' themed. Now all the teams were told that they'll have a grand entrance at the hall with the judges (amazingly, who also were dressed up in fancy costumes). The Avengers music played in the background, with the battleground set up in dimmed and LED lights as we entered the hall. I literally got goosebumps when I was taking that walk inside. We took our seats and the large screen in front of us started playing the Avengers Infinity Wars video. And suddenly a guy in Thanos's costume appeared, enacted his part with a monologue. This was followed by monologue from Nick Fury who told us that the onus is upon 9 teams to defeat Thanos and save the world!

Sounds epic, doesn't it? Which Corporate Case Competition you last heard of, provided a similar setting for the National Finals?
Now was the actual Showtime! Before each team's presentation, a small clipping of the team Superhero was played, and then a short monologue by the Superhero stage artist himself. After some insightful and great presentations by 5 teams, it was our turn. I was nervous. But when the Deadpool video played, suddenly the warrior feeling was alive again. The video brought out the confidence hidden inside of me. We also danced on the stage with our Marvel hero – Deadpool for 5 seconds and that kind of cooled us off too. The presentation started and since we had a lot of ideas on our slides, it was becoming difficult for us to conclude within 15 minutes allotted to us, as the presentation progressed. Somehow, we managed to do it! The judges seemed interested in our ideas on which they asked a couple of questions, and I believe we (Me & Sourav) successfully communicated our thought process to them in the Q&A round. But we still weren't very sure of winning, since the other teams also presented really well and it was hard to predict a clear-cut winner.
After a short break, the program resumed and results were about to be announced! But before that, the esteemed panel of judges which included - Sachin Nandgaonkar (President & CEO, Member of Management Board, RPG Enterprises), Ramani Kasi (President, Raychem), Pramod Menon (CFO, RPG Group), Randeep Narang (President, KEC International T&D), gave their feedback, followed by a small speech from S Venkatesh (President – Group HR, RPG Enterprises). And thanks to our good fortune, Mr. Harsh Goenka (Chairperson, RPG Group) also visited us to deliver a speech and hand over the winning trophy to the winning team.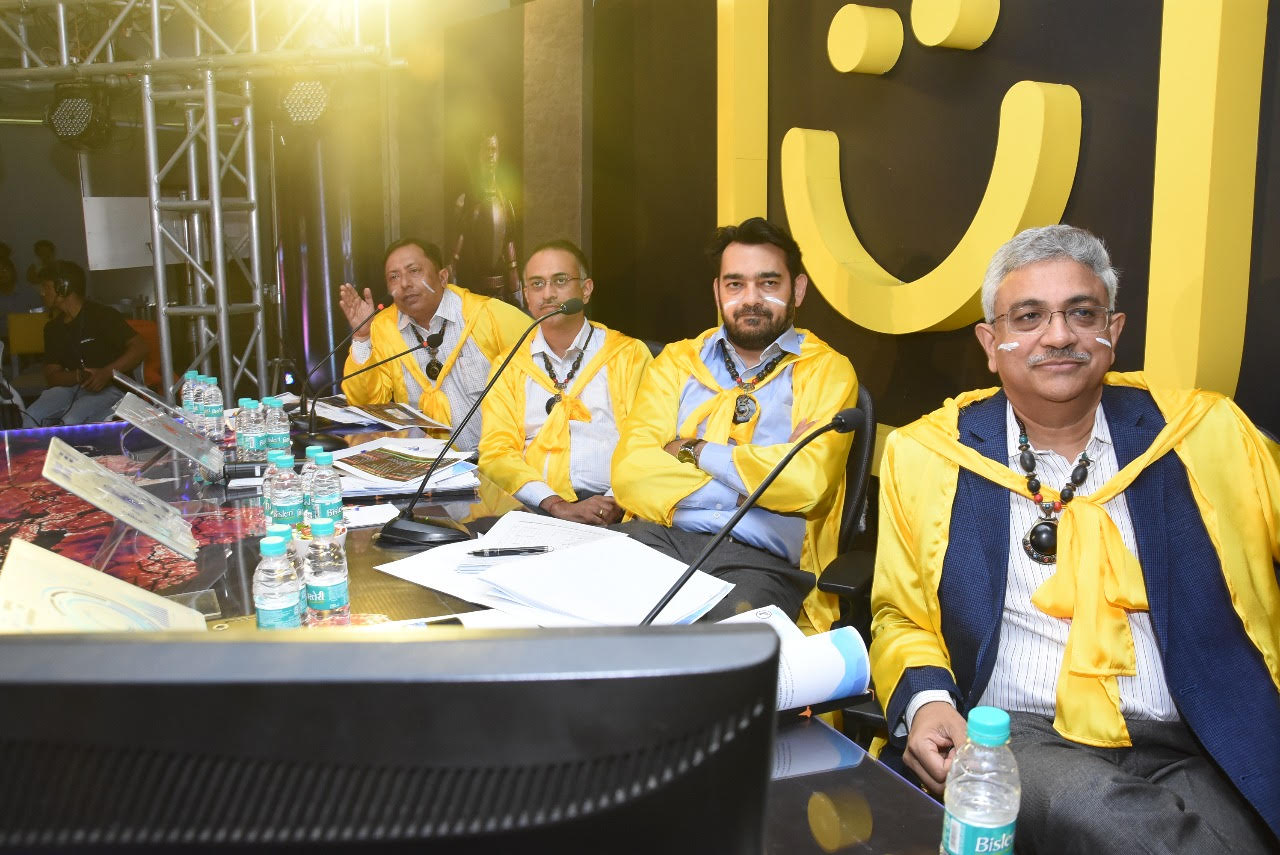 It was result time! The runners-up were announced first, and it was a team from IIML. We lost hope since the best we were expecting for ourselves was 2nd place. But then, it was announced that "The team who wins Blizzard 2018 is….. MDI Gurgaon!". Sourav and I looked at each other, in mild shock with our mouths wide open as to what has happened. We weren't expecting this at all. But after 5 seconds, the joy and realisation of us winning it hit us with bright smiles on our faces. We went on the stage, received the award from Mr. Harsh Goenka, who greeted us with "Well done, keep it up" and then received the scroll of honour from Captain Marvel (an MDI alum who was playing the character). We then clicked a lot of pictures with our house leader Deadpool and the entire Marvel Universe characters on stage. This was followed by a party and a delicious dinner when I got a chance to interact with the judges and a lot of leaders from the organisation. 'The Final Hour' passed and ArChiSo came out as the winner with flying colours! Chapter 3: Closed! An amazing experience throughout!