2. SPJIMR Mumbai has set the minimum overall CAT 2020 cut-off at the 85th percentile, and the minimum sectional cut-offs at the 75th percentile. The minimum overall GMAT cut-off has been set at the 85th percentile which is an overall GMAT score of 690, as per latest available official data. The minimum sectional GMAT cut-offs have been set at the 75th percentile for the Verbal Reasoning section (V-35) and Quantitative Reasoning section (Q-49).
3. SPJIMR Mumbai will continue to extend profile-based interview calls to applicants with a consistently good academic record, relevant work experience, and personal and professional achievements under their belts. Although candidate's performance in CAT 2020/GMAT will not be a criterion for a profile-based call from SPJIMR, they are expected to meet the qualifying scores in at least one of the entrance exams. Candidates not given profile-based calls will be shortlisted on the basis of their profiles + their performance in CAT 2020/GMAT.
Also Read → CAT 2020 Paper Pattern Changes - Here's What We Know So Far
---
SPJIMR Mumbai's Latest 3 Step Admissions Process Explained
SPJIMR Mumbai is one of India's top-ranked business schools and is known for its highly merit-based selection process at par with that of the IIMs. Though official data of the weights of SPJIMR's selection criteria are not available, through our analysis, it has been confirmed that SPJIMR has a very high standard for the students it admits to its PGDM program.
SPJIMR's merit-based selection process can be split into 3 parts - shortlisting based on profile, shortlisting candidates based on profile + CAT/GMAT performance, the interview process, and the subsequent extension of admission offers.
Prior to these steps is the preliminary step of filling out the SPJIMR Mumbai registration form. Registrations for SPJIMR Mumbai will open on 28th September 2020 and will close on 27th November 2020.
---
Step 1 - Shortlisting Based On Profile, And Early Interviews
Applicants are shortlisted on the basis of their profiles. They are also expected to meet the qualifying scores in at least one of the entrance exams. The profiles are scored and the applicants are sorted into two groups: Profile based and Profile-cum-score based.
Applicants shortlisted in the first group are called for an early interview. The shortlist is based on their profile considering the following factors:
Consistency of academic record
Relevance of work experience for the specialisation
Versatility and achievements
Early interviews are convenient for applicants because it avoids overlapping with other interview calls during the admissions season. To the institute, it gives an opportunity to stagger interviews and ensure that the interview process remains robust even though numbers being interviewed are large.
On account of the COVID-19 pandemic, to ensure the safety of participants, interviews for PGDM 2021 -2023 may be conducted online on platforms of the institute's choice.
---
Step 2 - Shortlisting Based On Profile + Performance In Entrance Tests
This phase is held after the availability of entrance test scores. Applicants in this phase are called for interviews on basis of their profile as given above, along with their performance in the entrance tests. Given below are SPJIMR's CAT 2020 and GMAT minimum overall and sectional percentile cut-offs for admission to the PGDM batch of 2021-2023.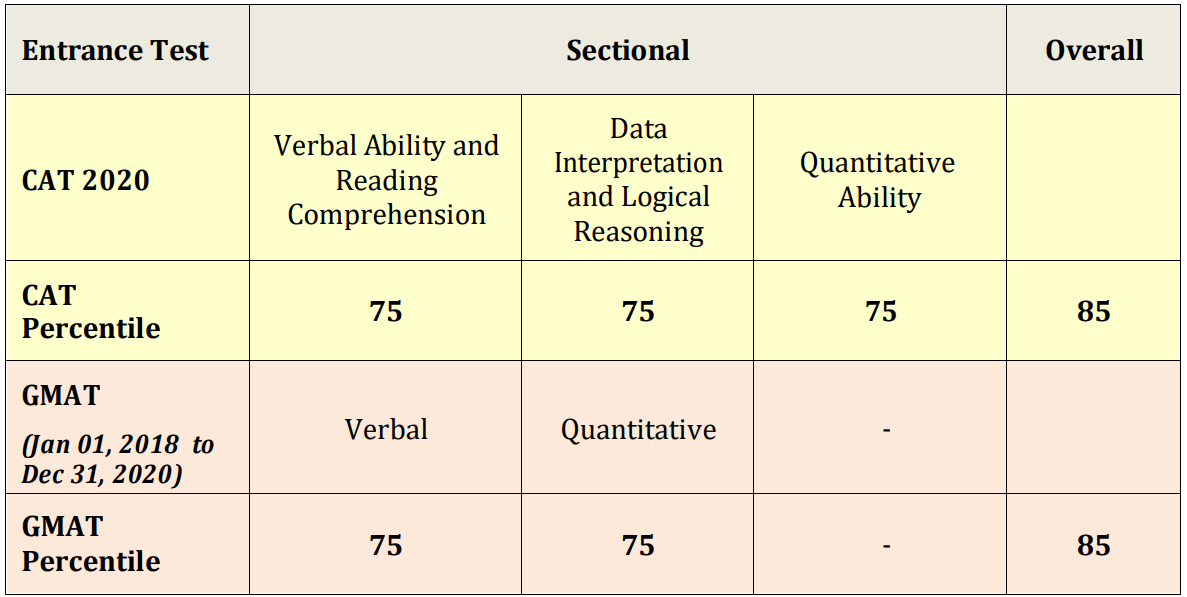 Due to the prevailing scenario on COVID-19, SPJIMR may continue with selection process as stated above OR use an alternative selection procedure (if required). This may require additional information from the applicants for any other appropriate mechanism depending on the nature of the guidelines issued by the government or state authorities.
---
Step 3 - The Interview Process
SPJIMR's interview process is quite distinct from that of the IIMs, with the only common element being the Writing Ability Test (WAT). SPJIMR's interview process comprises a WAT round, a psychometric test, and two group interviews with a panel. There is no personal interview or group discussion round in SPJIMR's admissions process.
1. The WAT round requires applicants to write a short essay on topics that are most commonly abstract in nature. For instance, a candidate applying for admission to the PGDM batch of 2022 was given the topic "Tell us about your bad habits or vices and how you have overcome them," with a 300 word limit. Candidates are given 30 minutes for the WAT + the psychometric test.
2. SPJIMR conducts two group interview rounds with a panel usually comprising SPJIMR professors. The first interview round usually lasts for 30-odd minutes, and from each group, only a select few candidates are chosen for round two of the group interviews. Here is what an SPJIMR Mumbai interview is like.
After the interview process, which usually carries on from mid-January to late-February, selected candidates are extended admission offers to SPJIMR's two-year PGDM program. The selection list is based on a composite score, which takes into account the applicant's profile, academic record, entrance test scores (CAT/ GMAT), relevance of work experience (if any) and performance in the two rounds of group interviews.
---
What Does SPJIMR's Latest Admission Policy Mean For You?
SPJIMR's latest admission policy now makes CAT 2020 the main gateway to a seat in the institute's PGDM batch which will have a maximum intake of 240 domestic students. You can also apply to SPJIMR through your GMAT score and will need an achievable score of 690+ on the exam.
Please note that simply getting a profile-based call from SPJIMR does not mean you can have a mediocre performance in CAT 2020 or GMAT. Here's why.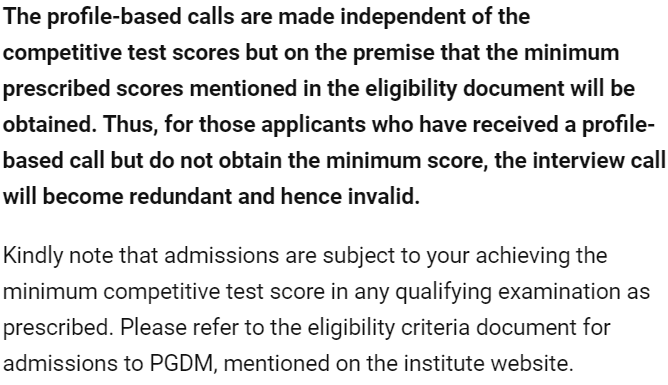 SPJIMR has a highly merit-based admissions process. Here's an overview of profiles of students who actually made it to SPJIMR Mumbai.
Read SPJIMR's latest admission policy on the institute's official website.
---
Read Next → SPJIMR's Final Placement Report - PGDM Class of 2020