Everyone has a very different and engaging internship experience, but what stands out for the lucky few of us who get to call ourselves Freshers is the fact that those two months are our first stint. We join without any preconceived notions, absolutely clueless as to what to expect and literally stumble through it, trying all the while to secure that much-coveted PPO/PPI.
This is my story talking about my 10-week experience, with some toe stubbing and wall punching moments along the way.
I interned with an FMCG in the Sales vertical on a benchmarking project, basis which I had to give suggestions. The NDA signed by me prevents me from disclosing the work which I did any further.
I joined the office with much rigour and excitement. My company had a 'Best Project' award as well and when I started, I was quite eager to give my best and at least be a worthy contender for it.
The first few days were spent attending orientation programs and leadership sessions. It was a couple of days before which all of us were given our projects and got to meet our mentors. My first interaction with my mentor was quite basic with her introducing herself and talking about her experience within the company and giving me a very basic understanding of what was expected of me with respect to the project. Due to the limited scope of my understanding of the field in which I was working, it was difficult for me to grasp the scope of the project I had been assigned. That did not falter me and I began my research to understand the current situation. I went on a number of market visits and interacted with a number of people within the organisation.
Then came the bit where I had to present my understandings to my mentor and share my suggestions with her. I was quite happy with the ideas which I had thought of and was sure that at least one of them, if not all, would be to her satisfaction and that I would be asked to implement them. My confidence took a diver as each and every suggestion was rejected one by one and I was told to put in more effort.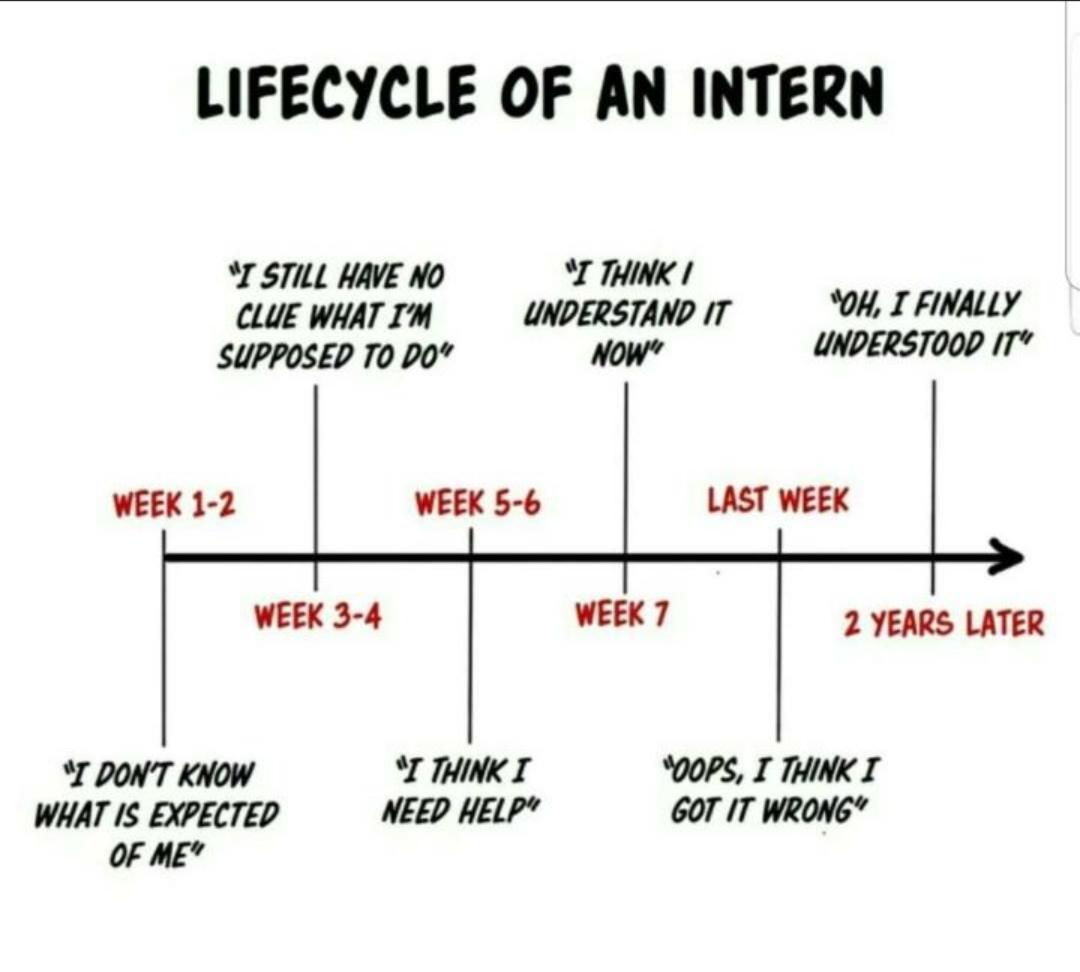 This cycle repeated itself for the next few weeks as well and within the blink of an eye, my mid-review was upon me. A few of my co-interns had already started on their implementations but I still did not which idea I was going to implement as a result of which I just presented the benchmarking bit. The presentation went quite bad.
The next couple of weeks went by in a blur as I tried to determine the best practices in the industry. I had lost all hope of even completing my project let alone being considered as a contender for the best project. It was disheartening. I was cursing my luck for having been allotted a project which was so unstructured and lacked definition. At that point in time, I felt that as I would show better results if I was under a mentor who provided more guidance rather than the free rein which I had been given.
The next time I met my mentor, my disappointment with my work was palpable on my face and she did her best to alleviate my worries. I then shared a few more ideas with her, I was sure that all of them would again be rejected. Surprisingly, she was very happy with a couple of my suggestions and told me to implement one of them and prepare a framework for the other.
With renewed vigour I went about my work, 8 weeks had passed by and I just had 2 weeks within which I was to show my results. I began working on my final presentation side by side. And just like that, it was my last day. With much anxiety regarding the presentation and anticipating my return home, I went into the conference room. What happened next, was something I had not even dreamt of in nightmares. My presentation was ridiculed, it was quite a humiliating experience.
I was quite indifferent to it. It was no less than a miracle that I had managed to complete my project despite the situation a couple of weeks back. I was happy that I at least had something to present and much happier about the fact that I was headed home.
Once my head cleared, the one thing which genuinely surprised me, was that the final ideas which I had submitted were actually quite good and worthy of being implemented. I was proud of myself but still did not expect that I would be offered a PPI. In hindsight, I also realized that I would have been unable to work if I had a manager who was constantly after me to show results and that the free rein which I had been afforded was something that helped me develop as a professional. I would cherish the experience in its entirety and would not change a single thing if given the chance.
PS: I received a call from the HR a couple of weeks back telling me that they were very happy with my work and wanted to offer me a PPI.
Sh**t happens and life does tend to surprise you. ;)