The brand Jindal or rather put more formally the "O.P Jindal Group" doesn't need any formal introduction. Founded by Shri O.P Jindal in 1970, Jindal Stainless is one of the largest stainless steel conglomerates in India and ranks among the top 10 stainless steel conglomerates in the world. It's not only the magnitude of the operations that determine the organisation's credibility and name, but it remains inspired by its vision of innovation and enriching lives.
Working for The Jindal Group has always been a dream for anyone aspiring to work in the steel industry. I, along with two of my batch-mates from IIM Sambalpur, got a wonderful opportunity to work at Jindal Stainless Ltd. (JSL) during our summer internship '18. The fact that I was among the three students chosen from the pool of applicants of 10 times the size of the final shortlist after four rigorous rounds of the selection made the feeling awesome. The icing on the cake for me was that I was the only fresher to be chosen in the trio, and thus I was super elated!! So, it was the 3 of us in finance, operations and logistics domain who would be working for JSL during April- June '18.
"There is more to stainless than you think!"
These words reflected upon me as me and two of my crazier friends made our way to the HR-Department on Day-1 to meet the AVP, HR of Jindal Stainless Ltd, Jajpur plant. Bubbling with enthusiasm, anxiety, nervousness we made our way in and the first meeting lasted for around an hour. This was followed by just some regular HR formalities and after which a 3-day timetable of plant visit was chalked out for us.
The next three days were a dive into the two units of the plants, trying to get the hang of the process and the products formed at each stage which was substantiated by meetings with various employees right at the ground level who were special experts in their domain of plant operations. That gave me an initial impression of how life is completely different for the people working on the production line, time-bound in their shifts away from the hustle-bustle of the metros and this wasn't same as what I had anticipated earlier.
Finally, after three days of draining plant visits, we were introduced to our guides and Head of Departments; logistics in my case. Then followed the phase of initial introduction with the teammates, which helped me build my professional network at office and I was given a project titled 'Ocean freight trends of exports' which was further divided into 2 parts: the first being the flowcharting of various processes in the imports and exports of containerized shipments to and from various parts of the world by a process flow diagram and thereby providing an average estimate of the time required for each process; and the second part was the analysis of the ocean freight which is the most dynamic part of the total logistics process especially in case of exports; i.e. to find out which shipping liner would be the best choice when shipping to a given port of destination in a given region along with the preferred container size and port of loading.
All this required data gathering from various employees, sometimes even working in other departments. Initially, I was a bit hesitant to approach people. But then, my HOD's occasional go-getter pep talk used to be the driving force for the ice-breaking talk with employees and I was right back on the track again. The result, it not only just helped me in getting my work done but also to get along with the people around to network and embrace the office culture. It was such that they never differentiated between employees and interns; everyone was equally important at that own place.
I was also sent to The Visakha Container Terminal (VCT) for a brief period of 1 week as a part of my internship to meet a part of the logistics team sitting there which would help me get a first-hand experience of the things that I was handling back at the office and increase my understanding of the same. Then followed a regular series of trips to the Visakhapatnam port and a plethora of Container Freight Stations (CFSs') in the scorching heat for the next handful of days. The team there was excellent, and they helped me with all sorts of queries, information and data collection related to my project by taking out time from their frantically busy schedules of meetings, phone calls, and whatnot. This experience was a must for me as it made me work out of my comfort zone and the same came to me as a myth-buster that quality of work suffers under multiple constraints like new place, new people or tight deadlines; rather it helps you to get better every time you go out and deliver as you get another chance to work on the feedback that you get. Remember that your competition isn't against your peers, it is against the 'old you'.
Evenings used to be fun as I made my way to the famous RK Beach, the nearby Kurusura Submarine Museum and the Navy Aircraft Museum, Kailasagiri, Simhachalam and many more. Being all alone in a new city for the first time ever helped me explore and meet new people and thereby maintaining the work & play balance; and oh yes..biryani!!!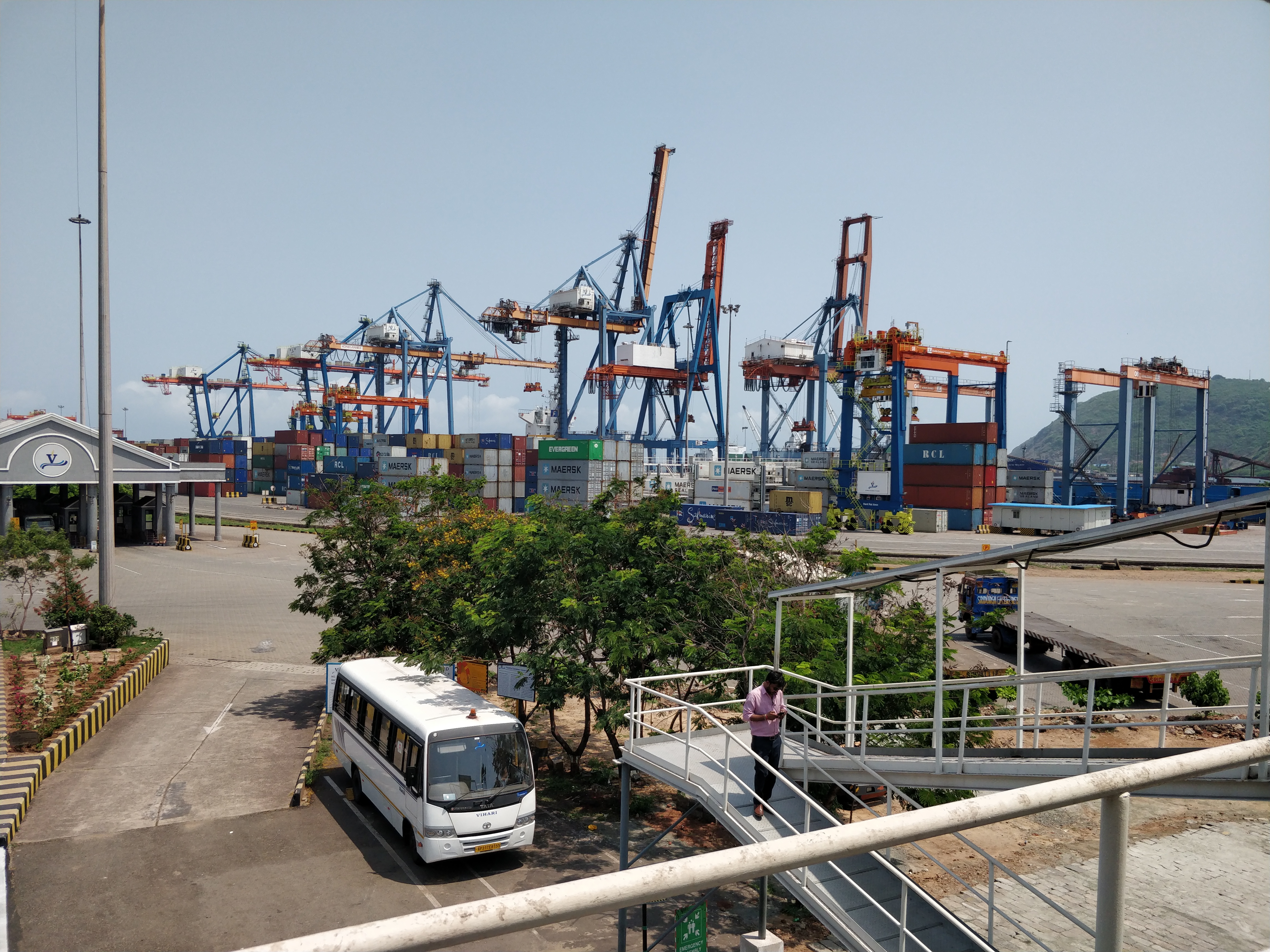 Pic: The VCTPL, Visakhapatnam
Come last few weeks, and the pressure has started to build-up on all the of us regarding the deliverables, the project deadlines, team meetings, and presentations. Often there were times for me when I used to be the last one leaving the office after a gruelling 12-hour shift; and this led me to my biggest myth-buster that life is pretty slow, sluggish and smooth-sailing at a plant site; well no, it is not. It is going to be as draining as your friends working in tall sky-scrapers and cosmopolitan cities, and one will have to be always on his/her toes and be up for that 5 P.M meeting with the HOD completely armed with all the minute details of the assignment, and free-riding isn't an option here unlike group projects as one of my mentors would say "There ain't no such thing as a free lunch!".
The clocks slowly ticked away and we were finally done with our internship on the 14th of June with a fortnight to spare before the round two starts again. As I sit here back at my home in Mumbai and type my experiences, I feel it pass through every second of my memory as I was just right there now. I will surely cherish the bond formed with other co-interns from various other b-schools and tech-schools of national importance for long as we all had walked into the JSL guesthouse as strangers but came out of it as friends.
Working at such an organization like Jindal Stainless, discussing, brainstorming with the senior management there who have been there in the steel industry for over a decade was an insightful experience for me, and I took back a lot of learnings from them. My stint also taught me the importance of clarity of mind, attention to detail and even the formatting of documents and how these small intricacies can make a larger impact on your performance. The stainless stoicism still reflects upon me and I'm sure it will help me tackle the challenges lying ahead.