Planning (inventory management, routing, capacity planning, demand planning, optimization, etc.)
Production (quality assurance, production planning, purchasing, warehouse management, etc.)
Sourcing (supplier management, pricing, transportation of raw materials, strategic sourcing, etc.)
Transportation (storage, logistics, reverse logistics, transportation planning, etc.)
Click here to learn everything about Supply Chain Management: Learn what is SCM, how important a Supply Chain is to an organization & the process & principles followed to create & deliver high-quality products, etc.
Why You Should Consider A Career In Supply Chain Management?
One of the best things about making a career in Supply Chain Management is that this is one of those career paths which has a very low entry barrier. Whether you are an Engineer or a Commerce graduate, or you have just 1 year or 10+ years of experience; the industry just requires the right skills and the ability to learn on the job. If you are looking to make a breakthrough in this lucrative industry or need to upskill in it, do check out AltUni's Certificate Program in Supply Chain Management with SPJIMR & Decathlon.
In India, a Supply Chain Management professional often handles more than one or all of these components giving him/her ample experience across different sub-domains
Supply chains are a part of almost all industries so you get to be spoilt by choices & choose from industries like E-Commerce, FMCG, Manufacturing, Retail, Pharma, etc.

Implementation of supply chains is growing tremendously, with

trade volume doubling over the past 20 years.

Supply Chain Management is a

USD 215 billion industry growing at a CAGR of over 10%. The Indian government & the industry are actively working on course correction & hence, there are a lot of opportunities to build a successful & exciting career
Investments in Supply Chain Industry are also flowing in - with NASDAQ reporting a 32% increase in investments in early-stage logistic startups. With such positive interventions, employment is expected to grow by 30% from 2020 to 2030
Since Supply Chain Management professionals interact a lot more with various other teams like sales and marketing, product management, engineering, finance, legal, etc., there is a high scope to upskill on the job and move to other domains.
---
How Much Do Supply Chain Managers Earn?
Supply Chain Management is usually the backbone of most companies in the E-Commerce, FMCG, Manufacturing, and Retail space, and hence these professionals are paid very highly. As reported on Glassdoor, a Supply Chain Manager earns up to Rs. 10-12 lakhs per annum on average, increasing with experience, based on 367 salaries.
An important point to note is that while traditionally these industries pay higher but with the recent rise in digitalization & popularity of 3PLs and 4PLs, there are quite a few Supply Chain Management start-ups like Delhivery, Rivigo, Locus, etc. which actively hire Supply Chain Management professionals. Another such company is a French MNC, Decathlon which has shown immense growth. You can stand a chance to earn an interview for a full-time job with Decathlon with AltUni's Certificate Program in Supply Chain Management. You will also get to learn SCM from SPJIMR faculty and get certified by them.
P&G, Maruti Suzuki, Snapdeal, ITC, and L&T top the list of high-paying recruiters for Supply Chain Management professionals, paying the highest average base pay of up to Rs. 33 lakhs per annum as shown in the table below.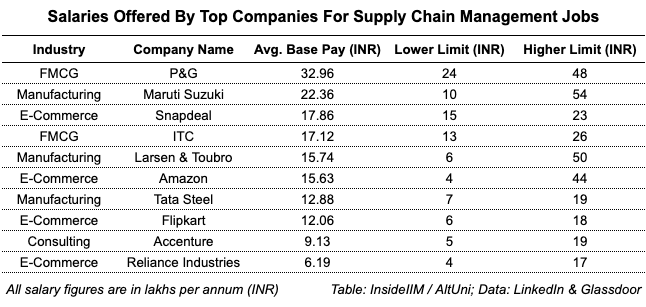 The table below clearly indicates that E-Commerce, FMCG, Healthcare, and Manufacturing are some of the top industries that recruit Supply Chain professionals with salaries as high as Rs. 29 lakhs per annum and the highest average annual base pay of Rs. 14 lakhs per annum.

The average base salary of Supply Chain professionals starts at around Rs. 6-7 lakhs but increases with experience, significantly after 5 years and more to more than 25 lakhs per annum.

Please note that the salary data provided below is using LinkedIn and Glassdoor & is not filtered by educational qualifications. Also, note that this Supply Chain Management salary data is for the job title 'Supply Chain Manager'. 'Senior Supply Chain Manager' and 'Supply Chain Director' etc. are higher-level roles that pay even more! You can conduct your own independent research on salaries for these job roles using LinkedIn, Glassdoor, PayScale, and Indeed.com data.
---
What Are The Career Paths For Supply Chain Management Professionals?
Supply Chain Management has transformed from a boring back-end function to an exciting strategic differentiator for organizations keen on growth. From 3PLs to Platformization to Omni-channel experiences; innovation is in the driver's seat and this is changing the way how the careers of SCM professionals evolve. Popular CEOs like ​​Apple's Tim Cook and GM's Mary Barra have headed key positions in Supply Chain Management clearly showing the rise of SCM professionals in C-suite executive positions.
Typically, there are 2 tracks within SCM; Procurement Operations (PO) and Sales & Fulfillment (S&F). While these two tracks have different functions and positions, they can be handled by the same person in some organizations. There are however different levels (in general terms; can vary organization-wise) at which you can be hired depending on your experience,
PO / S&F / SCM Executive
PO / S&F / SCM Associate Manager
PO / S&F / SCM Manager
PO / S&F / SCM Senior Manager / Team Lead
Supply Chain Management AVP / VP
Supply Chain Management Head / Director
Chief Supply Chain Management Officer / Chief Executive Officer
Click Here & Fill Out The Download E-Book Form To Download Our Interview Guide For Supply Chain Management!
---
Conclusion
Supply Chain is what Marketing was a decade ago; it is a legacy function that is reinventing itself completely, has huge growth potential for professionals and of course, it pays superbly as we saw in the above research. The industry is at a critical juncture where it will heavily reward professionals who are at the right place at the right time.
To help you be one of those we, at AltUni by InsideIIM, bring to you Certificate Program in Supply Chain Management, in association with SPJIMR and Decathlon. With a curriculum designed by SPJIMR and live lectures on SCM delivered by India's top academia and faculty from SPJIMR, this program will prepare you for a stellar career in one of the most exciting and high-growth industries, Supply Chain Management.
---
Why Should You Sign Up?
100+ learning hours with

SPJIMR faculty & Industry experts

Get A Chance To Interview With

Decathlon For A Full-Time Job Opportunity

Get Industry Exposure With

Live Industry Projects

& Add It To Your CV

Become

Executive SPJIMR Alumnus

& Get Access To A Host Of Lifelong Benefits.

Reinforce Supply Chain Management concepts with

Harvard Business School case studies and simulations

Get free access to

Klub AltUni

This is one of our top-rated programs with a cumulative program rating of

4.68 out of 5.
This program also helps you learn how to master interviews for the roles in the Supply Chain Management function,
Benefit from the access to

AltUni Career Services

like 1-on-1 live sessions for CV editing, mock interview, and career coaching

Get

job search assistance as an AltUni alumnus

with access to exclusive job opportunities
Have a look at what our alumni loved about the program!
"This program is the most comprehensive SCM course! Concepts taught by professors have high applicability in daily business operations" - Y V Sai Kiran, Senior Manager (Planning) - Flipkart
"The program provided ample guidance, content material & support. The practical workshops & sessions were the highlights. Got to know the real-world strategies", Aditya Raj Dash, M.Sc. (SCM)- Queen Mary University of London
"The sessions were engaging & interesting... makes you go back to work & implement certain topics... Thanks for sharing all the knowledge & best practices", Roshan Tamhankar, Head (Supply Chain & Logistics) - Parekh Integrated Services Ltd.
"The course was quite exhaustive in terms of content and case studies; provided a clear picture of where the Supply Chain world is standing right now", Aakash Sachdeva Data Science Trainee - Ecom Express