We all want to give back to the community we come from. But, how many of us actually get to do that? Today, we bring you a story of someone who hails from Vidarbha region in Maharashtra, a place, unfortunately, is known for the highest farmer suicidal rate in India. This happens due to the problem of water scarcity in that particular region. The story of the individual we bring you today used his precious two months before b-school in preparing a funding proposal for Rural Watershed Management system by an NGO in his region. His drive to do good and use his skills to give back to his community has scored him a place amongst India's Best-50 Most Employable MBA Graduates!
The following is Tanay Omprakash Bagade's set of responses to a questionnaire floated amongst MBA graduates to determine the top-50 most employable MBA graduates of the Class of 2020. Amongst the massive number of entries and responses being evaluated by the Founder of InsideIIM-Kampus Konversations, Tanay's story and profile stood out. Here's his story in his words.
Take Your Career To The Next Level. Ask Our Experts Anything. We Will Respond Within 48 Hours.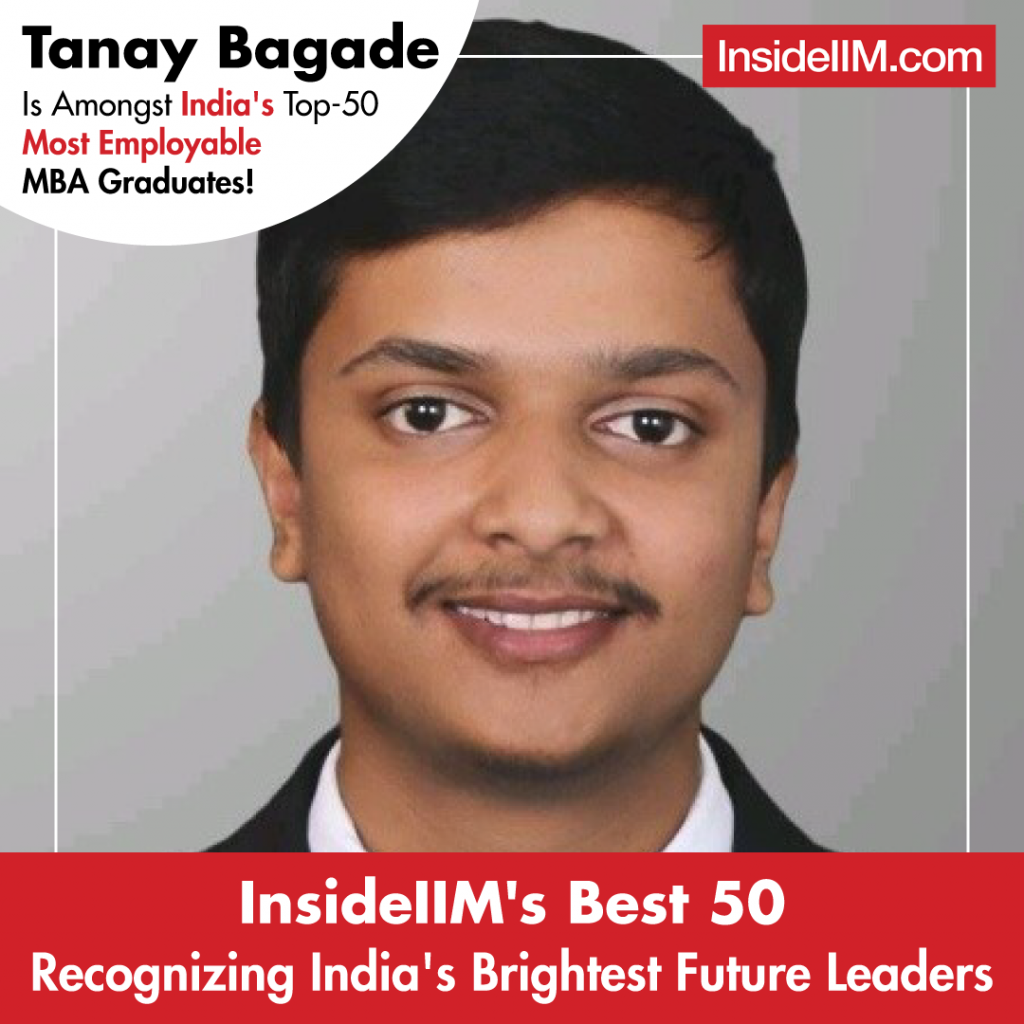 "I completed civil engineering from the College of Engineering, Pune in 2016. Post that I joined Dar Al-Handasah Consultants, an infrastructural consulting firm and worked for 21 months. There, I improved my communication skill, problem-solving skill and overall business sense. While working, I scored 98.85 percentile in CAT and secured admit in NITIE, Mumbai. There I bagged the opportunity to intern at Marico. I worked on formulating a global strategy for low-cost country sourcing and my project got into implementation. At NITIE, I was a part of the Table Tennis team. I am also a professional Canoer."
Name an instance where you wanted something and went out of your comfort zone to achieve it OR Tell us the biggest risk you have taken so far in your life.
"While I was interning at Marico Limited, I was required to prepare a global strategy for Low-Cost Country Sourcing as my summer internship project, I not only prepared a strategy but also went on finding gaps in Marico's existing system by understanding whole procurement activity at Marico. I further carried out strategy implementation while filling all those gaps and found significant cost-saving opportunity. I did all of this in only two months of time and this has become possible only because I went out of my comfort zone by working extra hours, interacting with maximum possible stakeholders and asking uncomfortable questions."
When was the last time someone relied on you? OR What did you do which was purely for someone else - a truly selfless act.
"During my prior work experience before joining the B School, I got funding from my previous organisation for an NGO working in Rural Watershed Management. I come from the Vidarbha region in Maharashtra with the highest farmer suicidal rate in India and this subject is very close to my heart. My proposal got rejected by the company in the first year but I worked on the proposal, talked with people, convinced them and got it cleared in the second year. And finally, they contributed significantly to the NGO for the cause."
Tell us about a time when you disagreed with an opinion/idea/decision. What did you do about it?
In my previous organisation, I was involved in the structural designing of upcoming Bandra-Versova Sea link. As this project was very crucial, we tried to save cost as much as possible. It was recommended to have a toll booth on Bandra land but it was causing us significant extra cost. I disagreed with the idea of investing extra money in a toll booth. I recommended shifting the toll booth on to the bridge. As this idea isn't implemented earlier, people were hesitant to accept this proposal. I did all the technical calculations for safety and cost-saving. I also took opinions of experts in the field. With the help of all these things, I went on convincing my manager, our leadership and finally client. And this idea saved money significantly.
What is the one thing you can claim to have some level of expertise or depth of knowledge in - it could be anything - a subject, a sport, a hobby, a venture, an initiative which has led you to do deep work in that field?
My engineering alma mater COEP has a Boat Club established way back in 1928. I learnt Kayaking and Canoeing there. Canoeing is a difficult sport and students used to be reluctant in doing it. I was the first Canoer to represent COEP Boat Club at state level canoeing competition in the entire history of COEP Boat Club. Canoeing has taught me many life lessons which everyone should experience. That's why after that I tried imbibing canoeing culture in COEP Boat Club, trained new canoers and improved its acceptance there.
If 10 Million Dollars (approximately INR 75 Crores) is given to you to use it any way you deem fit what would you do with this corpus?
I would like to use it in Rural Watershed Management work in my region where the water crisis is the biggest problem with the highest farmer suicidal rate. This money can be utilized in employing big machines for de-silting lakes, digging farm ponds, contour bunding, soak pits and all other possible construction of water conservation practices. I want to create village-based communities which will take care of awareness and maintenance of these structure in future. I would like to deposit part of the money in a fixed deposit which will give them assured money for the maintenance of these structures annually.