CAT, being a very unpredictable exam, can even get the better of very meritorious students on the D-DAY. People who had been aiming the IIMs and top 15 colleges and not able to cross that 95 percentile range are in turmoil. Zeroing down on one college requires exhaustive and extensive research on the available options and also careful weighing and holistic evaluation of the situation one is in. Typical tier-II colleges such as TAPMI, IRMA, IFMR, KJSIMSR come to the rescue for the aspirants for whom preparing another year is not on the cards.
The pedagogy or the infrastructure offered by these institutions may not be the best in India but these are quite old institutions who have made a mark in the Indian industry with the hard work they put in to compensate the lack in their students profile. Several high profile roles have been acquired by their alumni. In this article, we are going to focus on two of these institutes namely TAPMI and IFMR. We will typically look at the rankings, admission criteria, curriculum, placement statistics, fees, alumni presence across industry sectors and special programs.
Rankings
| | | | |
| --- | --- | --- | --- |
| | InsideIIM | The Hindu Business Line | Business Today |
| TAPMI | 44 | 19 | 17 |
| IFMR | 46 | 34 | 23 |
*Inside IIM rankings are based purely on the feedback provided by the aspirants, current students and the alumni.
TAPMI or T.A.Pai Management Institute is a private autonomous B-School which has a rich heritage of 38 years. The Institute was established in 1980 and is located in the university town of Manipal. It is the second business school in India after ISB to get an AACSB accreditation. TAPMI which has been praised for its academic rigour also practices relevant business studies which have proved to be quite a success going by market statistics. Another pillar of its unique pedagogy involves experiential learning. TAPMI offers PGDM, PGDM-HR and PGDM-BKFS along with executive programs. The PGDM-Banking and Financial Services course are built on a unique curriculum structure that fortifies a student's skills and knowledge in finance.
A Graduate Degree with not less than 50% marks (final year students may also apply). It considers CAT, XAT and GMAT scores for its entrance into all the programmes.
TAPMI follows Profile-based shortlisting. Profile considered for shortlisting consists of valid CAT/ XAT/ GMAT scores (whichever is higher), academic profile (10th, 12th, Graduation, backlogs during graduation etc.), work experience (type of company, total experience, etc.), extra-curricular achievements if any and the MBA Intent Question/ Statement of Purpose. In case of people with less than 12 months experience, we consider all the above factors other than work experience.
Those who clear the first round of selections would have to attend the WAT, GD, PI for the final selection.
Cutoffs for the year 2017: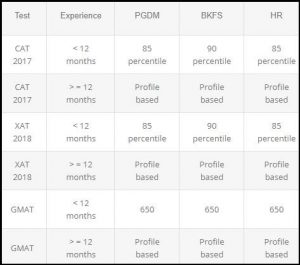 The Institute of Financial Research (IFMR), situated in Sri City, Andhra Pradesh, is an institution of national importance, as recognized by the Ministry of Finance.
It was established in 1970 as a non-profit organization. The institute offers two-year full-time PGDM programs of six trimesters, inclusive of two months of the summer internship. The PGDM programmes were launched in 2000, offering core specializations such as Finance, Operations, Human Resource and Marketing. Other specializations offered are Financial Engineering, Banking, Financial Services & Insurance (BFSI) and Business Analytics. The Institute also offers Executive and PhD. Programmes.
According to the official website, "Graduates from a full time or part time degree course, but NOT correspondence/ distance mode/ online mode in any discipline with a consistent academic record; Candidates pursuing final year degree can also apply."
Applicants should have been born on/after 1st January 1991 and on/before 31st December 1999.
Work experience is NOT mandatory, but those with work experience should have less than or equal to 3 years of experience as of 1st December 2017.
Applicants are required to take /have taken any of the following standardized entrance exams
– CAT 2017 / XAT 2018/ CMAT 2018/ GMAT & GRE (taken on / after 1st January 2015).
The cut off and weights are not the same for all the entrance exams – so your performance in all the entrance exams you have taken will be evaluated against the respective cut off and only your best performance will be considered.
While CAT/XAT/CMAT percentiles or GRE/GMAT scores are an important component of the admission process, these are not the sole criteria for admission.
The admission committee will consider the applicant's past academic performance (10th, 12th, Graduation) and performance in Personal Interview.
The admissions committee will be shortlisting applicants for the selection process, taking into consideration, the applicant's past academic performance, entrance test scores, and a passion for excellence demonstrated even in non-academic endeavor such as, but not limited to, sports (represented country, state or district/ University/ College/ School), Debate, Drama, Moot Court, NCC (but not NSS) volunteering, activism etc.(of a corresponding level);
Those with a track record in these areas would get a relaxation with regard to cut off scores, provided they are otherwise eligible, and capable;
In size, TAPMI has an overall batch of 445 students overall.
In IFMR the total batch size compromised of 179 students.
40% of the batch consists of freshers or those with less than a year of work experience.
23% of the batch has under two years of work experience, while 25% of the batch has under 3 years of work experience.
33% of the batch consists of women (147 women in a batch of 445 students)
More than half the batch consists of freshers at IFMR.
18% of the batch consists of those with 1-2 years of work experience.
Female MBA candidates make up 27% of the batch at IFMR.
Placements
The average CTC for the year 2015-2017 was INR 10.06 LPA.
The average CTC of the top 25% of the batch was INR 13.51 LPA and that of the top 50% was INR 12.13 LPA.
The highest package offered was 19.4 LPA.
123 business organizations including MNCs participated in the campus placement. The campus witnessed 48 new recruiters for the batch of 2017.
A 9% increase in the average package.
The season saw companies like Mahindra, Emerson, Ford, KPMG, TATA, Mindtree etc.

Total No. of 179 students had participated for the placements round.
41 recruiting companies recruited students. Average compensation offered was 8.9 LPA. The highest salary offered was 18 LPA.
MNC's such as Deloitte, Credit Suisse, CRISIL, Bank of America, Infosys etc. are regular recruiters.
Fees
| | |
| --- | --- |
| TAPMI (Tuition Fee) | 13 Lakhs |
| IFMR (Tuition Fee) | 12 Lakhs |
TAPMI's two-year Post Graduate Diploma in Management is designed to push students to go beyond their constraints and redraw their boundaries to achieve excellence in business. Every aspect of a student's life in the two-year period involves decision-making – with its consequent results. This rigorous course is based on experiential learning and makes use of the case-study approach to simulate situations which the future managers might face in the real world. The program has been accredited by NBA, AACSB.
The Academic Year has been divided into three-semester modules. Before the start of the curriculum, 2 weeks are dedicated to some specific managerial tool exposure such as Excel for managers, Basics of statistics, accounting and etc. The first term is a blend of accounting, economics, statistics, communication etc. The second and third term typically comprises of organizational behaviours, operation research, and market analysis. The fourth to sixth semester are dedicated to electives from different branches of General Management, Operations, Marketing, finance and HR.
For more details please click here.
IFMR offers 22 core and approximately 55 elective courses during the two-year program, spanning 8 disciplines. Unique specializations offered include Financial Engineering, Banking, Financial Services & Insurance (BFSI), and Data Sciences (i.e. Business Analytics).
In the first year, the students get a good grounding across all management disciplines. They then undergo a rigorous two-month summer internship in an organization. In the second year, the specialization streams available are Finance, Marketing, IT & Operations, HR, and Financial Engineering, with additional specializations in Banking Financial Services and Insurance (BFSI) and Data Sciences (i.e. Business Analytics). These are offered jointly with the support of the industry professionals in curriculum design and delivery. The Financial Engineering specialization prepares students for a career in investment banking, securities trading, quantitative modelling, risk management, financial consulting, and applied research.
For more details please click here.
Student Exchange Programmes
The International exchange programme is relatively new and yet to have a consequential effect on the academic structure at TAPMI.
TAPMI has a Memorandum of Understanding with Macquire University which allows students to spend a semester at Macquarie University in Australia. The exchange enables collaboration on the front of student exchange, faculty exchange, joint research, joint conferences.
Also, it has a student exchange program with School of Management, Asian Institute of Technology, Bangkok.
IFMR Chennai is yet to have a functional student exchange program.
TAPMI has an inspirational alumni base who have carved a niche place in this competitive market dominated by the likes of IIM'S, XLRI, NITIE alumni. For eg. Mr. Sharad Aggarwal (class of 2001) has been appointed as the Head of Lamborghini India. Others such as DN Prasad is a member of the APAC HR leadership team and CEO of Bajaj Finance Ltd, Rajeev Jain continues to provide mentorship values to the students. Alumni meets are held at a city and international levels for the continuous integration of former and present students.
IFMR relatively being a younger institute has not yet made such a glittering Impact. However, there are few noteworthy alumni such as Amruth Krishnan, director at Credit Suisse who is all praise about his Alma matter.
The campus boasts of its year the round activities starting from the most talked about annual sports extravaganza, SPEED which showcases the sporting talent across cricket, football, volleyball and other indoor games. INCEPTUM, a week-long cultural function to break the ice with fun, music drama between the students are organized. Also Alumni events, eminent speakers program are held. The institute has several fully functional committees of varied kinds which the students are selected for extra-curricular events.
IFMR has an active sports infrastructure offering a plethora of activities. Abhyudaya - The Cultural Festival of IFMR showcases extra-curricular talents of the students. Cassiopeia, which tests would be managers over 3 days is a much-anticipated event. The campus also boasts of student committees and clubs such as finance, marketing, consulting, entrepreneurship etc.
This article doesn't aim to find the best out of the two institutes rather the main motive is to provide a comprehensive analysis of what these B-schools have to offer. An MBA from any one of these would surely enhance your growth curve.
(This article is completely based on secondary research. Team InsideIIM has no role in making of this report.)