An IIM Kozhikode alumnus, Mayank Gupta is a finance enthusiast turned entrepreneur. He has worked in companies like Educomp, L&T Finance and Bank of America before co-founding EduKart.com. A regularly featured writer on various online portals, Mayank has been passionate about delivering quality education at affordable prices to the masses and is working towards this vision by building India's leading education company.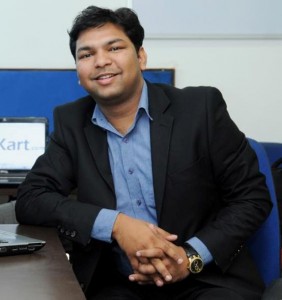 1. Do tell us something about your venture.. Who is your target audience and what services do you aim to provide?
Launched in 2011, EduKart.com is an ambitious education initiative. In just about an year of its inception, it has emerged as one of the leading online education companies of India. We are dedicated to providing high quality industry relevant degree programs like MBA, MCA, BBA, BCA etc and certificate courses across various fields like Digital Marketing, Retail Management, Financial Management, Project Management, Telecom Management, Programming Languages and Skill Development.
All our enrolled students get Unlimited Telephonic Support, DVD with every course, Placement Assistance and Doubt Solving Sessions by industry experts. Our target audience includes students and working professionals who aspire to up-skill themselves and gain an extra mileage in their career.
2. What was your Eureka moment? What prompted you to take the plunge into entrepreneurship and launch this venture? Did you always intend to have a business of your own?
I always wanted to do something which was 'visible' to the common man. When I was doing engineering, I used to look at the Metro Train pillars in Delhi and thought - how great those engineers who have built them would feel everytime they pass by them. When I joined IIMK, my resolve to become an entrepreneur became stronger as I read about many businesses which were made by individuals just out of their strong will and passion. For me, entrepreneurship was a state of mind. It didn't take a specific incident for me to decide to take the plunge. Though I had been a part of a couple of startups earlier, EduKart.com happened when I was working at Educomp, India's largest education company. One fine day of November 2010, Ishan, my engineering classmate called me up and said he had an idea and we both should work on it. We met the next weekend and the plan of action was drawn up.
3. How are you working towards popularizing the idea of online education in India? Is the market for this medium of education robust already?
The concept of online education is gaining a lot of acceptance among the Indian students and professionals. Due to the increasing internet penetration and rising demand this market is expected to grow strongly in the near future. This sector has attracted large investments and is slated to lead to strong growth opportunities.
We are trying to reach out to the masses with our concept of online education. Though online enrollment in education is increasing at a fast pace, education and career decisions are still made at home by consultation with parents and friends by a large number of people. To reach out to such audience, we have signed close to 30 franchisees across India and are looking forward to increase this number aggressively. We have kept the fee of all our courses at reasonable price points, so that the courses are affordable by each and every student and working professional who aspires to enroll in one of them.
4. What according to you must aspiring entrepreneurs, in the course of their education, focus most on? Did focus on certain subjects help? Interaction with faculty and alumni? How has the B-school experience & degree helped you?
Entrepreneurship is a tough job. It needs an attentive and open mind, a habit of taking initiatives and responsibilities, and an untiring and multitasking attitude. Couple of things one can do to develop these traits is to stay in the company of great people and great books. IIM Kozhikode provided me both these opportunities with its diverse and intellectually superior batch profile and a set of faculty who taught us lessons beyond academics. Access to virtually all books on the planet made the learning more superior. Knowledge of basic finance and fundamentals of human resources management are the on-ground skills which one should learn during campus. Case studies from marketing and strategy help you form mental maps of businesses which have succeeded and help you take decisions when you are executing your business.
5. What do you think are the shortcomings of online courses? What would you want to do differently to plug in the gaps, if any?
The biggest challenge for online courses is the need to increase awareness and acceptance among the Indian learners. Physical presence of a teacher has always been considered as a pre-requisite in the Indian education system. We at EduKart.com are incessantly trying to bridge the gap between the students and educators by providing unlimited support to the students through telephonic assistance and weekend doubt solving sessions. And when we see the acceptance that we have received in the form of a large user base, it makes us believe that we are on the right track towards making education accessible and affordable.
6. What has been your main learning as an entrepreneur? Do you believe the atmosphere for entrepreneurship has improved in India? What was the biggest hurdle you had to overcome?
Entrepreneurship has given me an attitude of problem solving. Most of us are quick to identify issues and highlight them and talk about them. But entrepreneurs tend to provide solutions to any issues they see around them, whether business related or otherwise. This attitude helps as there is more action and less of talking. As more and more youngsters are becoming self conscious, the interest and acceptance towards entrepreneurship has surely become stronger. The availability of funds is also becoming less scarce as lot of capitalists are now seeing value in taking risk with the young and their ideas. For me, the biggest hurdle was to overcome the fear of failure in my mind. Once I got over that, other societal and professional hurdles were easy to overcome.
7. Do share some advice for all the aspiring entrepreneurs reading this.. (some philosophy or ideals that you follow maybe? The kind of temperament essential in entrepreneurship, according to you?)
An entrepreneur has to be conscious, of himself and of his surroundings. When you are conscious, you are attentive and responsive. All the aspiring entrepreneurs should try to develop this habit by increasing their participation in the daily activities happening around them. If you are a student, participate more in discussions, volunteer for activities and events, challenge the thoughts and actions which you think should not be the way they are, and provide solutions to problems around you. In case you are a working professional, take up an additional project or activity in a cross-functional group. Contribute more in your weekly calls. Finish your project within deadline not because it is the need, but because you want to test your efficiency and resilience. For those who like reading, Chanakya and Bhagwad Gita provide good inspiration and character building for entrepreneurs.
- As told to Prerna Lalwani
Have an IIM Kozhikode call? Read all about the b-school over here!
Perspectives - Career perspectives from those who have faced the battles and reached the top.