This is the concluding part in our series on Adam Pervez – volunteer, traveler, writer and MBA grad. He is an engineer from Ohio State and an MBA graduate from IE Business School – Spain. He quit his comfortable job with Siemens Wind Power, Denmark (paying a six-figure salary) before deciding to follow his passions – travelling, and giving back to society. The HappinessPlunge and the Happy Nomad Tour - an 18 month tour of the world is the result of his initiative to travel and volunteer around the world with the objective of leaving each place better than how it was when he found it. He writes regularly for the Huffington Post. He has also written for The Economist and been featured on BusinessWeek. [Update: If this story has inspired you, you may want to read about Adam's Crazy Hair FundRaiser for kids with cancer]
Below are excerpts of the interview:
Take Your Career To The Next Level. Ask Our Experts Anything. We Will Respond Within 48 Hours.
A lot of people would yearn to live more fulfilling lives within their existing world, without taking the plunge altogether. What is your message to them?
I would say that for the majority of people their path to a more fulfilling life is probably a branch from their existing life, not a quantum leap.
Even in my case, I'd consider what I've done more a branch. I had been to 40-something countries before starting this trip. I travel very differently now than I used to, but by all means I was a traveler before this.
Similarly, I lived out of two big suitcases for years. Now I'm down to a carry-on size suitcase (my home) and a courier messenger backpack (my office). You can see how I lived a bit of a nomadic life in Denmark here. Something I tell all the audiences I speak to is that if you want to change the world, change your community. Applied across the whole world, the whole world would improve. So by all means, take the plunge into a more fulfilling life in your existing world! Change need not be radical. It just needs to be intentional and meaningful to you. You may find my "improve your community" funny coming from a nomad volunteering across the world. Call it something I learned along the way, but my Crazy Hair Fundraiser is the endeavour I've taken to benefit my hometown of Cleveland in honor of my uncle.
[caption id="attachment_6414" align="aligncenter" width="550"]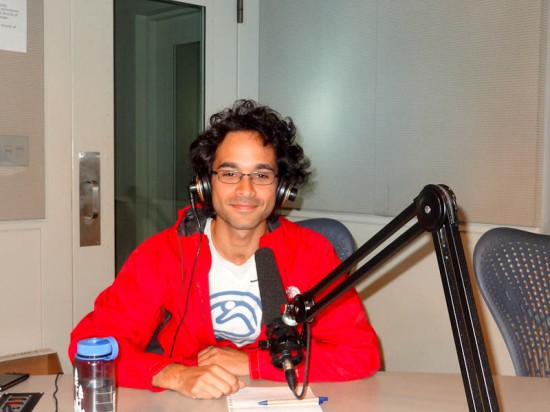 Doing publicity for Wigs for Kids - non-profit that helps kids fight cancer![/caption]
So in the end I tell them go for it! Taking the plunge is your journey toward a happier and more fulfilling life. My plunge only seems radical and a quantum leap because you compare my plunge to your own life. Yours may seem like a radical quantum leap to me. :)
Your website and blog posts indicate you have been staying in India. How do you find our country? What was the most enjoyable experience here?
Yes, I was in India all of November, most of December (I found a free ticket home using frequent flier miles and surprised my mom for Christmas), and came back in February after a stop in Myanmar. Despite this unexpected break, India is still the place I am spending the most time on my trip. India is, of course, incredible. :)
In all seriousness, I feel like India is the world's soul. I don't say that because of all the spirituality here and the babas in every town. I say it because I don't think humanity gets any more raw than it is here in India. You see everything here and my sheltered, Western eyes weren't ready for it all even though India is the 65th country I've visited. I thought I had conquered culture shock, but apparently not.
At the same time, a lot of people I love are here. People I studied with, people I worked with, and as you probably noticed by now, Gandhi-ji is one of my heroes. In the same way India has everything, I think I've gone through the entire spectrum of emotions while here.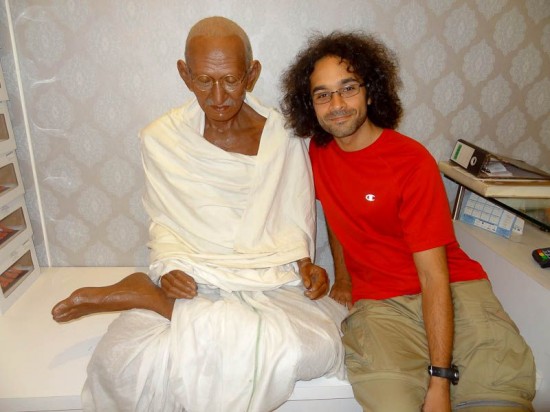 I have had too many enjoyable experiences here. One of my best friends is in Delhi and I can't put into words how wonderful it felt to see her and her husband after the 30-hour ride on a rickety Utter Pradesh State Bus from the Nepal border. I spent Diwali with them, which was bahot gazab (very awesome if my Hindi/Urdu serves me right). Then my friend's husband's sister got married as well. Totally overwhelming experience, but it is these family experiences that stay with me, not walking around the Red Fort or riding a camel in Rajasthan. These connections with others and I can't put into words what it feels like to genuinely be adopted, cared for, and even loved like a member of the family in such a short period of time. It's not Atithi Devo Bhav. It's love. I thought it would be visiting Rajghat or the Gandhi Smriti or his ashram in Ahmedabad or the ashram I visited in West Bengal. But no, it's the abundant love here that I've been lucky enough to have been showered with. That love will stay with me the rest of my life and I'll do my best to spread it high and low.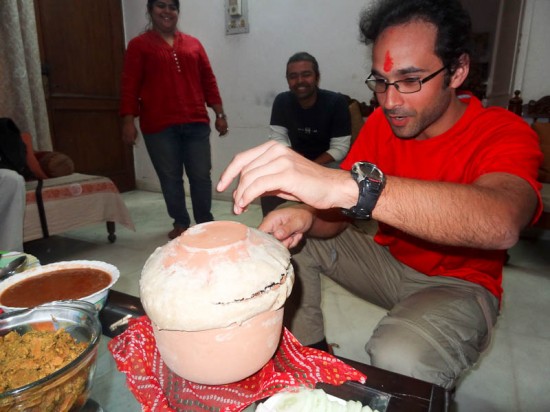 What is the secret of happiness?
Well, I could go on and on about this as you can imagine. Here are three thoughts.
First, acceptance. India is already well ahead of the game in this respect. Society here is full of tolerance, though I feel like it's conditioned acceptance instead of learned acceptance. Acceptance doesn't mean not striving for more out of life. It means taking life as it comes, appreciating all opportunities that come your way, learning and growing from all such opportunities, and never feeling like a victim.
I think doing what you love is a crucial component to happiness. I have to be honest. This trip and India in particular haven't been kind to my intestines. Still, my overall health feels much better now that I have a largely stress-free life that I lead on my own terms. It's liberating and freedom contributes to happiness for sure. You spend a majority of your productive hours at work. The more meaningful your work, the happier you'll be.
Lastly, I think empathy is a secret to happiness. I had never volunteered before this trip. I had never cared much about people who are worse off in life than me. I cared, but not enough to do anything. Yet taking some tangible action was one of the motivations for this trip. I think the more you understand the human condition, the more empathy you have, the easier it is to find happiness. And the connections with people you make along the way will fill you with love and happiness.
InsideIIM would like to thank Adam Pervez for doing this interview with us.
Click here to read InsideIIM's features on careers.