The recent case of food poisoning at IIM Indore has been widely reported in the media and it takes me back to a basic issue I have with the way the mess system operates in most public education institutions in the country especially the IIMs. I have argued on this with a couple of professors too while I was on campus.
I am not surprised that an event of this sort has happened. In fact I'm happy it has been reported and attention has been given to it. I'd actually complement the IIM Indore administration for coming out with daily updates on the progress.
Hopefully, this case will give everyone in the administrations across institutions in India, a moment to reflect on the way things are currently done.
The reason a contract caterer will not pay adequate attention to daily meals in the mess is because he has no incentive to do so.
From my limited understanding, this is how the mess system generally works in most places. A contract is awarded to a caterer who has the exclusive right to serve food in the mess/canteen which is paid for in advance by students as part of the mess fees component. The mess is supposed to provide breakfast , lunch, snack (could be paid for and hence optional),dinner. All the 4 meals in the day are covered by the fee paid by students. The mess menu is pretty extensive and both lunch and dinner are 4 course meals. The quality is a completely different question. Find attached a sample menu. It was a menu during one of the months during my 2 year programme between 2009-11. Mess_Menu
The problem is that the price per day for all the 4 meals is fixed. And in most cases subsidized. Also, it cannot be increased without the prior consent of the administration and the students.
So irrespective of the taste or the variety of the food served, the caterer is assured of earning a fixed sum- for e.g Rs.110/- per day per student. While a caterer is supposed to ensure quality of the highest standard, there is just no incentive to invest time or effort to ensure this. In fact in this situation a profit maximizing contractor is likely to be more miserly as he can only increase his profits by reducing costs. And hence, the base gravy for dum aloo for lunch easily becomes the base gravy for mix vegetable for dinner.
Students have no option but to pay the mess fees. It is compulsory. So irrespective of whether you eat a single morsel in the mess/canteen, if you are on campus you are billed for the mess. The only exception I am aware of is IIM Ahmedabad which made mess subscription optional a few years back. Of course, it helps that Vastrapur is in a very developed area of Ahmedabad (or rather it has evolved into a developed area over the decades) and students can easily call for a tiffin service or go out to eat. In cases of campuses like IIM Indore and IIM Lucknow it is not that easy to go out. The only options are other eating joints on campus.
The real incentive for the caterer is not the overall profit he makes on the mess contract for the daily 4 meals. It is the revenue made by selling other products(cold drinks, juices, biscuits, chips) which are not covered in the fee paid by the students. Also, there is the concept of a night canteen on most campuses which is the real profit earner for these caterers. While, prices are administered even in a night canteen on most campuses, the caterer has a clear incentive to increase sales. If he serves hot and appetizing food he is going to attract more orders. Also, there are competitors in this space. There are other joints on campus who serve food and the caterer better serve good quality food to compete. Even a single case of food poisoning during a night canteen binge can damage the caterer's reputation and hence affect his profits directly as students have an option to go elsewhere.
Freedom of Choice. Let the market decide. Mess Fees should be abolished. Students should have an option to decide whether they wish to subscribe. Also, the subscription should have a monthly renewal system. Bad service and bad quality catering should be penalized. Students should not be stuck with a term long subscription. Also, allow the caterer to charge more. For e.g Rs. 150 per day instead of Rs.110 - Allow him to make money if he is going to add value.
Popular chains should be encouraged to open outlets on campuses. I know they exist on a few campuses but they are mostly in places which are very well connected with the city. It needs to happen on campuses away from the main city. Campuses like IIM Indore can easily provide economies of scale too. They have a 192 acre campus with at least 2000+ inhabitants during most part of the year. And if choices are available on campus, students would not need to travel 2 or 5 or 20 kms to eat elsewhere.
There is always the option of student run cafes. Combined with learning it acts as a credible option for the inhabitants of the place. Just Tea at IIM Lucknow and Pi Shop at IIM Indore are good examples. But there will always be limitations to a student run cafe/store. Simply, because the team will change year on year and no one goes to an B-School to run a store.
By letting out some space to restaurants/cafes on campus, the institute can also make some money.
Another option could be creating common kitchens for students to cook their own food. It is a rather difficult option but an option nonetheless.
I have still not figured out this - Why this fixation to provide compulsory mess services? According to me, there should be no guaranteed placement as well. But then, I understand that institutions compete only on placements in India. But surely, no one will reject going to a business school if there is no subsidized mess service! Also, 99.9% of the students entering any IIM are 21 and above. I'm quite sure they can look after their own meals. One misconception people outside the system have is that food quality should improve as IIMs now charge anything between 11-18 lacs ( approx $20,000-$35,000) for 2 years. If you observe carefully, its the tuition fees component which has led to the rise in the fee and no significant increase in the mess fee is visible.
Meanwhile, for all those at Indore there's a lot to cheer about. You are in the food city. Good food is always round the corner! Find a link to a post I had created 2 years back. I'm sure you guys will only add to the list - Good Food for IIM Indore participants (Because you need it)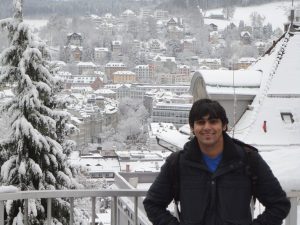 (The author is an alumnus of IIM Indore – Class of 2011 and Narsee Monjee College of Commerce and Economics,Mumbai – Class of 2007. He currently works with Bank of America Merrill Lynch and has worked with TATA Capital and WhatsonIndia.com in the past. He still believes that 'Umang' NM College's festival was the best thing to have happened to him where he led a team of 500 students)
Other articles by this Author