We're back in a lockdown, and many people have started looking for a job change, whether it is to increase compensation, build a portfolio, or want to have better quality jobs or help people make a brand in the industry. We had an "Ask-Me-Anything" (AMA) session by Ankit Doshi, Founder and CEO of InsideIIM. Ankit is an IIM Indore alum who had worked at Bank of America before he ventured into entrepreneurship.
There are various reasons why people want to switch jobs at different points in their career:
They are unhappy at their current workplace
Their job isn't challenging enough
Higher Compensation
They want to enter a new domain/industry
Take Your Career To The Next Level. Ask Our Experts Anything. We Will Respond Within 48 Hours.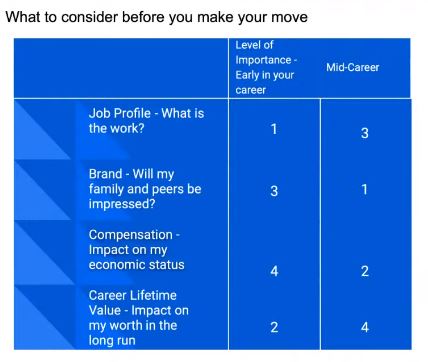 Things you should consider before thinking of switching jobs:
Job Profile: You will spend 8-12 hours on a project.
Brand: What is the brand you are working for? You'll want to flaunt a brand where you are working.
Compensation: Does it live my economic status? People want to make as much money as they can; there are reasons behind that.
Career Lifetime Value: What is the impact of my decision and my work in the long run? This question is a subtle one, and not many people consider it, especially if they are early in their career.
When you are early in your career, your priority should be to earn a reputation in the industry. What you are doing is far more important than where you are working and the money you are getting. It will also determine how important you will be in the following companies you work for, and that's where career lifetime value becomes essential.
If you feel like you are getting work that is challenging and the work you won't get at large organisations, you should go for it. Because there's no point in getting huge money for shoddy quality work in the initial few years of your career. You reduce the chances of getting a good amount of money later in your life. Sometimes you don't even understand that the work you're doing is of poor quality.
Focus on building a work profile in the initial few years of your career. If you're a part of something exciting and challenging early on in your career, you'll see results later.
At the mid of your career, the significance of career lifetime value goes down because you've lived a particular portion. Also, the importance of compensation goes up because you may have more dependents on you now. Perks that a good brand gives you is suitable for your family and provides a certain amount of safety in your life.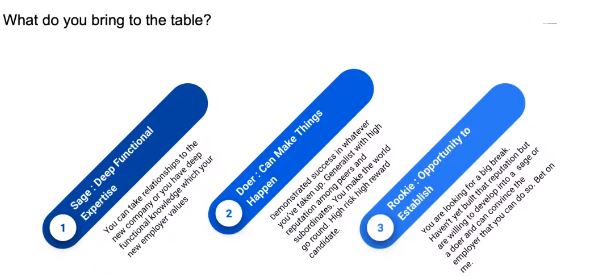 What do you bring to the table as a person?
Sage: Someone who is already very valuable. You are known in the industry for a certain skill you have, and there are people you've worked with who will vouch on you for the same. It is uncommon for new joiners to be in this category.If you don't bring expertise, you bring in relationships. Your value and strength are in your relationships in the sales domain or client-facing roles like in the service sector. Because if you can bring in business, you are of great value. These are mostly people who have done one particular kind of thing long enough to gain expertise in it.
Doer: They are people too who you can reach out for any problems. They aren't experts in a particular kind of field, but they are problem-solvers. They are "Generalists". High-potential Consultants, High-potential people in General Managements roles, students fresh out of college joining startups are some people creating a reputation of getting things done. It is high-risk, high-reward because you are simply extrapolating your previous success to the new recruiter.
Rookie: A person who doesn't have any established position in the industry or market. You are looking for an opportunity, your big break. And it would help if you obviously pushed more to convince the recruiter to hire you. An employer might hire you for a project where there isn't much scope of making money initially but needs good quality work. You, as a Rookie, need to convince the employer to bet on you because you are passionate about it.
Identify where you are among these three, and if you can't, then don't switch, or it will be difficult for you.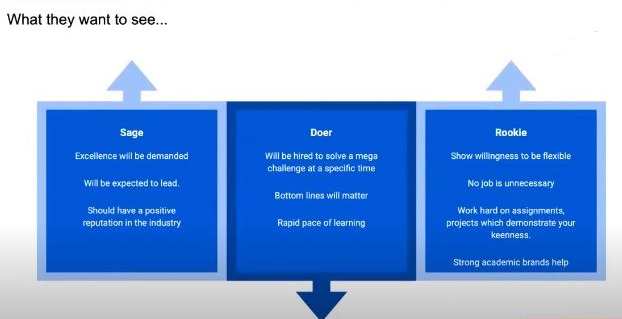 What do they want to see?
Sage: They'll expect you to be a leader, or at least they'll expect you to solve a large enough problem in your industry. People will do many references, and they'll want to know whether you actually have a positive reputation in the industry or if you're as good as you say you are. As soon as you join, you'll be expected to contribute. There won't be a period of learning.
Doer: You need to learn the tips and tricks of your new role quickly and execute them. If things don't work out, you might be asked to leave quickly too.
Rookie: You have a lot of work to do, you need to be flexible, and you aren't in a position where you can argue that you don't want to do something because you want to build a reputation. If you come from a certain academic background, there are more chances to be taken more seriously.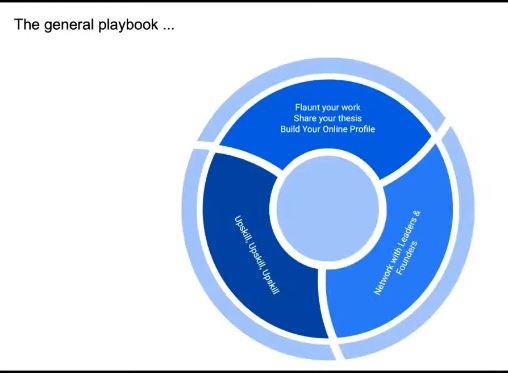 The general playbook when you want to switch your job:
Use platforms like LinkedIn, Instagram and all other kinds of places where you can flaunt your work. If you feel great at something, prove it by putting up your work for free. Build white papers and share them with Founders or Top management of the firms you are applying to and convince them that you're suitable for the job. You have the expertise, or you can build case studies around your previous work-ex (without disclosing confidential information).
UPSKILL!
Attend webinars, network with people, learn online, keep reading etc.
Network with Leaders & Founders: And to network, you first need to GIVE! Either share insights or share something that will help them, and that's how you start a relationship.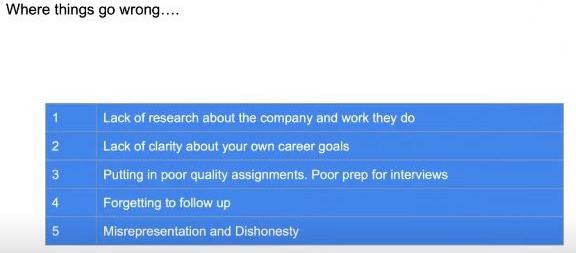 Lack of rigour among candidates: People miss out on opportunities because they haven't researched the company and their work well enough. Not just looking through the website, but also looking at their social media profiles, checking out their videos and other hygiene checks, reading about the company, the industry etc.
Lack of clarity about career goals: No one likes to hire someone who doesn't know why they're doing what they're doing. Please write it down clearly so that you can convey it completely.
If you're not willing to put in efforts for your tasks and assignments, please withdraw your application. It not only hampers your chances with that particular company but in the industry in general because the word spreads quickly. Take pride in your experience.
A good company should give you a response. Sometimes a company is testing your keenness to work with them (especially if you're a rookie). In most cases, you eventually get a response if you follow up with them.
Lying and dishonesty is a BIG NO. It can't be emphasized enough. Please don't involve yourself in such activities.
I hope this article helps you next time you're thinking of making a job switch. At the end of the day, it is an individual's choice, and this blog is to guide you through the same.

Check out the Q&As of the session here.

In case you wish to watch the entire session, here you go!

All the Best. :)