Uber entered China in 2013 after a test phase in Shanghai. But the company never really was able to settle in facing stiff competition from the local players. Uber was facing major cash losses (resulting from subsidizing drivers & slashing fares) after replicating its strategy of hiring private car owners. It was losing $1 Billion in cash a year & after losses of $2 Billion over two years, it sold its Chinese business to Didi Chuxing, the local stronger competitor. Now, let's look at some factors which went wrong for Uber:
1. Strategy:
Uber used the strategy of hiring private car owners. But Didi Chuxing persuaded taxi operators and car rental companies to allow drivers to use their vehicles for them. The result was Didi Chuxing had over 3 times the number of car bookings as Uber.
2. Chinese Market:
China is an incredibly complex market that differs culturally, politically, and economically from the west. This is the reason that companies like Amazon and eBay have also struggled to make inroads in China. The Chinese legal structure and regulations are vexing coupled with the underdeveloped infrastructure and banking systems relative to West.
3. Aligning with Local partners:
Uber tried entering a risky market alone whereas tying up with a local company which have better handle on the prevailing scenario would have been beneficial.
4. Understand customer preferences:
Chinese people don't use credit cards and favour paying in cash. Uber came up with a card based payment system while local players offered the option of paying in cash.
Also, Chinese riders were happy and able to trust the associations of local players (Didi) with taxi drivers rather than Uber's association with individual car owners.
5. Other services:
Didi incorporated WeChat's payment system which was very popular. Also, Didi added car-pooling and bus-hailing services welcomed by Chinese users.
---------
About the Author: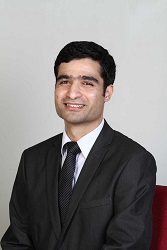 Abishake Koul graduated from BIT Mesra in 2013 and had a 2 year stint with Maruti Suzuki before joining IIM Lucknow where he is a part of Media & Communication Cell. His hobbies include writing poetry and running.